Why Zinfandel Lovers Should Head To Croatia
Posted: Nov 26, 2017
---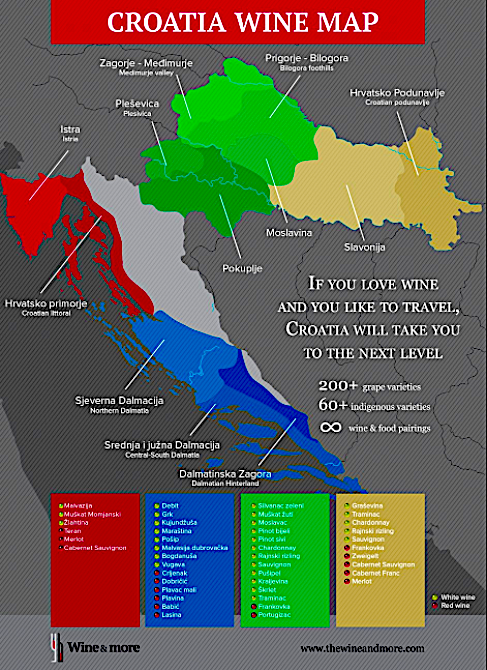 ---
America claims zinfandel as its own—but Croatia has something to say about that.

Zinfandel is misunderstood on many levels. It's way more than a boxed wine downed by college kids and book clubs. There's the blush we all know, and then a peppery, full-bodied red that we dare to say—yes, we dare—could compete with any shiraz out there. It's also considered an all-American wine, and even has its own holiday: Every year on November 15, zinthusiasts around the U.S. raise a toast to "America's Heritage Grape"—with one minor problem. Zinfandel isn't actually American.

The second-most popular red in the country comes from a black-skinned grape that was brought from Austria to a Flushing, New York nursery back in the 1820s. It was considered low quality, and was turned into liquid in tenement basements. The wine made its way west to California a few decades later, where it was swigged by river-panning forty-niners during the Gold Rush and used to add darker color to wines like Burgundy and Chianti. Eventually, as zinfandel began appearing unblended, its popularity grew, but the mystery remained: No one knew where this grape came from, and early efforts to find its birthplace proved frustratingly difficult. In the late 1970s and early '80s, many experts thought zinfandel was primitivo, the grape found in southern Italy and Sicily; a few years later, they said it was plavac mali, the primary red grape grown along the Dalmatian coast (more on that later). But with advances in DNA testing in the 1990s, Dr. Carole Meredith—who, at the time, worked as a grapevine geneticist at the University of California, and has been dubbed "one of the world's pre-eminent grapevine sleuths"—made it her mission to unlock zinfandel's origin story once and for all.

"People considered it 'California's own variety' because it was not known anywhere else, but it was clear from its leaf shape that it was a European grape," Meredith tells Condé Nast Traveler. "But from where? And what was it called? If it were from France, Italy, or one of the other mainstream western European wine regions, someone would have recognized it as theirs long ago."

Following the earlier lead, which showed Croatian's plavac mali as a relative, Meredith worked with Croatian professors Edi Maletic and Ivan Pejic to find the grape in its first form. It took years of trawling the coastline, of painstaking work collecting stems and leaves, examining every detail. Finally, in 2001, Maletic and Pejic stumbled upon a vine that looked like zinfandel in the Kaštela region, north of Split. Back in her California lab, Meredith analyzed the leaf DNA, and the mystery was solved: Croatia's crljenak kaštelanski (pronounced tsurl-yenak kash-tel-yanskee), which had just an estimated 25 vines left in Croatia at that time (due to a massive insect infestation that annihilated swathes of European vines in the late 19th century) is zinfandel in its native form.

With its newfound claim to fame, the grape's fate began to change. Winemakers across Croatia doubled down on the black-skinned grapes following the discovery; more than 15 years later, Maletic estimates there are about 250 acres of crljenak kaštelanski (about a half-million vines) and at least a dozen producers on the market. It's a fraction of Croatia's total 51,000 acres, to be sure, but it's a remarkable rebound from near extinction.

Crljenak kaštelanski is also becoming a wine menu staple in Croatia, but not necessarily by that name. Depending on where you are—and whom you ask—it could go by tribidrag (the ancient moniker for zinfandel), kratošija, or pribidrag. They're all genetically the same, but display subtle variations: All are deep red—no white zin here—and have berry and spice flavors. (Generally speaking, the warmer the area, the spicier the wine.)

Zlatan Otok, an award-winning Croatian winery with three locations across the coastline, was among the first wineries to kick off the renaissance.

"Learning that zinfandel was actually crljenak infected all Dalmatian winemakers with enthusiasm," says Romana Blaževi?, a spokesperson for Zlatan Otok. "We planted 50,000 vines in our vineyards below Mount Biokovo [located in Baška Voda, south of Split] in 2004 and in 2007. We were the first winery in Croatia that produced a bottle of crljenak [following Meredith's discovery] and we are very proud of it."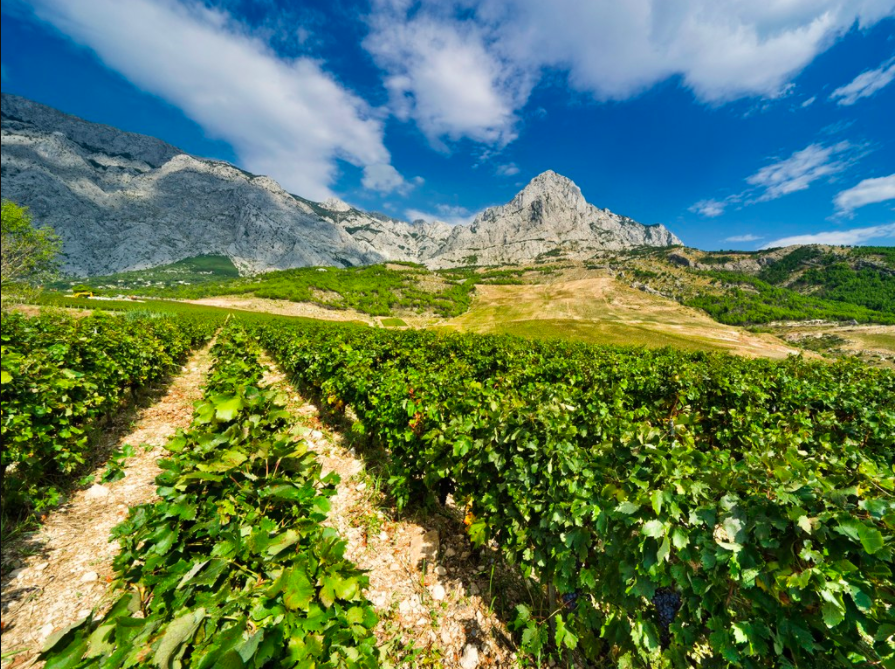 Marijan Mocivnik
Grapes at Zlatan Otok winery, which was the first in Croatia to produce a bottle of crljenak following Meredith's discovery.

What it tastes like

"Crljenak kaštelanski is a top-quality red with a deep color and big tannins, notes of dark berries and a full body," says Maria Mustapi?, co-founder of Zinfandel Food & Wine Bar in Split. "Differences between zinfandel and crljenak kaštelanski exist, but they're primarily related to the question of taste and aroma, due to variations in terroir and production. [Generally speaking], crljenak kaštelanski contains more tannins than a California zinfandel, and it also tends to be fruitier."

"People usually say Croatian zin is dryer than American zin and softer than Italian primitivo (another zin twin)," says Blaževi?. "It has a distinctive southern Dalmatian character due to the climate, soil, and wine-making traditions."

And this full-bodied wine is also best paired with the obvious—meat, like beef or duck—along with the traditional meal pašticada (beef cooked with plums in red wine).


Where to get a taste of zinfandel in Croatia

Kaštela: In Kaštela, where the grape was discovered, travelers can tour family-run vineyards such as Bedalov Winery and Kovac Winery (reservations required).
Split: Inside Split's fourth-century, UNESCO-protected fortress walls, the decidedly more modern Zinfandel Food & Wine Bar is devoted to Croatian producers. The open-air eatery pours 30 local wines by the glass, more than 100 bottles, and private wine-tasting sessions.
In Split, you'll also find the wine at stylish addresses like Wine & Cheese Bar Paradox, which has a wine terrace overlooking the harbor, and industrial-chic Bokeria Kitchen & Wine Bar (stay for the food, like gnocchi with pistachio cream sauce and a light matcha cheesecake).
Hvar: On the island of Hvar, about two hours by ferry from Split, local favorites such as Red Red Wine Bar, Tapas & Wine Bar Gurme, and Vintage Hvar also pour the now-famous wine.
Omiš: Another favorite is Ku?a Sretnog Covjeka —or "House of the Happy Man"—on the slopes of Omiš, south of Split. The happy man, in this case, is winemaker Nikša Mimica, who produced a particularly notable 2008 Pribidrag (the area's traditional moniker).
Dubrovnik: Sample the original zinfandel at local mainstays like the cavernous Wine Bar Matuško, D'vino Wine Bar (down a little lane in Old Town), and Malvasija Wine Bar, the tasting room of a local winemaker.
---
---
Go-Wine Sharing and Promotion
Go-Wine's mission is to organize food and beverage information and make it universally accessible and beneficial. These are the benefits of sharing your article in Go-Wine.com
It Generates Free Traffic to your site.
Your Article Will Get Indexed Faster.
Your Google Rankings Will Rise. Google Rise Articles with Positive Participation & Contribution.
Your Article Will Reach New Customers and Audience. Go-Wine has a selected audience and visitors from over 120 countries.
You always receive credit - you will be cited accurately (Author, Website & Hyperlink).
The integrity of the Information is not compromised - you always will be linked to the most up to date version of your article.
Contact Us for more information.