Pause At The Pour: 3 Hot Button Topics To Consider When Opening Your Next Bottle Of Wine
Posted: Sep 17, 2017
---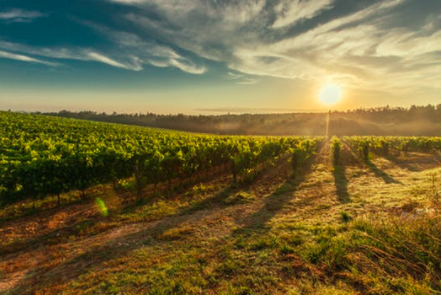 ---
It's a little bit like releasing the genie in the bottle.

Opening a bottle of wine, that is. Inside is an entire ecosystem of narratives and encounters and plain hard work, the result of which you release as you pour the wine into your glass.

This month I'd like to pause at the pour.

For the rest of this month of September, I'll devote some space in this column to the wine ecosystem, to teasing out the details of all that needs to happen in order for a glass of wine to arrive at your table in a restaurant or at your kitchen counter at home.

September (for the northern hemisphere, of course) is a month rich in harvest activity, which is a perfect time to recognize the work of wine that most of us never see, even though the work of wine is a microcosm of so many hot-button topics and media-focused themes that capture our attention, such as labor, racial and gender diversity, immigration, climate change, and emerging markets.

Just as a genie grants three wishes, here are three themes to release from the bottles you uncork this weekend. Each is attached to a wine growing region that, if you wish, will inspire your choice of wines to open.

Sustainability: Agricultural and Social
It's very hard to miss the buzz around Sonoma County these days, with the Sonoma County Winegrowers and its President, Karissa Kruse, leading the way. Two projects of particular note are new affordable housing initiatives for workers (88% of whom live in Sonoma, 75% of whom have families) and the Sonoma County Center for Ag Sustainability, which aims to apply "Silicon Valley thinking and planning" to issues facing the industry.

Though "sustainability" is most often used in conversation around the environment and viticultural practices, the concept of social sustainability is gaining momentum for its focus on people; affordable housing and workforce development are two linchpins of that conversation around human and worker wellness.

Racial and Gender Diversity
Hand-in-hand with social sustainability is an increasing awareness of – and support for – racial and gender diversity throughout the occupational network of the wine industry. Although South Africa's wine industry currently includes less than 50 black-owned businesses, there are strong indications of growth from the complementary industry of tourism: wine tourism in South Africa benefits from a well-articulated national strategy and coordinated plan, as it aims to contribute R16 billion (USD 1.23 billion) to the GDP by 2025, up from R6 billion (USD 0.46 billion) today.

Entrepreneurs are particularly well-positioned for the opportunity that that growth presents, considering the few barriers of entry to tourism in terms of labor and new businesses, and considering the National Development Plan's support for small- and medium-sized enterprises and black-owned businesses that operate at a local and rural level.

A leading example for new entrepreneurs to emulate is Ntsiki Biyela, South Africa's first black woman winemaker. Biyela, who was raised in a rural village in Kwazulu Natal, served as winemaker and ambassador for Stellekaya Wines for 13 years and launched Aslina, her own brand, earlier this year.

Environmental Impact: Consider the Wind
We are used, certainly, to hearing of environmental challenges to harvest, from heavy rains to hail to high heat indexes. We are less used to hearing about wind as a factor or challenge, but the example of Pantelleria, an Italian island in the Strait of Sicily, offers this perspective. The topography of the island presents its own significant challenges to growing and harvesting the grapes but then, once the grapes have been picked, the unpredictability of local winds influence their transportation and delivery via ferry to international producers. The cool European mistral wind collides with the hot Saharan sirocco to confound farmers of the Zibibbo grape, who have been known to dump their harvest of grapes into the sea in frustration when ferry service is suspended for days due to the winds.

By Cathy Huyghe September 15, 2017 Source: Forbes.com

Cathy Huyghe is the co-founder of Enolytics and the author of Hungry for Wine: Seeing the World through the Lens of a Wine Glass. Find her online at cathyhuyghe.com, Twitter, Facebook, and Instagram.



---
---
Go-Wine Sharing and Promotion
Go-Wine's mission is to organize food and beverage information and make it universally accessible and beneficial. These are the benefits of sharing your article in Go-Wine.com
It Generates Free Traffic to your site.
Your Article Will Get Indexed Faster.
Your Google Rankings Will Rise. Google Rise Articles with Positive Participation & Contribution.
Your Article Will Reach New Customers and Audience. Go-Wine has a selected audience and visitors from over 120 countries.
You always receive credit - you will be cited accurately (Author, Website & Hyperlink).
The integrity of the Information is not compromised - you always will be linked to the most up to date version of your article.
Contact Us for more information.