Is Napa Valley Ready For Amy Poehler's Wine Country Movie?
Posted: May 08, 2019
---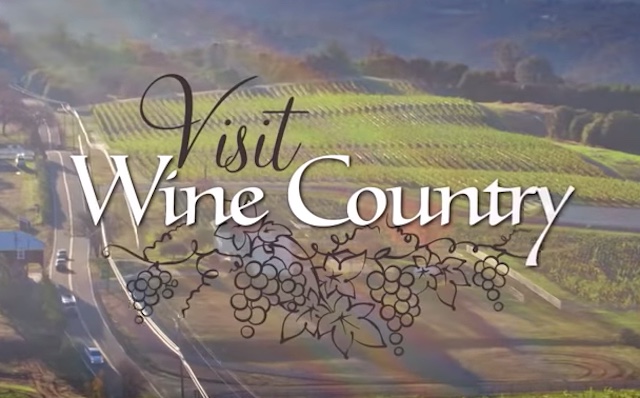 ---
In the opening of the trailer for "Wine Country" — Amy Poehler's highly anticipated, directorial debut that hits Netflix on Friday — Maya Rudolph falls backwards off a piano during a drunken serenade.

It's just one of several instances of debauchery in the movie, which was filmed at locations throughout Napa Valley, and it understandably has some locals and members of the wine community holding their breath.

Remember "Sideways"?

Netflix Trailer

All it took was one line of dialogue to single-handedly disrupt the Merlot industry. Fifteen years later, the poor grape is just now starting to make a comeback.

So, could "Wine Country" also have a severe, lasting and negative impact on Napa Valley? Will it attract the kind of large, rowdy groups, who care more about selfies than learning the craft of wine, that tasting rooms hate most?

George Blanckensee, director of hospitality at Chateau Montelena, recalls the mania that ensued after "Bottle Shock" hit screens on 2008. They had such a tremendous boost in the number of visitors that they had to create a new parking lot to accommodate more than 150 extra cars.

"Many of the people visiting were not necessarily wine lovers or wine enthusiasts, but they were movie enthusiasts," said Blanckensee. Some visitors just wanted to take pictures and were even surprised to find that Montelena was a working winery — not just a movie set — but overall, the extra tourism is a positive."

"Ultimately, it's a problem that everyone would love to have," Blanckensee said. "There's still a pretty good majority of people that come because of the movie. They may not be wine people, but we need to convert them to wine people. It's our duty to tell them and tell them in a way that they can be ambassadors for Chateau Montelena, Napa Valley and the wines of California."

Rich Frank, proprietor of Frank Family Vineyards and former vice president of Disney, knows the ins and outs of the movie industry better than most. When he was approached about having his wines featured in "Wine Country," he declined when they wouldn't show him the script.

"You could be a hero product and you could be the goat product and you don't know unless you're able to read the script," said Frank. "The key to me is to see how you're portrayed. That's the first thing if you're a business. It's all about brand, it's our name and we work very hard to create an image with consumers every day of the year. You don't want to have that taken apart for a particular reason."

That being said, Frank doesn't see "Wine Country" being a branding issue for Napa Valley as "Sideways" and "Bottle Shock" were much more wine-focused than this one.

"Napa and the wine industry are the backstory not the front story," he said. "It's a bunch of people getting together in Napa and having a good time. We see those trips every day here. [Viewers] may actually think it's a place they want to be. Napa should look beautiful in this."

Susan Sueiro, president of Artesa and a big fan of the cast of women, said the experience of working with the "Wine Country" cast and crew was positive.

"The people we were working with were so respectful of our brand. They asked us, 'What's your look and feel?' They designed a set that matched our furniture; made fake uniforms for their staff with our actual logo embroidered," she said. "They really went out of their way to make this a positive and we trusted them that they were trying to do the right thing."

She even went as far to call the opportunity "kismet," noting that the filming occurred at a "tough time, just after the holidays, after the fires."

"It was really perfect timing for them to come to us and bring some business, but also, they were really on a mission to share with the public that Napa is beautiful and be a counterpoint to the public perception that Napa Valley entirely burned down."

"Wine Country" features a all-female cast of Poehler and fellow "Saturday Night Live" alums Rachel Dratch, Maya Rudolph, Ana Gasteyer, Tina Fey and Paula Pell. The script was based off Dratch's 50th birthday celebration in Sonoma, but producers chose to shoot the film entirely in Napa Valley at locations like Artesa Winery, Baldacci Family Vineyards, Quintessa and in Calistoga.

Sueiro was able to attend an advanced screening of the film and confirms that, "This isn't some "Girls Gone Wild" party trip to wine country, which I think some people are fearing it is."

Sure, there are some jokes about wine speak and snobby wine professionals, but it's simply satire, she said.

"It's not really about wine country. It's about these women. It's about female friendships, a woman's perspective on a midlife crisis," said Sueiro, adding that she identified with the film's characters.

"How often do you get to see that? Their priority is to be together and connect on a personal level, and wine country is just a backdrop of that. They aren't focused on intellectualizing the wine, they're not disparaging the wine experience. It's just not their focus."

Chris Canning, mayor of Calistoga, also had great things to say about the few days that production invaded the town. "They went shopping here, eating here, drinking here. We're proud and excited," he said. "Some business owners expressed concern early on, but this is going to be seen by millions and millions of people, and the long-term benefits surely outweigh the short term inconveniences we may have had."

Canning said the city didn't charge the production, which then made donations to the Boys and Girls Club and the city's firefighters association.

He was left with just one, minor complaint.

"The worst part of the whole filming process is that I'm not in the movie," Canning joked.

Image: Youtube.com and Netflix
By Jess Lander
May 7, 2019
Source: Napavalleyregister.com
---
---
Go-Wine Sharing and Promotion
Go-Wine's mission is to organize food and beverage information and make it universally accessible and beneficial. These are the benefits of sharing your article in Go-Wine.com
It Generates Free Traffic to your site.
Your Article Will Get Indexed Faster.
Your Google Rankings Will Rise. Google Rise Articles with Positive Participation & Contribution.
Your Article Will Reach New Customers and Audience. Go-Wine has a selected audience and visitors from over 120 countries.
You always receive credit - you will be cited accurately (Author, Website & Hyperlink).
The integrity of the Information is not compromised - you always will be linked to the most up to date version of your article.
Contact Us for more information.