Three Women Defining The Modern Georgian Wine Scene
Posted: Jul 17, 2018
---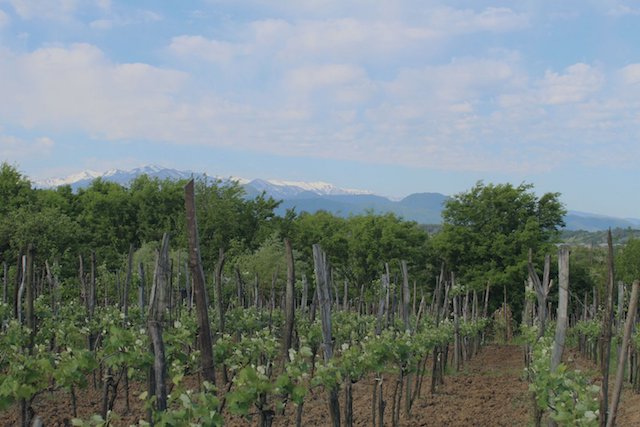 ---
The latest out of a centuries-old wine region, from our friends at Edible East End.

Dust flies up all around as the van comes to a stop at the edge of a narrow dirt lane.

Impassable for the auto, a stone wall rises up from the end of the road where a wrought iron gate stands open, seemingly begging me to venture down the path and into one of Georgia's many wineries.

Say the word Georgia and chances are it's the southern U.S. state that first comes to mind, but thousands of miles away at the intersection of Europe and Asia, the country of Georgia is a magical place to visit, one that is emerging as a wine power likely to soon top lists of must-visit wine destinations.

The country itself is a study in contradictions. It's produced wine for more than 8,000 years, but most non-Georgians are just now beginning to hear of its wine. Its capital city, Tbilisi is bracing for growth, with road signs now in both Georgian and English, yet the average GDP is under $4,000. The western part of the country is rural and mostly unvisited by foreigners where in the east the wineries are reminiscent of Napa. And in a country where almost everyone makes wine in some way, even only as a hobby, there are only a handful of commercial female winemakers. Meet three of the women helping to bring Georgian wine to the world.

Baia Abuladze of Baia's Wine

Think winemaker and an older man walking through vines, sampling grapes likely comes to mind. Baia Abuladze is not that. She's female, to start and she's also only 24 years-old.

Located in the village of Obcha in western Georgia, Baia produces a handful of wine varieties on roughly two hectares. The most popular of the wines is Tsitsa-Tsolikouri, a dry white wine that has a full-bodied and cherry taste.

Winemaking is in Baia's blood. She grew up watching her grandfather and her parents make wine and in 2015, at the age of 22, she decided to go into the business for herself. She started producing 3,000 bottles of years bringing them to local restaurants with her brother in an old beat up car from the 1970s. Her wines quickly became popular, and her Tsitska-Tsolikouri-Krakhuna- White, a full-bodied white fruit and citrus wine won a Silver medal at the Wine Grand Prix of 2016 in Dusseldorf, Germany. In 2016, she was named Georgian Farmer of the Year and she recently won a grant from the Michelle Obama Foundation to convert her vineyard to 100 percent biodynamics wines within the next four years while providing entrepreneur classes to girls to teach them about the winemaking process.

Now making roughly 10,000 bottles a year, she is also hoping to start a sparkling wine program while also working to sell her wines in the U.S. and continuing to entertain the tourists that occasionally wander down the dirt road that leads to her home and vineyard.

"I love working with the grapes, it's a beautiful life," Baia said.

Keto Ninidze, ODA Family Winery

I want to be Keto Nindize when I grow up. The Georgian winemaker lives with her husband and two daughters surrounded by nature in a beautiful home that looks out on a vineyard on one side and and a grassy area with picnic tables set up for wine tastings and meals on the other. In the basement, a small wine cellar holds bottles from her limited but delicious line.

"Sharing the motions of creating wine are so important to us," Keto said. "We've had 400 people visit from May-the September."

Once more people have tasted her wines, even more will come. Keto and her family moved to the area from Tbilisi several years ago. The move from city to vineyard is just even more proof Keto is living a dream life.

Both her and husband, Zaza Gagua, make wines but while he produces roughly 1,000 bottles per year with a couple of friends, Keto decided to run the family winery, making roughly 200 bottles per year on .15 hectares, although she hopes to expand. She does everything by hand and everything is organic. While Keto's been making wines the traditional Soviet-style semi-sweet wines she is moving to produce more dry styles. As one of only seven vineyards that remain in the Racha area due to pests that destroyed everything years ago, she grows six varieties of grapes, Ojalesih and Tchvitiluri and the very rare Koloshi, Dudghushi, Lakaiazh and Ashugazh. In 2015, she produced a dry white wine, Ojaleshi and in 2016 a Rose Orbelian.

She's hoping to create a wine bar, restaurant and more educational programs in the future.

Kate Gersamia, Lukasi Winery

When we met on a scorching hot evening in Tbilisi, Kate Gersamia is the embodiment of European chic. She's sitting in the outdoor garden of a restaurant looking stylish and perfectly cool, fitting as her journey to winery owner is straight out of a fairytale.

"My husband and I really liked wine and my husband was given a vineyard as a present," Gersamia tells me. "We didn't really know what we were doing but wanted to give it a try."

When life hands you lemons ahh grapes, who could resist? Today, Lukasi Winery produces 15,000 bottles of wine per year. Visit the winery during harvest season and you won't find grapes fermenting and aging in qvevris, the buried in the ground (for stable temperature) clay vessels Georgian winemakers have used for thousands of years, to produce wine. Bucking tradition, Gersamia and her husband create wines in the French style. Focused primarily on producing saperavi, a dark red wine, they age the Georgian local grapes in French oak.

"Some people don't like this, but I do, and we want to make wine we want to drink," Gersamia said.

Seems reasonable, especially when you taste the Chkhaveri, a dry rosé with a hint of apples and a lively taste that makes it the rosé I could drink all-year-round.

Lukasi wines were available in the U.S. for the first time this year, but only as a small test run of 300 bottles, nearly all of which were quickly snatched by restaurants including the famed Noma in Napa Valley. As the vineyard grows, Gersamia says they are working towards producing up to 50,000 bottles per year, she expects their U.S. exports will also increase.

Where to Find Georgian Wines in New York
Georgian wines can be hard to find in the U.S., but then again isn't that true of most things worth having? In New York City there are a number of restaurants you can find serving a variety of vintages including Oda House, Old Tbilisi Garden and Tone Café and wine boutiques like 67 Wines & Spirits and Astor Wines & Spirits have great selections. On Long Island, Woodbury Wine Market and Old Library Wines & Liquors in Great Neck have bottles to choose from or if you're looking for something specific you order Georgian wine online via the Washington, D.C.-based Georgian House of Wine.
But be careful: Georgian wines will change the type of wines you want to drink.
---
---
Go-Wine Sharing and Promotion
Go-Wine's mission is to organize food and beverage information and make it universally accessible and beneficial. These are the benefits of sharing your article in Go-Wine.com
It Generates Free Traffic to your site.
Your Article Will Get Indexed Faster.
Your Google Rankings Will Rise. Google Rise Articles with Positive Participation & Contribution.
Your Article Will Reach New Customers and Audience. Go-Wine has a selected audience and visitors from over 120 countries.
You always receive credit - you will be cited accurately (Author, Website & Hyperlink).
The integrity of the Information is not compromised - you always will be linked to the most up to date version of your article.
Contact Us for more information.