Abruzzo: An Italian Region Worth Discovering
Posted: Apr 03, 2018
---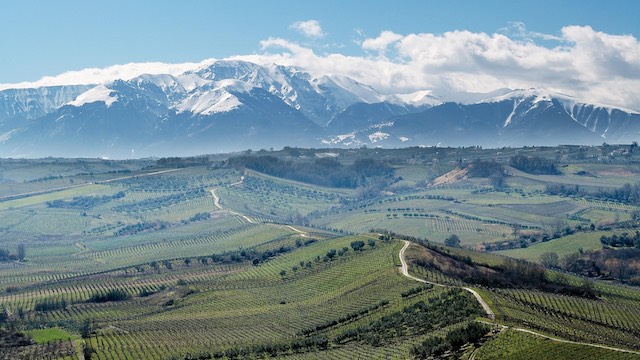 ---
Abruzzo: An Italian region worth discovering

The flagship wine of one of the most importat regions of Italy in quantity terms, Montepulciano d'Abruzzo has had an unprecedented growth over the fifty years of its DOC status. Today, it accounts for more than 80% of the DOC wine produced in the entire region, reaching 685,000 hl of bottled wine, making it one of Italy's leading DOCs.
The fiftieth anniversary of the institution of the DOC in 1968 is the moment to assess the present and look forward to the future for a region that has risen to prominence in the national and international wine world, and keeps much untapped potential in terms of the promotion of its territory and its products.

Montepulciano is without doubt Abruzzo's most typical grape variety. Sourced uniquely from hillside or high plain vineyards, Montepulciano vines account for more than 50% of the total. Part of the regional landscape since the 18th century, it's a vigorous, late-ripening grape variety which produces a versatile wine, ideal for every-day use but also excellent for long ageing, during which it evolves into a product with great depth and complexity.

The international success of Montepulciano has also naturally led to the growth in popularity of other native grape varieties from Abruzzo, mainly whites. Of these, one that stands out is Trebbiano, a white grape with great potential that has developed well in an ideal ecosystem. Alongside this variety is Pecorino, which makes wines of excellent quality, very fruity and with a delightful bouquet, and others like Passerina, Cococciola and Montonico, which is the source of a an excellent range of still and sparkling wines.

"We want to use the opportunity of the fiftieth anniversary to make the wines of Abruzzo better known – particularly Montepulciano – and to increase appreciation of their quality, not just through promotional activities, but also through greater control of their production and promotion," says the Consorzio President Valentino Di Campli.

This explains, for example, the decision to adopt the State Control badge for all DOC wines as from 1st December, to guarantee their excellence and suitability for drinking in all occasions. At the same time, many regional communications projects have been started, such as the "Percorsi" (Routes) project with its dedicated website – percorsi.vinidabruzzo.it – aimed at helping the visitor discover more about the unique Abruzzo region, stretching from the Apennines to the Adriatic Sea.

Montepulciano d'Abruzzo and other native grapes will be the focus of promotional activities at Vinitaly in a few weeks time. Activities include tastings and a food show by the 3-star Abruzzo chef, Niko Romito, which will thus close the virtuous circle comprising viticulture, territory, gastronomy and wine tourism and relaunch Abruzzo as a privileged destination for wine lovers.

By Decanter Staff
April 3, 2018
Source: Decanter.com
---
---
Go-Wine Sharing and Promotion
Go-Wine's mission is to organize food and beverage information and make it universally accessible and beneficial. These are the benefits of sharing your article in Go-Wine.com
It Generates Free Traffic to your site.
Your Article Will Get Indexed Faster.
Your Google Rankings Will Rise. Google Rise Articles with Positive Participation & Contribution.
Your Article Will Reach New Customers and Audience. Go-Wine has a selected audience and visitors from over 120 countries.
You always receive credit - you will be cited accurately (Author, Website & Hyperlink).
The integrity of the Information is not compromised - you always will be linked to the most up to date version of your article.
Contact Us for more information.