The Restaurant Action Plan You Need For A Stellar 2018
Posted: Mar 12, 2018
---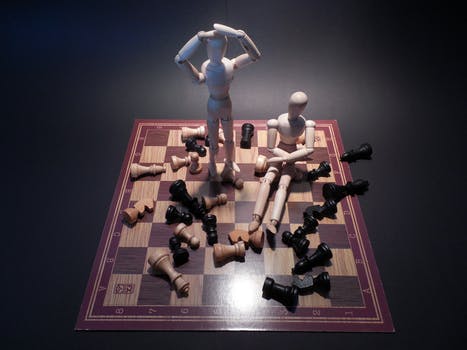 ---
Here we are, almost a quarter of the way into 2018. How are things going so far?
Still plugging away at those New Year's resolutions, or have you found yourself losing motivation after a couple months? It happens; you're only human.
Or were you overwhelmed when you put plan to action on those big dreams of yours? This is also very common.
It's not too late to get back on track to have a stellar 2018. You just need to refocus and commit to a well thought-out restaurant action plan.
Here are a few items to add to your restaurant action plan that will set up 2018 to be the best year ever for your business.
Raise Your Standards
"That's just how it is" is never an acceptable answer for a business owner.

If you feel as though your restaurant is not performing at the level you know it can, it's time to raise your standards.

First thing's first: What are your standards now?
Here are a few questions you should ask yourself and other members of your restaurant management team:
How should hosts answer the phone?
How long should it take for a server to greet a table?
How long should it take for a server to get a table drinks?
Should your servers do check-ins after the main course has been served? How many check ins?
What is your action plan in the event that something goes wrong with a customer?
You might think these are fairly easy questions to answer. In fact, you may already have answers to a few of them. Many restaurant owners, however, do not have written business and behavioral standards in their restaurant training manuals, nor do they post these standards in employee areas.
Do you have standardized recipes and plating specifications for everything on your menu?
"Doesn't every restaurant" you reply. Surprisingly no, they don't.
Do you think Apple has specifications on every product they make?
Of course they do.
You would be shocked to know how many restaurants do not observe codes of conduct, and likewise don't train their staff in the adherence of these standards. That is not only sad, it's bad business.
Make A Solid Restaurant Marketing Plan
True or False: The best time to market your restaurant is when business is slow.
FALSE. That's the worst time to market your restaurant.

Restaurant marketing should not be a once-in-a-while activity. Great restaurant brands understand that marketing is a daily commitment. With more and more restaurants entering the market each year, you cannot afford to sit back and hope that your amazing food and service will be enough to keep guests coming back.
"Restaurant marketing should not be a once in a while activity... It's a year-long commitment."
Back in the 1970s, the average consumer was exposed to approximately 500 ads per day. In today's hyper-connected world, that number is closer to 5000. If you don't have a plan to stand out, you're just going to blend in with the masses.
A solid restaurant marketing plan takes into account not only the platforms you're going to advertise on, but also:
community involvement
menu pricing strategy
competition analysis
special events
loyalty and preferred status clubs
guest engagement plan
Having a detailed yearly marketing plan (that is actually followed) can help reduce some of the extreme peaks and valleys that all restaurants experience in a business cycle.
Have you heard? There's a "war for talent" being fought in our industry.
I disagree — it is more of a "war with talent" scenario. Owners, managers, and chefs have not genuinely taken the time and energy needed to improve and expand their managerial skillset. As a result, they still employ outdated restaurant management techniques and styles that repel people from wanting to work at their restaurant or any restaurant.
Learning effective employee retention tactics may be a time suck, but remember: A solid investment in your company's culture is a solid investment in your company's bottom line.
Take a class, download an ebook, or listen to an audiobook about today's millennial employee.

It's very hard to motivate and attract a specific group of people if you have no idea what is important to them.
In today's job market, restaurant staff want to work for companies that treat employees fairly, offer career growth opportunities, benefits, and job perks, promote work/life balance, and try to make a positive impact on their community and the world at large. Tailor your professional growth as a manager to meet these needs.
When your team is able to see and experience your personal and professional growth as a business leader, you'll be more likely to retain your existing staff and attract new employees
Johann Wolfgang von Goethe said it best: "Knowing is not enough; we must apply. Willing is not enough; we must do."
Cultivate Your Culture
Like water, culture flows down, not up. Culture also always starts with you, the restaurant manager.
Think of company culture as the glue that binds leaders and employees together. A strong company culture will keep your employees connected as a unit and engaged in moving the business forward, even in the face of any and all market fluctuations that will affect your restaurant.
Culture is an organic and living thing that absorbs energy from the people who feed it, including the restaurant manager. As a leader or owner in your restaurant, you are "the culture catalyst," responsible for laying the culture seed and putting extra effort toward seeing it sprout and grow into a strong, beautiful tree.
Since company culture is a living thing, this means it can get sick or die. There is a popular saying among surfers: "Don't turn your back on the ocean." This easily applies to the culture in your rstaurant: Don't forget about it and always check in on it's wellbeing.
Your behavior and energy are what shape the culture of your restaurant. What you feed your culture is what you will get in return.
Update Your Menu
It's not a bad thing to freshen your brand up a little bit by throwing a new coat of paint on the walls or updating your menu (even just a little bit).
If you're going for a full menu revamp, make sure you do it right. It's important that you make educated, data-informed decisions when tweaking your menu — it is your bread and butter after all.
Menu engineering is a healthy blend of art and science. Try out a menu engineering bootcamp to better understand what stratification each item on your menu falls into. Do you know what your stars, workhorses, puzzles, and dogs are? Yeah, sign up for the bootcamp.
Maximizing your menu requires understanding both popularity and profitability of every item on your menu.
A common mistake many restaurateurs make is that they only approach their menu from one side or the other. Just because an item is not selling well does not mean you should take it off the menu; it could be a result of where it appears on your menu.
Conversely, just because an item is costly to make does not validate its removal.
Lean on the sales reporting available in your restaurant POS to get a better lay of the land and see who your stars, workhorses, puzzles, and dogs are.
Get a Coach or Mentor
Change is hard. Staying on track is hard. It's so easy get distracted.
We're nearly three months into 2018, and most people left their resolutions by the wayside weeks ago. The chief reason most fail at their New Year's resolutions is that they don't hold themselves accountable. This can be remedied by asking for third-party help: A coach or mentor.
If you truly want to have a stellar year, you need to have someone to hold you to your word. Honestly reflect on whether or not you are a self-starter. If you are, that's great; if not, that's also great! Self-awareness is imperative to your long-term success.
If you're one of those who would benefit from bringing on a restaurant coach or mentor to help you achieve your goals, do it. While many Fortune 500 companies use executive and business coaches frequently, it's a relatively underutilized tool in the restaurant industry.
Would you be surprised to learn that Steve Jobs had a life coach? People at the top of their game are always looking for an edge to give them an advantage in their market; Tiger Woods, one of the best golfers in the world, had five coaches helping him.
"Every famous athlete, every famous performer, has somebody who's a coach. Somebody who can watch what they're doing and can give them perspective. The one thing people are never good at is seeing themselves as others see them. A coach really, really helps." – Eric Schmidt, Former CEO at Google
Looking Ahead
The best thing you can do to ensure 2018 will be a stellar year for you is to write down exactly what you would like to accomplish in detail.
Write down the tasks you will need to address and complete to move you closer toward accomplishing that goal. When looking over the list, if there are tasks you don't feel equipped to tackle on your own, ask for help.
We all get stuck — some people just stay there. Being helpless is a mindset. Being average is a choice — and so is breaking free from it.
By Donald Burns
March 9, 2018
Source: POS.Toast.tab.com
---
---
Go-Wine Sharing and Promotion
Go-Wine's mission is to organize food and beverage information and make it universally accessible and beneficial. These are the benefits of sharing your article in Go-Wine.com
It Generates Free Traffic to your site.
Your Article Will Get Indexed Faster.
Your Google Rankings Will Rise. Google Rise Articles with Positive Participation & Contribution.
Your Article Will Reach New Customers and Audience. Go-Wine has a selected audience and visitors from over 120 countries.
You always receive credit - you will be cited accurately (Author, Website & Hyperlink).
The integrity of the Information is not compromised - you always will be linked to the most up to date version of your article.
Contact Us for more information.