Wine Region: Bordeaux
Posted: Sep 02, 2017
---
---
2000 Years Define Bordeaux

To understand the wines of Bordeaux, one needs to know its history. Bordeaux wine production began after 43 AD during the Roman occupation of Gaul, an indication that the Romans knew something the Gauls did not. Vineyards were established in order to cultivate wine for the Roman soldiers. In 71 AD, Pliny the Elder recorded the evidence of vineyards in Bordeaux with the early vine cuttings probably coming from the Rioja region of Spain. After the fall of Rome, the wine production was disrupted and continued so into the 5th century.

During the Middle Ages French wine was primarily used domestically and was seldom exported. In the 12th century Bordeaux wines became popular as a result of the marriage of Henry Plantagenet Aliénor d'Aquitaine. Aquitane became English territory and the export business took off. In the 13th century, the Graves was the principal wine region with other production coming from Saint-Emilion, Blaye and Entre-deux-Mers. Export stopped with the start of The Hundred Years' War in 1337 followed by the Black Death epidemic.

By the 17th century, Dutch traders drained the marshlands around the Medoc for planting of vineyards and new distribution channels were established. In 1725, the vineyards in Bordeaux were so vast that they had to be divided into specific areas called Vignoble de Bordeaux and bottle labeling became more specific noting both the region and the area.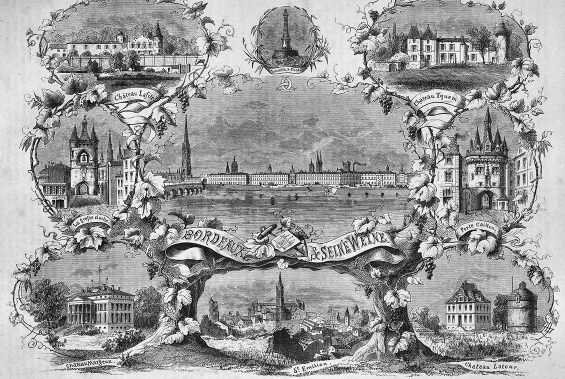 Source: Bordeaux.com

The Phylloxera infestation of 1875 - 1892 ruined almost every vineyard. The regions were rescued by grafting native vines on to American rootstock procured from Augusta, Missouri. Cabernet Sauvignon, Cabernet Franc, Merlot, Semillion and Sauvignon blanc responded best to the grafting and became the leading Bordeaux grapes.

In 1936 it was established that all regions in France had to name their wines by the place of production and labeled with the AOC approved stamp. Economic problems in the 1970s - oil crisis of 1973, overpricing of product in 1972, 1973 and 1974, and the market crash left négociants holding overpriced product that they could not sell. In 1981, inheritance taxes were doubled leading to numerous Chateaux sales to corporate giants and banks.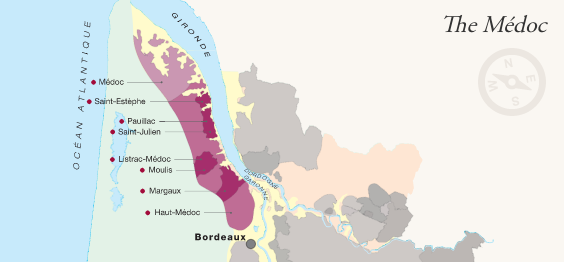 1982, wine critic Robert Parker, Jr. reviewed the '82 vintage as the best in decades. This led to a broader appeal as the dominance of fruit over other characteristics became a more important factor in the selection of wine. Many chateaux began introducing second wines at more "popular" pricing and the en primeur concept began where traders and critics are invited to Bordeaux six months after harvest to taste the new vintage.

Today, the wines of Bordeaux stimulate a worldwide business. An excellent run of good to great vintages - 2005, 2009, 2010, 2014, 2015 and 2016 - has restored the wines of Bordeaux to the top ranks of the wine world.

By Robert S. Scott
Vins De Bordeaux Website
Image Source: Vins De Bordeaux

Wineries in the Médoc

Seasonal Average Temperatures

---
---