Wine Region: Loire
Posted: Sep 20, 2017
---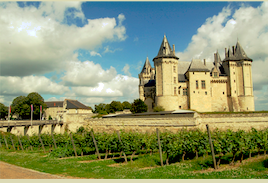 ---
A valley to love. The Loire Valley.

This exceptionally lovely valley is situated along the Loire River from the Muscadet region near the city of Nantes on the Atlantic coast to the region of Sancerre and Pouilly-Fumé just southeast of the city of Orléans in north central France. In between are the regions of Anjou, Saumur, Bourgueil, Chinon, and Vouvray.

Evidence suggests that the Romans planted the first vineyards in the Loire Valley during their settlement of Gaul in the 1st century AD. Not unlike the Roman incursions elsewhere, It seems the Romans were everywhere, bringing plantings of vine stock to their world. By the 5th century, the flourishing viticulture of the area was noted in a publication by the poet Sidonius Apollinaris. By the 11th century the wines of Sancerre had a reputation across Europe for their high quality. In the High Middle Ages, the wines of the Loire Valley were the most esteemed wines in England and France, even more prized than those from Bordeaux.

The area includes 87 appellations under the Appellation d'origine contrôlée (AOC), Vin Délimité de Qualité Superieure (VDQS) and Vin de pays systems. While the majority of production is white wine from the Chenin blanc, Sauvignon blanc and Melon de Bourgogne grapes, there are red wines made (especially around the Chinon region) from Cabernet franc. In addition to still wines, rosé, sparkling and dessert wines are also produced. With Crémant production throughout the Loire, it is the second largest sparkling wine producer in France after Champagne.

The Loire Valley is often divided into three sections. The Upper Loire includes the Sauvignon blanc dominated areas of Sancerre and Pouilly-Fumé. The Middle Loire is dominated by more Chenin blanc and Cabernet franc wines found in the regions around Touraine, Saumur, Chinon and Vouvray. The Lower Loire that leads to the mouth of the river's entrance to the Atlantic goes through the Muscadet region which is dominated by wines of the Melon de Bourgogne grape.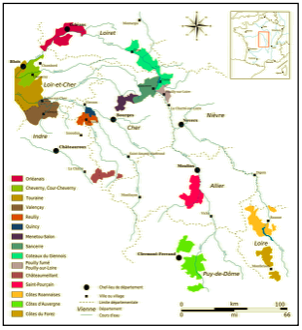 Sancerre and Pouilly-Fumé
Sauvignon blanc and Pinot noir are the principal grapes of this region. Pouilly-Fumé only produces white wines while Sancerre produces red, white and rosé wines. The white Sauvignon blanc based wines from this region has characteristic gooseberry and grapefruit flavors with the Pouilly-Fumé version typically being more full bodied and rich in texture. The red Pinot noir wines are very light in both body and color that are not very similar to other French expression of the grape like those in Burgundy. The region was under the influence of the Duchy of Burgundy for most of its history which partly the reason why plantings were once heavily dominated by the Pinot noir grape. While there are still isolated batches of Pinot noir in the region, Sauvignon blanc is now the most heavily planted.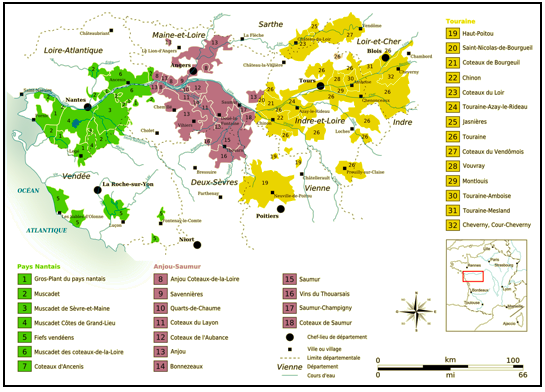 Muscadet
The Muscadet region is located at the westernmost edge of the Loire Valley near the city of Nantes. Muscadet is a neutral flavored wine and the Melon de Bourgogne grape has no relation to the Muscat family of grapes. The Muscadet wines from the Pays de la Loire are made from the Melon de Bourgogne grape and are known for their citrus and mineral notes.

Anjou-Saumur
The Anjou region of the Middle Loire is situated around the town of Angers and is known primarily for the rosé wines based on the Grolleau and Cabernet franc, including the Rosé d'Anjou and the Cabernet d'Anjou. White wine made from the Chenin blanc is known as Anjou Blanc while Anjou Rouge is often made from Gamay. The area around Saumur is the third largest sparkling wine appellation in France after the Champagne region and the Crémant d'Alsace AOC with more than 12 million bottles of Saumur Mousseux produced each year. The area around Saumur-Champigny produces red wine based on the Cabernet franc grape that is similar in profile to the wines produced in St-Nicolas-de-Bourgueil.

Vouvray and Touraine
Winemakers in the region build underground wine caves out of limestone, as in the Champagne region, in order to store wine at an ideal temperature and humidity. The region around Vouvray, Montlouis-sur-Loire and Touraine has some of the most diverse plantings of all the Loire region and makes a wide variety of white, red and rosé wines. The wines can vary in sweetness from bone dry (often appearing as sec on the wine label) to very sweet moelleux wines that are often infected by noble rot. The soil around the Touraine area is a variety of limestone with excellent drainage that is known as tuffeau which is the same material used to build many of the famous Loire Valley Châteaux.

Chinon
The area around Chinon, Bourgueil and Saint-Nicolas-de-Bourgueil produces the majority of the Loire Valley's red wine based on the Cabernet franc grape—known in this areas as Breton. The wines of the Chinon area are the softest and rich expression of the grape while the, Bourgueil area produces the lightest colored wines. In the 19th century, the wines of the Chinon area were compared favorably by critics to the wines of Château Margaux. Chinon are typically served slightly cooler than most red wine.

I would be remiss in my story of the Loire Valley if I did not mention the restaurant Le Route Du Sel just outside of Samur. Our dining experience there was no less than amazing. What can I say? The restaurant was exceptional. A lovely setting, the best food of our trip to France. Friendly service and great wines made for an unforgettable evening. If you are ever in the Loire Valley, don't miss the opportunity to experience dining at Le Route du Sel.

By Robert Scott
September 19, 2017
Source:WineLineRadio.com


Nantes Average Temperature



Orléans Average Temperature

---
---