Fall Creek Vineyards Introduces A Halo Brand And Gets A Big Endorsement
Posted: Nov 07, 2018
---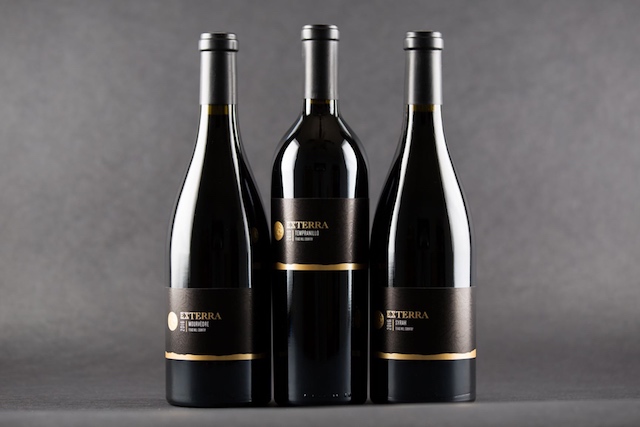 ---
By Andrew Chalk
Fall Creek Vineyards (FCV) is one of the best winemakers in Texas. Their standing just got national elevation with the award of 91 point (out of 100) scores for no fewer than four of their current wine releases in James Suckling's wine newsletter. Suckling, one of the most respected wine critics in the country (and Wine Curator for Holland America Line, presumably with the rank of "Admiral") and his team tasted a bewildering number of over 800 American wines from outside the west coast and rated them on the same 100-point scale that they use worldwide. The scores, therefore, are directly comparable with scores from established areas such as California or France.

I was fortunate enough to be given an early tasting of these wines with FCV owners Ed and Susan Auler, and Director of Winemaking Sergio Cuadra. All the wines are single vineyard bottlings with the red wines coming from the Salt Lick Vineyard surrounding the Salt Lick Barbecue in Driftwood, Texas. The latter is so famous that during the recent U.S. Formula 1 Grand Prix race weekend it was packed with international visitors who had driven and hour from their hotels in the Austin area.

Two wines that I have perennially praised were among the five winners.

2015 Chardonnay, Certenberg Vineyards, Texas Hill Country AVA
This is a full-on New World style Chardonnay, employing barrel fermentation, full malolactic fermentation, and oak ageing (in year old oak) to impart buttery flavors and soft textures. At the same time it retains a firm acid level that makes it synergise with food. We paired it with salmon sushi rolls which made for a potently delicious combination.

If you come across articles about Texas wine written by the hard-of-researching you may read that it is not able to grow non-Mediterranean grapes. That leaves this wine, and fine Chardonnays by Arché, Inwood Estates Vineyards, and Llano Estacado Winery, as inexplicable phenomena.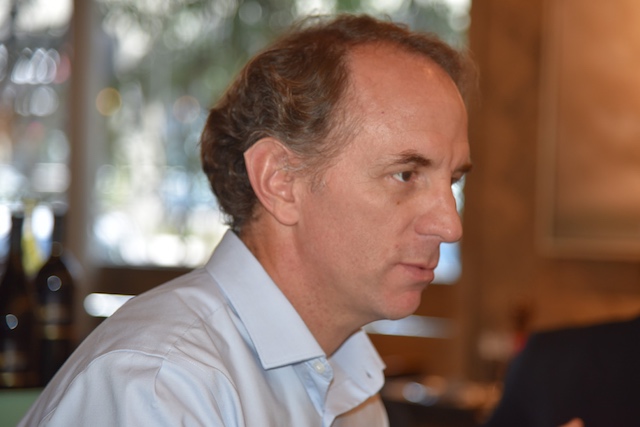 Sergio Cuadra, Director of Winemaking at Fall Creek Vineyards
Picture: Andrew Chalk

2016 GSM, Salt Lick Vineyards, Texas Hill Country AVA
I first had this wine in its 2014 vintage which was the first one that Sergio Cuadra had oversen from leaf to bottle. It impressed me with its balance and subtlety back then, but the 2016 is the best vintage yet. A nose of blackberries, cedar, red meat, and bacon leads one onto flavors of soft blackberries and oregano built on lush, soft tannins. Interestingly, the Mourvèdre in this blend is exactly the same as that in the monovarietal labelling below. 90/100 on the Suckling scale.

The next three wines were under the ExTERRA label that FCV has just created to exemplify the best of their wines in the very best years (as well as the creative use of case sensitivity). 2016 was a light vintage, albeit high quality, so only a few cases of each of these was made. In future one can envisage lot selection to produce regular bottlings (Terroir Reflection) and ExTERRA labeled examples from the same vineyard.

2016 ExTERRA Syrah, Salt Lick Vineyards, Texas Hill Country AVA
A powerful example of the Syrah grape encompassing dark fruit flavors, hints of forest floor in the nose, and a solid tannic backbone. It can be combined with loin of lamb right now or kept for several years (Admiral Suckling says until 2022). This wine was aged in 100% new French oak, a fact that its nose and flavors do not hide under a bushel. Only 44 cases produced. This was my personal favorite wine of the tasting.

2016 ExTERRA Mourvèdre, Salt Lick Vineyards, Texas Hill Country AVA
Mourvèdre is emerging as one of the strongest grapes in Texas, in part because of its late budding. That protects it from the late frosts that beset the state. And also because the 5,000+ degree-day climate in Texas eviscerates green notes from the grape. FCV's expression comes across as medium power, rather than a sledgehammer trying to knock your taste buds senseless. The nose is earthy and imbued with cedar back notes. The taste is rich in black cherries with grippy tannins. Enjoyable with food now or will age for 4-5 years. Aged in 50% new and 50% year-old American and French oak (in equal proportions). 134 cases produced.

Tempranillo is the most established red grape in Texas with over 25 wineries making it. This wine has notes of green tea and cherries in the nose with soft tannins and rich raspberry and cherry notes in the mouth. What is remarkable is how resolved the flavors are. This tastes like a much older wine, reminding me of the excellent 2009 Beronia Gran Reserva from Rioja, Spain. The tannins are receding fast, making for a soulful quaffing wine that will also pair well with red meat. 72 cases produced.

Availability: Online, or via phone directly to the winery. Pricing TBD.



Director of Winemaking Sergio Cuadra, Fall Creek Vineyard proprietors Ed and Susan Auler. Susan asks Sergio to discuss something.
Picture: Andrew Chalk

By Andrew Chalk
November 7, 2018
Source: Go-wine.com
---
---
Go-Wine Sharing and Promotion
Go-Wine's mission is to organize food and beverage information and make it universally accessible and beneficial. These are the benefits of sharing your article in Go-Wine.com
It Generates Free Traffic to your site.
Your Article Will Get Indexed Faster.
Your Google Rankings Will Rise. Google Rise Articles with Positive Participation & Contribution.
Your Article Will Reach New Customers and Audience. Go-Wine has a selected audience and visitors from over 120 countries.
You always receive credit - you will be cited accurately (Author, Website & Hyperlink).
The integrity of the Information is not compromised - you always will be linked to the most up to date version of your article.
Contact Us for more information.