Water Into Wine? This Virtual Cocktail Glass
Posted: Nov 24, 2017
---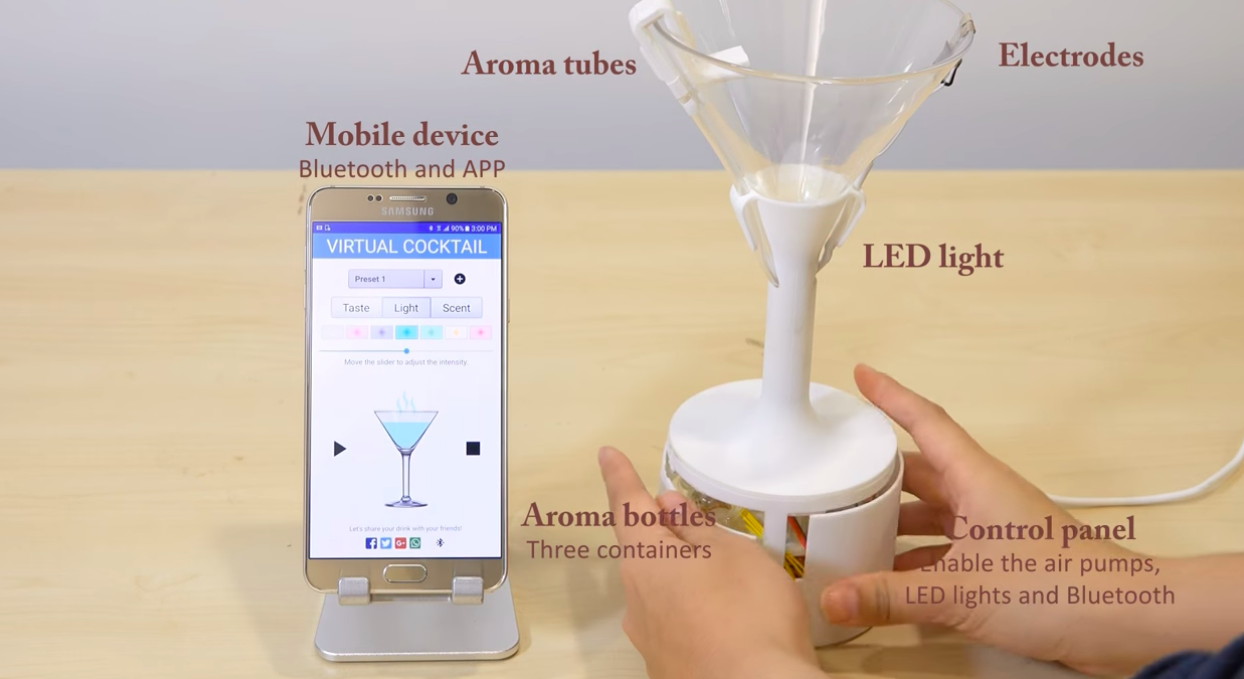 ---
This "virtual glass" wants to trick your tastebuds.

Researchers at the National University of Singapore have designed a cocktail glass which is capable of tricking your senses into thinking that the water you're drinking is actually, well, anything else.

But how exactly does it work? According to lead researcher Nimesha Ranasinghe, it targets your sense of smell, taste and sight.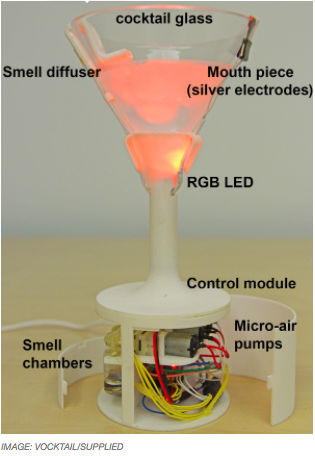 Smell
The Vocktail, short for virtual cocktail, sits in a 3D-printed structure, which holds three scent cartridges and three micro airpumps. These release "smell molecules" that will allegedly change the drinker's perception of the flavour of the beverage. For example, a lemon scent will be pumped out for a lemonade drink.


"We can easily plug-in new smells accordingly - similar to cartridges on a ink-jet printer. We are working on not only increasing the number of smells but also a silent release mechanism," Ranasinghe, of the National University of Singapore's Keio-NUS Cute Centre, told Mashable.

Taste
On the rim of the glass are two electrode strips. When these come in contact with your tongue, they send electric pulses, which stimulates your taste buds to mimic different tastes. It's 180 microamps for a sour taste, 80 microamps for a bitter taste and 40 microamps for a bitter taste.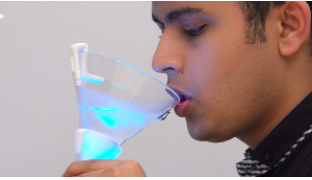 An LED at the bottom of the Vocktail will also flash a colour, which is fully customisable. The colour can be one that corresponds to the colour of the drink, so you could pick a dark red for red wine.

All these features are controlled by a phone app, which allow users to customise the drink accordingly to their needs.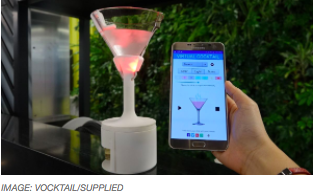 Because it's fully customisable, it could be any drink you want it to be ... in theory.

Here it is in action:


For now, the product is not available commercially, but Ranasinghe says he hopes to one day be able to introduce it across different industries, including pubs.

"How many times [have] you gone to a pub and ordered a drink but you think it [could] be a little more sour or with a hint of mint? The Vocktail could help this," he said.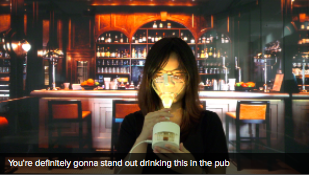 IMAGE: VOCKTAIL/SUPPLIED

Ranasinghe also added that he hoped the product could be further customisable in the future, being able to change features like temperature and fizziness of the drink.

"In the future we would like to simulate other attributes of a beverage such as temperature, fizziness, etc. This also gives users the option to experimentally create new flavours. Imagine you want to try a Mojito with a twist of chocolate or strawberry?" he told Mashable.

This is not the first time Ranasinghe's team have embarked on making such a product.

Earlier this year, they developed a 'virtual lemonade' drink, which similarly used electrodes and LED lights to mimic the taste and colour of lemonade.

To be honest, we're not sure if a combination of lights, electrodes and airpumps will ever be enough to trick yourself into thinking you're drinking the latest mocktail or a glass of beer, but maybe one day, this could be our future.

By Yvette Tan
November 23, 2017
Source: Mashable
---
---
Go-Wine Sharing and Promotion
Go-Wine's mission is to organize food and beverage information and make it universally accessible and beneficial. These are the benefits of sharing your article in Go-Wine.com
It Generates Free Traffic to your site.
Your Article Will Get Indexed Faster.
Your Google Rankings Will Rise. Google Rise Articles with Positive Participation & Contribution.
Your Article Will Reach New Customers and Audience. Go-Wine has a selected audience and visitors from over 120 countries.
You always receive credit - you will be cited accurately (Author, Website & Hyperlink).
The integrity of the Information is not compromised - you always will be linked to the most up to date version of your article.
Contact Us for more information.