The Next Big Thing For Wine Lovers Is Canned Wine. Here Is Why.
Posted: Aug 23, 2017
---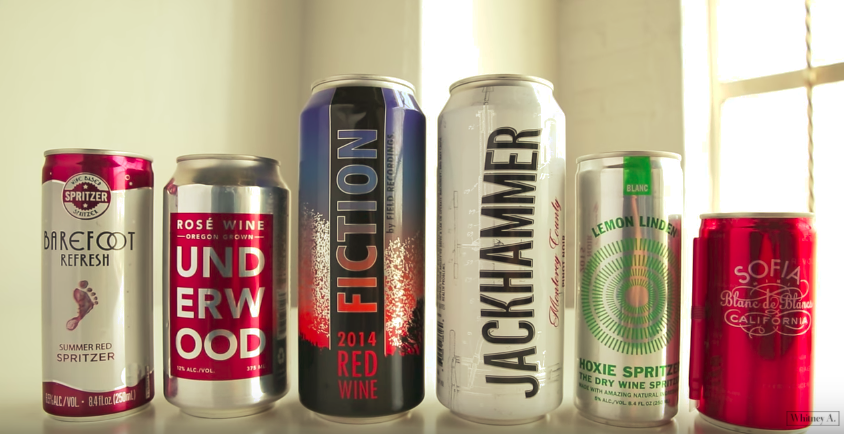 Source: Whitney A. | You Tube
---
As noted previously in this column, cans have swept through the craft beer industry in recent years like wildfire, and some top breweries don't even bother with glass anymore. Once widely perceived as unequivocally inferior, today's aluminum is coated inside to eliminate metallic taste transfer, and does a much better job of negating both oxygen and light exchange, fatal flaws when it comes to preserving flavor and shelf life. Cans can be chilled much faster, are cheaper (to both producer and consumer), more portable, can't shatter, and are much lighter, cheaper to ship and distribute, and thus greener. Brewers have realized these benefits for several years now, and even Boston Beer Company, parent of Sam Adams, the folks that pioneered the entire craft beer industry, recently went canned. Now winemakers are following suit.

The canned wine category has exploded in the past year, and it provides more accessible and in many ways more user-friendly products for consumers. I went to Austin earlier this year as a presenter at South By Southwest, where New York Magazine restaurant critic Adam Platt moderated a panel I was on about topics related to my New York Times bestselling book Real Food, Fake Food. The next day Platt and I headed over to the Texas headquarters of The Infinite Monkey Theorem, the winery that has been at the forefront of the canned trend, to sample the wares. Winemaker Ben Parsons launched the company on a shoestring budget in Denver, Colorado to promote the notion of a viable urban winery, and did so well he doubled down in Austin. The company claims to be only the second producer after Sofia Coppola to can wine. That was just six years ago, and today The Infinite Monkey Theorem has expanded into a national success story with a taproom in Texas and two in Colorado - where it the state's top selling winery - and its cans are sold in about 40 states and territories. They moved nearly two million cans last year in four varieties (red, white, rose, sweet Moscato) plus a dry hopped sauvignon blanc and a pear cider (The Infinite Monkey Theorem offer more options in bottles).

"Monkey Theorem threw the hottest party at Aspen Food & Wine this year. Some of the most discerning wine drinkers on the planet were there, and they all seemed to be loving wine in a can," said Dan Dunn, liquor expert, author of American Wino, a book about the changing modern tide of winemaking in this country (which I reviewed here), and host of the Drinky Fun Time podcast, which launched in July on Feral Audio Network and interviews interesting folks connected to wine and spirits such as Anthony Bourdain and Guillermo del Toro. "The rise of canned wine is the result of technological advances meeting a whole new breed of consumer, one that favors convenience over convention."

I thoroughly enjoyed my tasting at The Infinite Monkey Theorem, and more recently had dinner at Moxy, an acclaimed James Beard Award nominated restaurant in red hot Portsmouth, New Hampshire that focuses on creative small plates and has a very unique wine program. The regular list describes each wine with tasting note style details but does not include the name of the producer (they have more traditional copies for people who can't make the leap of faith). Being a hot summer night with a varied slate of dishes, I chose a rose with an interesting description and received a can of Underwood Rose from Oregon's Union winery - and it was perfect. And a great deal.

"Younger wine drinkers represent the fastest growing segment of the market, and cans are just one of the many ways they're rebelling against tradition," said Dunn. "In recent years there has been tremendous growth among consumers in their 20s and 30s, and they aren't overly concerned with tradition - they value convenience."

Canned wine is certainly convenient in many ways. It's perfect for pools or beaches where you cannot or do not want to use glass, perfect for camping, hiking or sporting events where you have to carry it yourself, perfect for mixing with beer, cider and other canned beverages in "variety" coolers, and a perfect serving size - you never have to open a bottle to serve one guest one glass. Based on the rapidly increasing sales, increasing acceptance, and growing number of entrants into the canned wine business, it looks like it is a trend that is here to stay, and that seems like a good thing.

By Larry Olmsted
August 22, 2017
Source: Forbes.Com
---
---
Go-Wine Sharing and Promotion
Go-Wine's mission is to organize food and beverage information and make it universally accessible and beneficial. These are the benefits of sharing your article in Go-Wine.com
It Generates Free Traffic to your site.
Your Article Will Get Indexed Faster.
Your Google Rankings Will Rise. Google Rise Articles with Positive Participation & Contribution.
Your Article Will Reach New Customers and Audience. Go-Wine has a selected audience and visitors from over 120 countries.
You always receive credit - you will be cited accurately (Author, Website & Hyperlink).
The integrity of the Information is not compromised - you always will be linked to the most up to date version of your article.
Contact Us for more information.