Rich Returns And The Specter Of The Grim Reaper Are Prompting Some Older Collectors To Sell ...
Posted: Aug 14, 2017
---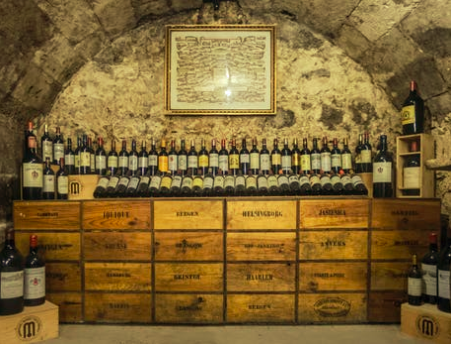 ---
The old saying that the five Ds: – debt, divorce, death, disease and disillusionment – generally encourage a little thinning out of the wine cellar is no longer entirely true.

When it comes to boomers' collecting styles many just don't have space for all the new things they want to try.

"When I look at my inventory list and think that it has been two or three years since I drank a bottle of this or that and that I am not likely to do so for another a few years is when I sell," said one US collector in his late 60s with multiple homes, who requested not to be identified. He estimates that at any one time he may have 5-6000 bottles in his cellars.

Another factor motivating these sales is practicality. "There are wines that can command higher prices than the pleasure I will get out of them," he said, explaining why he is frequently motivated to sell older vintages. He added that his 20-something sons are not particularly interested in wine and are comfortable with him liquidating the family's wine assets.

Selling older vintages can be "part of retirement and/or downsizing their home to raise funds, so opening that $300 to $1000 bottle of Heitz Martha's is less appealing," confirms Molly Zucker, the library wine department director at California retailer K&L. The three-location store opened an auction business in 2010.

Most of the sellers of these wines, according to Maureen Downey, owner and founder of the San Francisco-based Chai Consulting and Wine Fraud, are male baby boomers.

As a result of both these – and other – factors the market has seen an uptick in sales of iconic older vintages from classic regions such as Bordeaux, Burgundy and some of the cult labels from California. "We get our share of older French bottles, mostly from the late 1970s through the 1990s," says Zucker.

Sales patterns
Auction houses have long been the key place to buy hard-to-find and allocated wines. "Access to older vintages is the whole point of wine auctions," says Jeff Zacharia, president of the suburban New York-based Zachy's, which also has an auction business. He adds that some of the oldest wines he has seen include 18th-Century Madeira.

Realizing one's net worth and slimming down an overall footprint have long been reasons that collectors have sought out the auction market. However the current set of boomers, thanks to favorable financial conditions for wine sales, are realizing that they may have overstretched their financial and storage capacity more than other demographics of collectors.

Experts like Leah Hammer and David Elswood say boomers are downsizing their collections to cash in on high returns.© Wine-Searcher | Experts like Leah Hammer and David Elswood say boomers are downsizing their collections to cash in on high returns.
There has also been a generally negative perception of the post-2000 winemaking world that has prioritized older vintages, and that has driven interest in wines that are more than 20 years old. "Many buyers are shunning more recent post-2000 vintages," confirms David Elswood, the international head of Christie's wine and spirits department in London.

Many of these wines are also arriving in abundance on the market because they had been previously purchased at advantageous prices and aged to perfection in boomers' cellars.

"Those sellers predominantly have older bottles because of the length of time they've been collecting. Their input costs 30-plus years ago were fairly low and now they have appreciated in value nicely,"" said K&L's Zucker. "It was wild to see $30 to $100 price tags on wines that now sell for $1000-plus a bottle. I definitely think this generated a sense of excitement among the collectors in the boomer age range that had been putting off the 'wine cellar organization' project."

Buyers these days, according to Zucker, tend to be out of Hong Kong and Japan. The Chinese market is particularly on the uptick since duties were dropped on imported wines in Hong Kong in 2008, adds Downey.

Changing tastes
The wine world has expanded so much in the last few years. Unfortified wines from Portugal and blends from South Africa were barely on the map two decades ago, so there is so much more wine for collectors to be interested in as one's palate evolves. "One fun aspect of collecting is you can buy new stuff," said the collector.

A major factor influencing boomers' sales of older vintages is how people's tastes change, confirms Zacharia. "Older vintages tend to flow from the cellars of our older clients – say those aged 50-plus – and they are mostly based in Europe, and occasionally in the US. Often these collectors have had their fun building the collections and have tasted most or all of the wines multiple times along the way – hence the desire to sell becomes stronger so they can make space [and get funds] for new purchases that they are excited by," added Elswood.

The mortality issue
Older collectors are also number crunching how much they can drink before they may transition to the non-drinking world. The collector, who preferred not to be identified, wondered how many wines he should allocate to the next 15-20 years of his life. Sometimes they "even have to admit they have more wine than they could consume in several lifetimes – and just sell for that reason", confirms Elswood.

Downsizing one's cellars later in life is also financially practical. Leah Hammer, director of cellar acquisitions at the San Francisco-based Vinfolio calls these sales "lifestyle adjustments", made by collectors who are looking to have "an asset more manageable for heirs, to consolidate homes, to fund college tuition for grandchildren, to take a once-in-a-lifetime vacation, to retire in that place where they have always wanted to live. They may have accumulated more bottles than they can realistically drink in their lifetime, even accounting for wine they may leave their children."

The market will continue to become ever more intriguing if the boomers continue to leave the rest of us more wine-buying options.

By Liza B. Zimmerman
August 11, 2017
Source: Winesearcher.com
---
---
Go-Wine Sharing and Promotion
Go-Wine's mission is to organize food and beverage information and make it universally accessible and beneficial. These are the benefits of sharing your article in Go-Wine.com
It Generates Free Traffic to your site.
Your Article Will Get Indexed Faster.
Your Google Rankings Will Rise. Google Rise Articles with Positive Participation & Contribution.
Your Article Will Reach New Customers and Audience. Go-Wine has a selected audience and visitors from over 120 countries.
You always receive credit - you will be cited accurately (Author, Website & Hyperlink).
The integrity of the Information is not compromised - you always will be linked to the most up to date version of your article.
Contact Us for more information.