Can Engineered Meat Replace Hamburgers?
Posted: Aug 12, 2017
---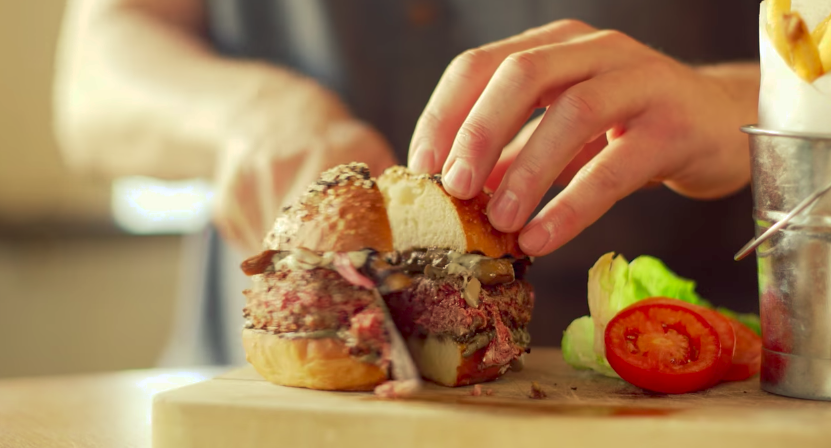 ---
Impossible Foods CEO Pat Brown argues the merits of plant-based burgers on Too Embarrassed to Ask.

Pat Brown doesn't care how much ground beef you eat — just so long as it doesn't come from a cow.

Brown is the CEO of Impossible Foods, the Silicon Valley company developing plant-based meat that it says will be cheaper and better for the environment than "real" meat, without sacrificing the taste. Its first product, the Impossible Burger, is found in a handful of restaurants throughout the country and will be headed to supermarket shelves "within a few years," Brown said on the latest episode of Too Embarrassed to Ask.

"Our mission requires us to compete successfully for the hardcore, uncompromising meat lover who has no interest or minimal interest in replacing meat, but will replace meat if you deliver something that outperforms in terms of what they value," Brown told Recode's Kara Swisher and The Verge's Lauren Goode. "To do that is a really hard scientific problem."

Impossible Foods is also working on engineered steak, chicken, chicken eggs and fish ("a high priority"). Global meat consumption is expected to rise by 50 percent in the next 25 years, which Brown said could have "catastrophic" consequences for land, water and air; however, he's optimistic about the company's ability to compete for those same tastebuds.

"The advantage that we have that guarantees our success [is] we can continue to improve this forever and the cow is not going to get any better at being meat," he said. "They're not even thinking about it. I mean, look at those cows. They're not deep in thought about how to be delicious."

You can listen to the new podcast on Apple Podcasts, Spotify, Pocket Casts, Overcast or wherever you listen to podcasts.

As Goode notes at the start of the episode, this interview was taped before the New York Times reported FDA concerns about the use of soy leghemoglobin in the Impossible Burger. That's the crucial ingredient that gives the burgers their juicy beef-like texture.

"Without heme, you can't make meat," Brown said. "If you crave meat, if you crave the flavor of meat, what you crave is the flavor of heme and its reaction products."

On the new podcast, he said he's uninterested in appealing to vegetarians or vegans with the Impossible Burger, calling that "a complete waste in terms of our mission." That's because switching them from one beef alternative to another doesn't make a dent in the one billion pounds of beef sold in the United States each month.

"Anyone else who's making a product that can compete against meat from an animal for a meat-eating consumer is an ally, not a competitor," he said. "When you look at the scale of the problem that we're taking on, I would say seriously, we would welcome anyone else who's doing that well. The market size of the meat industry is more than a trillion dollars a year. The market size of the meat replacements, I don't even know how big it is, but it's miniscule by comparison."

By Eric Johnson
August 11, 2017
Source: recode.net
---
---
Go-Wine Sharing and Promotion
Go-Wine's mission is to organize food and beverage information and make it universally accessible and beneficial. These are the benefits of sharing your article in Go-Wine.com
It Generates Free Traffic to your site.
Your Article Will Get Indexed Faster.
Your Google Rankings Will Rise. Google Rise Articles with Positive Participation & Contribution.
Your Article Will Reach New Customers and Audience. Go-Wine has a selected audience and visitors from over 120 countries.
You always receive credit - you will be cited accurately (Author, Website & Hyperlink).
The integrity of the Information is not compromised - you always will be linked to the most up to date version of your article.
Contact Us for more information.