Are Hand-picked Grapes Better Than Machine-harvested?
Posted: Jul 14, 2017
---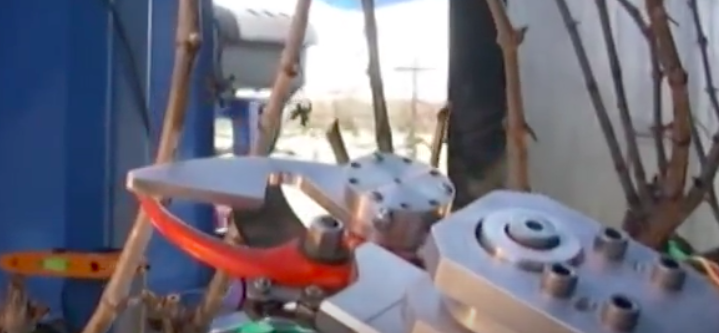 Source: Vision Robotic Corp
---
Marketers love to affix the word "hand" to imply artisan craftmanship behind products. From "hand-tossed pizza" and "hand-breaded chicken nuggets" to "handmade spirits," the word has been diluted to near worthlessness.

Yet, in the wine world, the phrase "hand-picked grapes" does have meaning. But what value do they add? Do grapes harvested by humans make better wines, and do they justify an increase in cost?

First, let's clarify the terms. Hand-harvesting is performed only using hand tools, including knives and/or shears, either manual or electric. After bunches are cut, they're placed in collection baskets or bins and transported to the winery.

Machine picking, introduced in the 1960s, typically refers to an over-the-row harvester that travels through vineyards using rubber or fiberglass rods to shake fruit off vines and into large reservoirs.

Machine harvesting is arguably one of the most important advancements in the wine industry over the last 50 years. It's been one of the leading drivers in spreading good, affordable wine across the globe.

Winemakers typically swear by the harvesting method they use (though many use both). Ultimately, what works best depends on the winemaker's circumstances, goals and intended wine style.

Most wineries hand-pick their grapes designated to their flagship wine. Many consider the process gentler on valuable vines and grapes, and believe only a trained eye can ensure collection of the best fruit.

Ornellaia and Opus One are among the producers who subscribe to this line of thinking, and believe the benefits justify the wine's cost.

There is truth to the claim, especially concerning delicate grapes that are prone to break during machine harvesting. Pinot Noir's thin skins require careful handling, says Jamie Kutch, winemaker and proprietor of Kutch Wines.

"Broken or damaged fruit leads to oxidation, browning of aromatics and bacterial growth," he says.

Kutch picks with clippers rather than knives, for another, very specific reason. "Clippers enable a clean cut of the stem, which we include in the fermentation," says Kutch.

Other wine styles, like late-harvest and noble-rot dessert wines, demand manual labor, too. The cutting of individual botrytized berries for Sauternes or Trockenbeerenauslese from bunches can only be done by hand, which may require several passes through the vineyard over a number of weeks. The process is both laborious and expensive.

However, with recent advancements in technology even boutique producers have begun using mechanical harvesters. They just might not tell you.
In some appellations, hand-picking is the law. One of the biggest challenges in Champagne is finding the nearly 120,000 pickers needed for the three-week harvest.

Vineyard terrain, vine spacing and vine training often dictate the manner of picking. To work the steep slopes of the Mosel Valley with a tractor, when not outright impossible, can risk injury or death. Old vines are often spaced too close for tractors, while non-standardized training systems, like Priorat's bush vines or Northern Italy's pergolas, also can't be accessed by machinery.

Sometimes, the decision to hand-pick is made during harvest. In 2015, Silver Thread winery in the Finger Lakes region of New York made the call to hand-pick their Chardonnay, thanks to a smaller-than-usual crop at the end of a disease-ridden year.

Finally, ethos may also inform the decision. Natural winemakers that look to reduce sulfur use need intact berries. Hand-harvesting also reduces fuel costs and a winery's carbon footprint.

Hand-picking requires a lot of available labor. These workers need training, which is a growing problem as experienced seasonal workers disappear. According to a recent report, "the wine industry is being squeezed by a nationwide labor shortage that has been exacerbated by stricter U.S. immigration policies."

The ethical dilemma over replacing humans with machines loses relevance when workers just aren't available.
A number of growers are looking to mechanization to alleviate the problem. Kareem Massoud, of Paumanok Vineyards on New York's Long Island, estimates his harvester has replaced about 40 skilled manual pickers. Some argue that the ethical dilemma over replacing humans with machines loses relevance when workers just aren't available.

In comparison to machines, humans are also expensive and slow. Estimates, depending on the region, put manual labor as up to three times more expensive per ton harvested than a machine. A mechanical harvester covers an acre in under an hour, while humans may take five hours or more. Speed can become an issue when large vineyards have large amounts of fruit ripening at the same time, or when severe storms loom.

In many wine drinkers' minds, mechanical harvesting has long been associated with commercial wineries that farm vast tracts of mediocre fruit. However, with recent advancements in technology even boutique producers have begun using mechanical harvesters. They just might not tell you.

When it comes to man versus machine, what you should really consider is this: Do you like the wine for the price you are paying?
Arguments against machines have generally been related to quality. Forceful shaking can damage vines, while grapes were semi-crushed during their deposit into steel bins, and used to sit in a dirty soup while the machine kept working. Older harvesters were also known to collect too much "material other than grapes" (or MOG), which can include stems, leaves and small animals. Haphazard fruit selection was also a concern.

Massoud claims that cutting-edge technology has reduced or eliminated many of these concerns. His New Holland 9060L Opti-Grape "is the latest and greatest, in that it both destems and sorts on board the harvester." He still sorts his fruit manually before it enters the winery, primarily to remove stem matter and MOG, though the advanced bells and whistles of the harvester have streamlined the process considerably.

Today's technology is more gentle and precise. Massoud is now able to calibrate his machine to only pick ripe fruit rather than every single grape.

In 2000, Massoud's father, Charles, ran a trial to justify the cost of their new machine. He compared finished wine from a block of Cabernet Sauvignon, half of which was picked by hand, the other half by machine. He blind-tasted them and found one slightly more exuberant—the machine-harvested wine.

Of course, state-of-the-art equipment comes at a price. Lack of vineyard acreage, up-front capital and fixed costs may hinder smaller wineries' adoption of mechanical harvesting. Older, used models can cost tens of thousands of dollars, while top-of-the-line harvesters hit six figures. Custom harvest services—akin to renting a mobile bottling line—are growing in popularity.

Which Technique is Better?
There are trade-offs to both methods, but quality isn't the defining difference. Despite the romance that swirls around the industry, wineries are still businesses. If they don't make money, they can't make wine.

So, when it comes to man versus machine, what you should really consider is this: Do you like the wine for the price you are paying? If the answer is yes, it doesn't matter how those grapes were picked.

By LAUREN MOWERY
July 6, 2017
Source: Winemag.com
---
---
Go-Wine Sharing and Promotion
Go-Wine's mission is to organize food and beverage information and make it universally accessible and beneficial. These are the benefits of sharing your article in Go-Wine.com
It Generates Free Traffic to your site.
Your Article Will Get Indexed Faster.
Your Google Rankings Will Rise. Google Rise Articles with Positive Participation & Contribution.
Your Article Will Reach New Customers and Audience. Go-Wine has a selected audience and visitors from over 120 countries.
You always receive credit - you will be cited accurately (Author, Website & Hyperlink).
The integrity of the Information is not compromised - you always will be linked to the most up to date version of your article.
Contact Us for more information.