Discovering Ghosts And Witches In The Napa Valley
Posted: Sep 10, 2021
---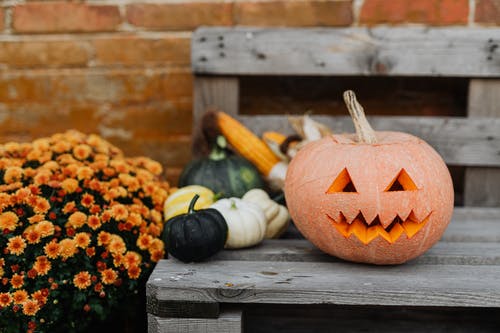 ---
Napa Valley's harvest is in full swing and we all know what that means…October and its famous month ending holiday, Halloween, is just around the corner.

But what does this favorite day of the year have to do with wine from this great region? Certainly terms such as ghosts and witches resonate with our national ubiquitous celebration, but great wine? Hmmm.

Two wines I tasted from Flora Springs proved that luxurious wine and our favorite fall celebration paired well together.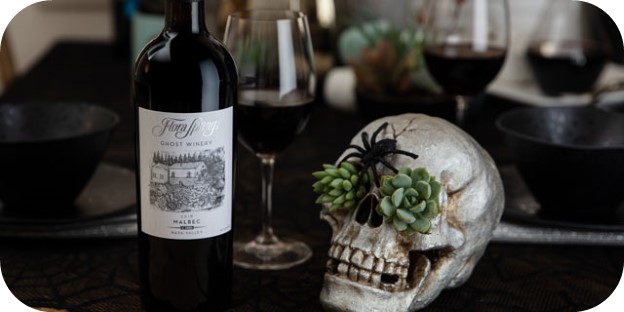 2019 Flora Springs Ghost Winery Malbec Napa Valley


A little internet research revealed that many Napa Valley wineries are connected to the paranormal due to their founders' supernatural presence or their building's colorful past. That said, the term "Ghost Winery" has an additional meaning. "Napa Valley is home to a number of 'ghost wineries' – wineries built between 1860 and 1900 but abandoned in the early 20th century due to the vine disease phylloxera, the Great Depression, and of course Prohibition. One of these ghost wineries happens to be the home of John Komes. Originally constructed in 1885, the Charles Brockhoff Winery was an active winemaking operation for over twenty years until Prohibition forced the family out of business. It remained abandoned until the 1930s. When John's parents, Jerry and Flora Komes, purchased the property in 1977, John completely renovated the old stone winery. He lives there with his wife, Carrie, to this day.

Every year Flora Springs bottles a small amount of estate-grown Malbec from the vines in front of John's home, the old Brockhoff winery, in honor of the property's illustrious history."

There is an ethereal, dare I say, 'spooky' excellence in this Malbec which I have found rarely in non-Argentine Malbecs. The wine's deep ruby to deep purple color is seductive. The nose of the wine is evocative. I loved its aromas of dark chocolate, vanilla, and coffee-candy one might enjoy on All Hallows' Eve. The winemaker expertly wrapped these distinct qualities in silky tannins and blackberry and cherries jubilee fruit flavors. With only 250 cases made for the world, the wine will certainly live up to its name as it will most likely quickly disappear.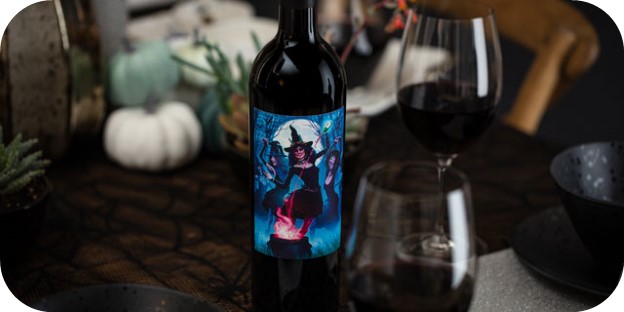 2019 Flora Springs All Hallows' Eve Cabernet Franc

But there are more than just ghosts to be revealed in the great wines of the Napa area.

Cabernet Franc, one of the preferred blending grapes for many a great Bordeaux and indeed many of the great red wines from the Napa Valley, also happens to be a bit of a challenge to tame when made on its own. Winemakers need to have a magic touch to create a wine which is based on 100% of this grape. The winemaking team at Flora Springs, Enrico Bertoz and Nat Komes bring a style to their All Hallows' Eve Cabernet Franc which is bewitching.

The All Hallows' Eve leads with a deep ruby color. Messr's Bertoz and Komes wine has cauldron filling qualities of black cherry, blackberry, espresso and dark chocolate flavors that are intense and concentrated. The mouthfeel of the wine is positively enchanting.

Unfortunately, something this magical can only be achieved in very small amounts. On the bright side, according to the winery, you will be able to enjoy this wine's spell until 2031.
---
To purchase the wine mentioned in the article, click here.

By Luis Torres
09-10-2021
Source by: Go-Wine.com


---
---
Go-Wine Sharing and Promotion
Go-Wine's mission is to organize food and beverage information and make it universally accessible and beneficial. These are the benefits of sharing your article in Go-Wine.com
It Generates Free Traffic to your site.
Your Article Will Get Indexed Faster.
Your Google Rankings Will Rise. Google Rise Articles with Positive Participation & Contribution.
Your Article Will Reach New Customers and Audience. Go-Wine has a selected audience and visitors from over 120 countries.
You always receive credit - you will be cited accurately (Author, Website & Hyperlink).
The integrity of the Information is not compromised - you always will be linked to the most up to date version of your article.
Contact Us for more information.