We Are Pulling Together, Rowing In The Same Direction: April Cullom
Posted: May 07, 2020
---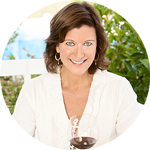 ---
As part of our podcast series entitled Solutions for the Wine Industry in times of Crisis, our strategic partner, Wine Line Radio, interviewed a well-known marketing expert, winemaker, and a key representative for some of the major wine regions in Spain: April Cullom.

April Cullom first discovered Spain when she was a study abroad student at the Complutense de Madrid in 1986. She received a B.A. in General Business and Spanish from Stetson University in Florida; a dual Master's degree in International Business (MBA/MS) for Univerisity of Miami, and pursued a career in International Marketing in New York City.

She is fluent in Spanish and also speaks French, Portuguese and Italian.
Certified Spanish Wine Educator by the Wine Academy of Spain
WSET Intermediate & Advanced certifications
She followed her passion for Spain post-college with careers Directing Educational Experiences for EF Educational Tours; Corporate Buying in the New York Retail Marketplace; conducting trade missions for key Spanish regional D.O.'s and most recently producing her fantastic wine Alma De Vino.


April Cullom: Greetings from Malaga, Spain.

Robert Scott: First, I'd like to know, how do you manage to stay positive during our worldwide crisis and have you needed to change the way that you market your wines?

April Cullom: I guess we can look at things as, the glass is half full or half empty. So in this particular case, the crisis has forced us to fast forward, our steps towards getting on with our digital marketing strategies. I think anybody in international business realized that going digital was the future, but maybe they didn't realize how fast that future was coming at them, until this happened.

The positive side of this is the fact that it has forced us to reach out and stay in touch with everybody. I've been having more video calls with people I haven't for ages. Our new reality is about sharing ideas and supporting each other. In this case it's about one of my stores K&D wines in New York City. I started out as the Spanish buyer there and now they have they carry my Alma wines. The second that this pandemic hit I said, ok now how can I help you stay busy and keep selling wine? Is there a restaurant in the neighborhood that is still doing the delivery. How can we work together on this? I think that's the situation that has forced us to take that extra step and say, "How can I help?" I think that is a positive outcome of the crisis.

Robert Scott: In the US, I see relationships developing between restaurateurs and wine merchants. It is a wonderful thing to see.

April Cullom: Yes, we are pulling together, rowing in the same direction.

Robert Scott: The digital marketing aspect of this, and I know you're doing that now with Buy Wine Online with Go-Wine.com.

I know that that's only been up for a few days, but have you seen any impact from BWO as of yet?

April Cullom: Oh absolutely. I mean, to be able to say OK, here is one place to go find your wines easily and effectively. For years. I've been doing the marketing campaigns for clients for not just my wines, but for clients. However, to do an event and not be able to say here is where you can buy the wine is very frustrating. At the end of the day what we want to do is direct leads to a place where you can buy the wine whether it's a restaurant or in a retail store. This new platform is at least enabling that. Where now I can say, "here go to this focused site and it will take you directly to where you can buy the wines online." The next step is going to be able to do that on the Wine and Dine Online component to Go-Wine.com as well. So this way producers are supporting a restaurant, who carries your wine and saying, "how can I help you stay in business?" I think this is a positive side of it all, really just pulling together.

Robert Scott: A lot of wineries come into town but they never quite get to the consumer and tell them, "Here's my wine. Please taste it, try it, and if you love it, here is where you can buy it."

April Cullom: It is very important. Today we are doing a lot more of the virtual tastings. I remember years ago doing a PR campaign for a wine region and sending samples to the journalist to be able to taste online and do a virtual tasting, which is terrific, but at the end of the day, if the consumer cannot find that wine and can not buy the wine, those cases of wine are not going to leave the warehouse. To me what I'm trying to envision is cases of wine leaving a warehouse, which is at the end of the day, it is all about moving, moving that wine.

So the Wine on Line and Wine and Dine Online marketing and sales strategy is finally going to allow someone to say you know I read an article and where can I get this? That business model is connecting the dots. This is what we're trying to do here. Virtually connecting the dots. So now you can do a virtual tasting with a winemaker via the winery. We can't travel alright, so let's do this. The winemaker tastes with the importer, distributor and then they share that information with the retailer. Maybe the retailer can save that virtual tasting on the website and say, you know, taste with us this Saturday. We're not doing in-store tastings, but you know let's taste virtually our consumers.

About April Cullom
Interviewed by Robert Scott at Wine Line Radio
Text By Luis Torres at Go-Wine.com May 7, 2020
---
---
Go-Wine Sharing and Promotion
Go-Wine's mission is to organize food and beverage information and make it universally accessible and beneficial. These are the benefits of sharing your article in Go-Wine.com
It Generates Free Traffic to your site.
Your Article Will Get Indexed Faster.
Your Google Rankings Will Rise. Google Rise Articles with Positive Participation & Contribution.
Your Article Will Reach New Customers and Audience. Go-Wine has a selected audience and visitors from over 120 countries.
You always receive credit - you will be cited accurately (Author, Website & Hyperlink).
The integrity of the Information is not compromised - you always will be linked to the most up to date version of your article.
Contact Us for more information.