Romagna Quality And Value Rise While Volume And Obscurity Slide
Posted: Feb 28, 2020
---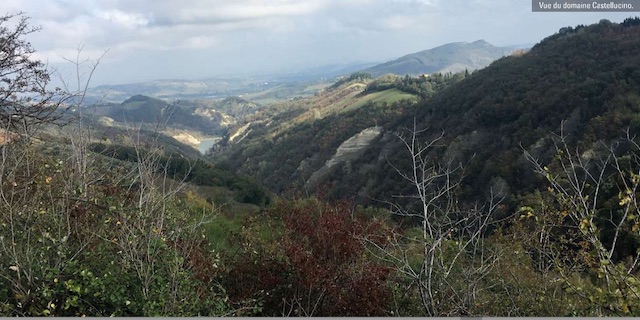 ---
With its leading red variety Sangiovese, Italy's Romagna cannot help being eclipsed by Toscana. But what it offers is a generation of highly committed—mostly young—growers churning out good wines at prices lower than their famous neighbors. And then there's its unique indigenous white of Albana made both dry and sweet.

According to consorzio director Filiberto Mazzanti, "since 2016 the pressure to introduce new typologies is that we're not fulfilling what we can to further express these wines." Production includes 25 companies producing organically/biodynamically working with a 7.5% decrease of 12,5m btls. from 2013 to 11m in 2017 from 14,000 ha of DOP Trebbiano, a mere 1.3m btls., and 7,400 ha of DOP Sangiovese of 1.1m btls.--29% of Romagna's total production. It also has proposed new DOCs of Romagna Trebbiano Spumante and Romagna Spumante Rosato, the new collective mark to be called 'Novi Bolli'.

Cooler annual growing temperatures make Romagna's Sangioveses fresher and fruitier than Tuscan versions due to the effect of the Apennines allowing greater exposure to cool east winds compared to Toscana which is more exposed to warm winds from Africa.

Originating in the Mercato Saraceno area, there are also 200 ha of Famoso, most of which finds its way into cheap bulk wines though a few passionate wineries are increasing plantings so as to experiment with improving its potential as a secondary white signature variety. Typically smelling of grapefruit and herbs it's lighter and crisper than Albana.

Castelluccio's Claudio and Alessandro Fiore, owners of Chianti Classico's Poggio Scalette, were early adapters to quality wines under its previous owner, film director Gianvittorio Baldi who staked his reputation upon Sauvignon blanc in 1974 with good results having been consulted to by noted writer Luigi Veronelli. Of the brothers wines my favorite is their Forlì IGT Sangiovese Ronco dei Ciliegi, aged 12-14 months in varying ages of French oak at a well-priced 11EUR. With a style comparable to his original family winery, Claudio and his wife in also formed their Balìa di Zola estate, its Modigliana Riserva Redinoce from vines over 50 years of age and resting three years in new French oak, equally alluring at 10EUR.

On a pricier note its neighbor Torre San Martino's Patria Francesco fashions a stunningly complex Sangiovese Sup. Rsv. Vigna 1922 from some of Italy's oldest vines at 22EUR.

Located in three areas of the Marzeno sub-zone Zerbina's Cristina Geminiani since 1986 looks after her grandfather circa 1966 fattoria following studies in Bordeaux she came aboard (US/UK/FR) both consulted to by Francesco Bordini. She retrained five different Sangio clones in both post-trained and trellised (candelabra) albarello manners with two wires so as to have less handwork. As a result of the varying clones (2 of which are Tuscan) harvest occurs several times. "This way we can build our best wines."

"Our goal this year has been in differentiating in the cellar the sub-zones with each fermentation vessel contains a separate sub-zone." Her passito since 1998 has been based on botrytis cinerea. Makes several passages for harvesting, techniques learned while working at Doisy Däene under Denis Dubourdieu. The digestion of proteins by botrytis helps Albana to remain softer than it would when done sweet.

A bargain at 16EUR the very juicy palate of Alessandro Morini's 2012 Sangiovese Oriolo Rsv. Nonno Rico expresses itself remarkably through its oaky nose, the basis of which should give a delicious and composed sense in a year or two. Consulted to by Mauricio Castello the poderi seeks to develop indigenous grapes such as Famoso and Albana in addition to Sangiovese. Comparatively Marco Bandini, also committed to unique varieties such as Pignoleto and Famoso but in a decisively more acidic manner, startles the palate with his Albana Caracara at a bargain 9EUR.

Organic certified in 2014 Tre Monti's clay-dominated soils support its Sangiovese Sup. Rsv. Bio Thea 16 with a lovely perfumed nose and elegant palate.

Biochemical engineer Sylvia Casali's Savio Valley vineyards are upon sloped alluvial lower and clay soils, organic and soon to be certified. Her portfolio highlight is the Sangiovese Sup. Rsv. Quartosole from the low-yielding Grosso clone grown in a white clay parcel within its prime Baruccia site; its punchy acidity and oaky entry covers the fruit but there's plenty beneath with a spicy and long finsh.

Though he makes high quality Cabernet franc and Syrah competing with the best of Italy, the Colli di Rimini Rebola Bio Vivi (Pignoleto) from Roberto Mascarin at organic San Valentino sports alluring underripe peach and green plum aromas and a savory finish.

Winemaker Angelo Totaro 'shadows' a community of 1300 recovering drug addicted boys at San Patrignano which, at 380 ha, is the largest of its kind anywhere with all winery-related work done by the community. Initially consulted to by Riccardo Cotarella in 1996, it was founded in 1978 and donated to this cooperative. Water used in the winery is first ozone-treated creating a naturally antiseptic environment. Vigorous experimenter both in the vineyard and cellar, Totaro's Sangiovese Sup. Rsv. Avi at 15EUR gives dark fruit and leather aromas, a touch of sweet concentration, and strong tannins.

Overseen by Jacopo Melia, the circa 1950 Paradiso is the oldest winery with a marvelous wine library. Growing organically his Forlì IGT Rsv Barbarossa 2012, a vinifera of undetermined origin, explodes with refreshing blackberry character.

Giovanna Drei Donà was the only vintner who expressed appreciation for and kept me outside as long as possible. "We're in the sub-zone of Predappio, the most classic for Sangiovese" sharing that "the Etruscans 2500 years ago referred to all wine as 'sanzve'." Winemaking is overseen by her son Enrico growing Sangiovese along with Cabernet sauvignon, Chardonnay, and Riesling. organically since Drei Donà's 1992 inception. My favorite is their Sangiovese Sup. Rsv. Pruno with a sweet oak and black raspberry nose, a generous entry of red & black fruits and a long finish.

Poderi Dal Nespoli was purchased by the Mondodelvino group in 2010 from the Ravaioli family who still manage the property with Chilean and Piemontese winemakers. "The green credentials of the winery and agritursimo is super-important," said Daniela Facciani noting its water recovery process and solar energy creation and emphasizing that the winery has been recently rebuilt. In addition to the more typical grapes it produces Famoso and Pagadèbit. Nespoli's modern Albana secco Campodora lacks bitterness I often found in others' examples, its Sangiovese Sup. Prugneto ed. limitata at 15EUR a selection of its oldest clones with the greatest sun exposure, gives a gorgeous entry, modern and delicious now but will age well…and another bargain!

Chiara Condell and her family's 77 ha Conde? and her personal Chiara Condell estate rest upon a Pliocene marine rock of compact shells with vines dating to 1939. Chiara took over in 2015 after studying economics and is now pursuing an enology degree. Opened a winery hotel in 2014, "I converted to organic viticulture and with 2018 am certified. We've great biodiversity here." All vineyard and cellar work are done manually, and best expressed in her Sangiovese Predappio Rsv. Raggio Brusa planted on very rocky topsoils.

Pietro Brunelli's 90% Sangiovese vineyards are at a relatively high 400m surrounded by woods, the moderating temperature variations it provides causing him to harvest 2 weeks later than others in Predappio. His single site Dantel 1872 and Cesco 1938 are both immensely authentic expressions made more so by having been vinified in neutral Slavonian botti.

Taste Romagnese wines this Monday & Tuesday in Manhattan at Vinexpo stand 1011--I will!

This article is now appearing in the current issue of Sommeliers International
By David Furer
February 28, 2020
Source: Go-Wine.com
---
---
Go-Wine Sharing and Promotion
Go-Wine's mission is to organize food and beverage information and make it universally accessible and beneficial. These are the benefits of sharing your article in Go-Wine.com
It Generates Free Traffic to your site.
Your Article Will Get Indexed Faster.
Your Google Rankings Will Rise. Google Rise Articles with Positive Participation & Contribution.
Your Article Will Reach New Customers and Audience. Go-Wine has a selected audience and visitors from over 120 countries.
You always receive credit - you will be cited accurately (Author, Website & Hyperlink).
The integrity of the Information is not compromised - you always will be linked to the most up to date version of your article.
Contact Us for more information.