Ancient China: Rice Wine Discovered In Sprawling 2,000-year-old Tomb
Posted: Nov 06, 2018
---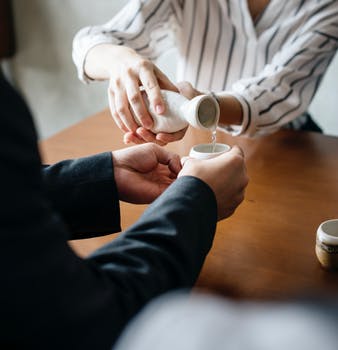 ---
Archaeologists have dug up a 2,000-year old bronze pot that might just be hiding some ancient wine, Chinese state news agency Xinhua has reported.
The team discovered almost a gallon of clear yellow fluid in the pot from a large Western Han Dynasty (202 B.C. to 8 B.C.) tomb in the country's Henan Province.

Pouring the fluid into a measuring jug Tuesday revealed the heady aroma of alcohol, the team reported. "It smells like wine," Shi Jiazhen, head of the Institute of Cultural Relics and Archaeology in the city of Luoyang, told Xinhua.

Rice and sorghum rice wine played an important role in ceremonies and sacrifice rituals at the time, he said.

Further tests will reveal the true nature of the liquid, Shi added. As well as wine, the 2,300-square-foot tomb yielded numerous clay pots painted with color and bronze artifacts, as well as human remains, Shi said.

This isn't the first time archaeologists have uncovered ancient rice wine in China. In March, reports emerged that scientists had discovered just over a cup of the stuff in a tomb near Xianyang, once capital of the Qin Dynasty (221 B.C. to 206 B.C.) Found in one of several burial sites spanning three periods in China's ancient history, the wine's bronze vessel may date back to the Warring States period (475 B.C. to 221 B.C.), Chinese outlet GBtimes previously reported.

"The liquor was milky white when we found it, and was a little muddy," Zhang Yanglizheng from the Research Institute of Shaanxi said at the time, according to Science News. "Later tests showed that it was composed of high concentration amino acid substances and also small amounts of protein and fatty acids, which made it similar to yellow rice wine we drink nowadays."

Traditional Chinese vessels like these were most often used to store wine. Almost a gallon of pungent clear yellow fluid was discovered in an ancient bronze pot.

New archaeological evidence is transforming scientists' understanding of ancient China, researchers recently reported. The remains of a 4,300 year-old-pyramid, for example, indicates the ancient northern city of Shimao may have been part of the "political and economic heartland" of the region we now call China. Previously, the researchers stated, archaeologists had focused on the Central Plain region.

In other archaeological news, groups of researchers exploring Egypt have found some 800 tombs, a sphinx statue and the remains of a large building with an adjoining religious room.

In Peru, scientists have unearthed some 3,000-year-old burial sites home to human bones, treasure, and even the remains of a llama. Meanwhile, in Russia, archaeologists recently discovered a medieval board game hidden in a secret passage underneath a castle.

By Katherine Hignett
November 6, 2018
Source: Newsweek.com
---
---
Go-Wine Sharing and Promotion
Go-Wine's mission is to organize food and beverage information and make it universally accessible and beneficial. These are the benefits of sharing your article in Go-Wine.com
It Generates Free Traffic to your site.
Your Article Will Get Indexed Faster.
Your Google Rankings Will Rise. Google Rise Articles with Positive Participation & Contribution.
Your Article Will Reach New Customers and Audience. Go-Wine has a selected audience and visitors from over 120 countries.
You always receive credit - you will be cited accurately (Author, Website & Hyperlink).
The integrity of the Information is not compromised - you always will be linked to the most up to date version of your article.
Contact Us for more information.