Balcones Distilling Turns 10
Posted: Oct 21, 2018
---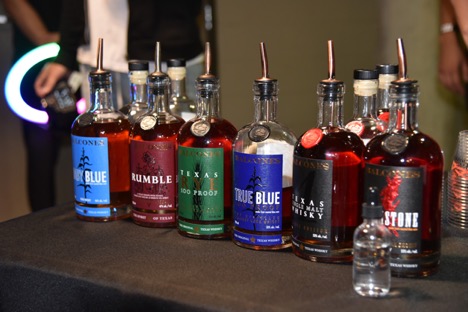 ---
by Andrew Chalk
"We just wake up every day, do what needs to be done that day. Keep putting one foot in front of the other and one day realize what we have got to" says Jared Himstedt, Balcones Distilling's Head Distiller (and employee since the company's inception in 2008). From humble roots in an old welding shop underneath an overpass to its current location in what used to be the 'Texas Fireproof Storage Building', a multi-storey structure in Waco's rapidly re-developing downtown, Balcones Distilling has grown in size and stature before arriving at its 10th anniversary last weekend.

The distillery sets its strategy to make a line of small batch distinctive expressions of whiskey. It now has five perennials, it calls them Classics, available year-round. Three Annual Releases, available once a year, and special releases, available 'while stocks last'. All of them carry the magic signage, at the foot of the back label, "Distilled and Bottled in Texas", designating that the whiskey is made in Texas, from cooking raw ingredients through to fermenting, distilling, ageing and blending. Such an apparently insignificant thing is actually a big deal in a state where the state's name is prostituted across countless whiskies made as far afield as Kentucky and Indiana. Before the start of its tenth anniversary celebrations Production Manager Thomas Mote takes I and an assembled fleet of media folks through the process from giant silos where New Mexican blue corn, Scottish malted barley, and rye stand ready for use. By way of illustration of the small batch ethos, the blue corn mash bill makes five different whiskies:
Baby Blue, Corn Whisky, used barrels, 6-12 months in age, 46% ABV.
True Blue 100, Straight Corn Whisky, used barrels, 24+ months of age, 50% ABV.
True Blue Cask Strength, Straight Corn Whisky, used barrels, 24+ months of age, ABV is different every year due to it being cask strength.
Blue Corn Bourbon, Straight Bourbon, New barrels, 24+ months of age, ABV is different every year due to it being cask strength
Brimstone, Smoked Corn Whisky, used barrels, 6-24 months of age, 53% ABV.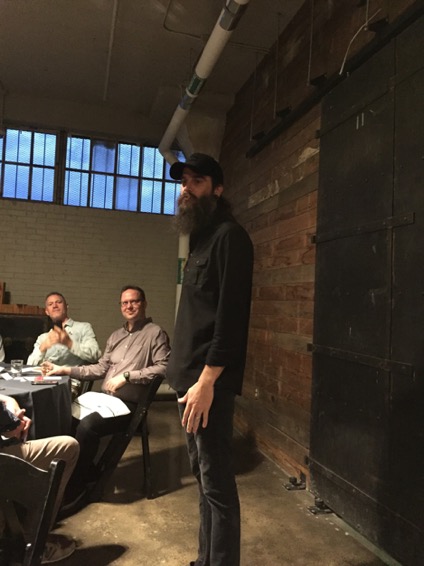 Head Distiller Jared Himstedt describes the 10th anniversary
Brujeria and Hechiceros releases while National Brand
Ambassador Winston Edwards (in tan shirt) looks on.
Photo: Andrew Chalk

The raw ingredients take one of two paths. Malted barley goes through a roller mill to a mash tun to convert the starch to sugar. Corn and rye go through a hammer mill into a cereal cooker. The specialized equipment affords Balcones flexibility in what they make. Fermentation takes place in a jacketed fermenter and produces a beer (as it is known in the industry) at about 8.5% alcohol by volume (about the same alcoholic strength as a strong beer or a light wine). Fermentation takes place at 75-850F (with the jacket controlling temperature) and takes about seven days to complete. Some grains are roasted so that different flavors emerge.

Distillation is done in two wash stills and two spirits stills. The wash stills distill the beer up to an alcohol level in the low 20% range. The spirits stills take alcohol at these levels and raise it to the final desired level. It is a batch process as these are all pot stills and no two batches are the same. Differences arise from the distiller's judgement of where to make the 'cut' to begin and end capture of the distillate, variations in raw materials, and, especially, in differences in the barrels selected for the ageing process. Balcones will have around 20 different types based on American, French, and Hungarian oak. Then toast and char profiles. Then, for the used barrels, whether they are bourbon, port, sherry, brandy, or tequila.


Barrel room. Temperatures oscillate so violently in the Texas
heat that barrels often leak, leaving whiskey-covered floors.
Photo: Andrew Chalk

It is only on the completion of ageing that there is whiskey. The distillate (unaged) is called 'newmake'. Blending the barrels is a vital and skilled task with the goal of not only producing an excellent whiskey but also a consistent style. Since Balcones specializes in small batch expressions Jared Himstedt must constantly taste competitors' products to avoid getting what, in the wine world, is called cellar palate (a tendency to falsely praise one's own wines due to not tasting competitors' products). Hence, the testing room has a shelf across one wall full of other brands' whiskies, some familiar, some obscure.

The ageing process, even for their single malt expression, differs in a key respect from e.g. Scotch. Scottish temperatures are low and constant. Texas temperatures are ferociously hot in the summer and cold at night. The barrel room temperature varies from 45-1150F. As a result, Texas whiskey ages the equivalent of 18 Scottish years in around 5 years.


Upskirt of one of the pot stills.
Photo: Andrew Chalk

The effort is paying off. Ten years of experience has lead to distribution in 20 US states and the United Kingdom. Dozens of medals have come from all over whiskey ecosystem. Scotch enthusiast Daniel Whittington remarks on the small batch focus "Balcones spirits are recognizable no matter what they make. From rye to malt to bourbon, everything has a distinctive underlying taste that says 'I'm from Balcones'"

Now, for the anniversary, they have fittingly released two special blends, Brujeria and Hechiceros. The former translates loosely as 'witchcraft' and is aged in sherry casks. The latter means 'sorcerers' and is finished in port casks. Both are available in extremely limited quantities.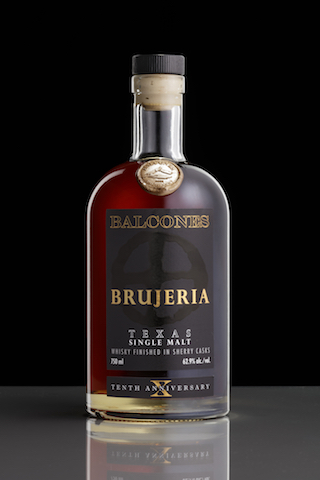 Caption: Brujeria. One of the two tenth
anniversary special releases.
Photo: Balcones Distilling


Hechiceros. One of the two tenth anniversary
special releases. Photo: Balcones Distilling

By Andrew Chalk October 22, 2018
Source: Go-Wine.com
---
---
Go-Wine Sharing and Promotion
Go-Wine's mission is to organize food and beverage information and make it universally accessible and beneficial. These are the benefits of sharing your article in Go-Wine.com
It Generates Free Traffic to your site.
Your Article Will Get Indexed Faster.
Your Google Rankings Will Rise. Google Rise Articles with Positive Participation & Contribution.
Your Article Will Reach New Customers and Audience. Go-Wine has a selected audience and visitors from over 120 countries.
You always receive credit - you will be cited accurately (Author, Website & Hyperlink).
The integrity of the Information is not compromised - you always will be linked to the most up to date version of your article.
Contact Us for more information.