Meet Beltran Domecq Y Williams - Insider Interviews By David Furer
Posted: Oct 06, 2018
---

---
By David Furer
Beltrán Domecq y Williams has had an illustrious career. His studies included time at UC-Davis with Professor Maynard Amerine, training that later led to Domecq co-authoring with Jaime Sanchez-Briñas and Professor Luis Perez of Cadiz University a seminal treatise on fractional blending and the solera system while working at Bodegas Domecq. While working there and at Williams & Humbert, the enologist also enjoyed responsibilities for production, quality control, and R&D in Mexico, California, and various areas of his native Spain. Several years ago this former president of the Andalusian Association of Oenologists assumed the presidency of the Regulatory Council (Consejo Regulador) of Jerez and Manzanilla by unanimous vote during the unusual circumstance of the discovery of his predecessor having defrauded the regional authority which funded the council. This storm has long since subsided, and the office along Jerez's Avenida Domecq in which he works now rests above a shiny new visitor center promoting the fine fortified wines of Sherry and Manzanilla.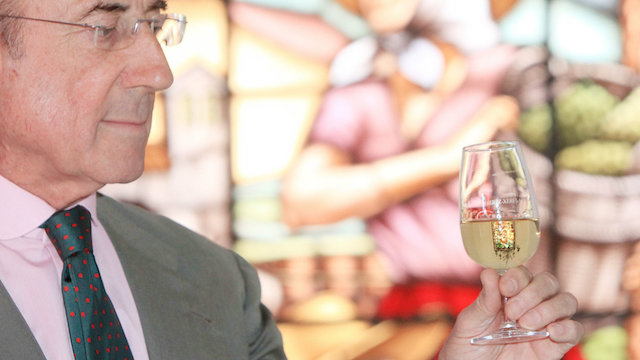 A few years ago this former president of the Andalusian Association of Oenologists assumed the presidency of the Regulatory Council (Consejo Regulador) of Jerez and Manzanilla by unanimous vote under the unusual circumstance of his predecessor having been found to have defrauded the regional authority. The storm he entered has subsided, and the office along Jerez's Avenida Domecq in which he works will soon rest above a shiny new visitor center promoting the fine fortified wines that comprise Jerez and Manzanilla. It was there in February that we spoke.
As the administrator charged with the development and implementation of the regulations governing the wines and brandies of the Jerez region and presumedly given to some limited foreknowledge of the region's direction, what aspects of Sherry might wine professionals expect to change?

We've had a situation over the past 20 years in which the vineyard surface area was excessive. This made Sherry plantings increase from 6000 to 22,000 hectares, provoking production that's given way to a bad effect on prices and quality. We now are in a situation over the past 4-5 years where the catalyst of this phenomenon isn't here any longer, and we've regulated the surface area to meet our current needs. This is raising the quality of Sherry. It is beginning to be noticed. We want everyone to earn money--everyone should earn an adequate price which corresponds directly to the quality. Sherry should be reevaluated as to what it should be, and companies would then earn enouch to do adequate marketing. We want to have a community in which vineyard owners and bodegas alike should earn enough money. The product itself has evolved in quality; there's a lot of finos and manzanillas sold 'en rama', made without final filtration and other treatments. These wines have more flavors and body. These wines aged longer as 'pasada' or 'fino-amontillado' are spectacular. VOS and VORS are also very interesting when made in Medium or Cream styles.

How might a US sommelier best approach his/her customer to enjoy a glass or bottle of Sherry with their meal?

Sherry is a wine and should be served as such at the appropriate temperature, in a proper glass which allows you to see/smell/taste perfectly. A suggested food pairing should always be provided. Finos should be served with starters, vinaigrette salads, and artichokes. It's so important to understand that these dishes which are typically considered horrible with other wines, are a huge success with sherry. The living yeast living on these finos not only prevents oxidation but also consumes alcohol, creates an acetaldehyde smell, and consumes all the glycerol. In doing so you create a wine which has an incredible affinity for these so-called difficult foods.

Nature or man--what's more important to wine? Or is success merely predicated upon harmonizing the two?

In the case of Sherry it's the great combination of the two. Sherry is the most sophisticated man-made wine in the world. It was fortified for commercial purposes to increase stability, to go far abroad when there was no other knowledge in knowing how to do so. The solera system is the most complex system for winemaking you can think of. The recomposition given to wines in the solera system gives complexity that no other wines have. It's a blend of vintages that can go back a hundred years. Man acts but doesn't modify nature. We help it and direct it, and that gives us an incredible range of wines that go from dry to sweet, from pale to dark.

In your career you've met a great many of the most interesting wine personalities. Of those you haven't met for whatever reason, who is the one you'd most care to meet?

I wish I'd gotten drunk with Noah when he was building the Ark! Seriously, there are people like Emile Peynaud whose ability to taste helped me. My father put me into this, my uncle Jose Ignacio was also a great man.

What's the most unexpected successful pairing of food with Sherry you recall?

I think pairing foods and wines is so interesting, and I've read a lot about this. The Canadian Chartier wrote a book called 'Taste Buds and Molecules' where he associates molecules that exist in both. However it is too theoretical. In practice what you want is something that expresses harmony in the products you're having, but could also be contrasting the effects they have on one another. For example PX (Pedro Ximenez is incredibly sweet, it is excellent with powerfully salty and umami-driven Cabrales cheese. They complement each other in their contrasts.

How does Jerez stack up against the world's other premium brandies e.g. Cognac, Armagnac?

We're in a specific denomination which offers particular characteristics to our wines. Cognacs and Armagnacs aged in casks that once contained Sherry retain those specific characteristics. These brandies with great personality, are accented by these barrels. The spirit picks up notes of fino, amontillado, oloroso, and PX. The 'holandas' degrees of 65-80% alcohol can give certain volatile components, the congeners, which impart specific qualities to these luxurious spirits.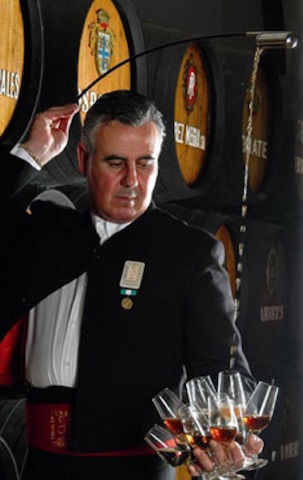 You've had an illustrious career having written a seminal treatise on fractional blending, overseen the production of Sherry wines while helping to direct bodegas including one which shares its name with you, and now the presidency of the Consejo Regulador of Sherry and Brandies of the Jerez region. Clearly your life has been inextricably linked to these wines and this region. If you could clone yourself, create a second Beltrán Domecq living simultaneous to the man of Sherry and Jerez, where would he be and what would he do?
Naturally I love nature and love ornithology. He would enjoy exercise by walking, and would watch birds while drinking sherry. He would also be a land-owner and hunter of small game He would be a great steward of the land.

You've recently written the book 'Sherry Uncovered'. What's the next chapter; that is, what's the future of Sherry?

The future of Sherry is quality, value, it's gastronomy, and the work that this represents. Communication, publicity, and the work which it requires. It is my future.

By David Furer October 6, 2018 Go-Wine.com
Original Article: San Francisco Wine School
Photo Credits: Sherry.wine


---
---
Go-Wine Sharing and Promotion
Go-Wine's mission is to organize food and beverage information and make it universally accessible and beneficial. These are the benefits of sharing your article in Go-Wine.com
It Generates Free Traffic to your site.
Your Article Will Get Indexed Faster.
Your Google Rankings Will Rise. Google Rise Articles with Positive Participation & Contribution.
Your Article Will Reach New Customers and Audience. Go-Wine has a selected audience and visitors from over 120 countries.
You always receive credit - you will be cited accurately (Author, Website & Hyperlink).
The integrity of the Information is not compromised - you always will be linked to the most up to date version of your article.
Contact Us for more information.