Lail Vineyards: What Gustave Niebaum Wrought
Posted: Jul 29, 2018
---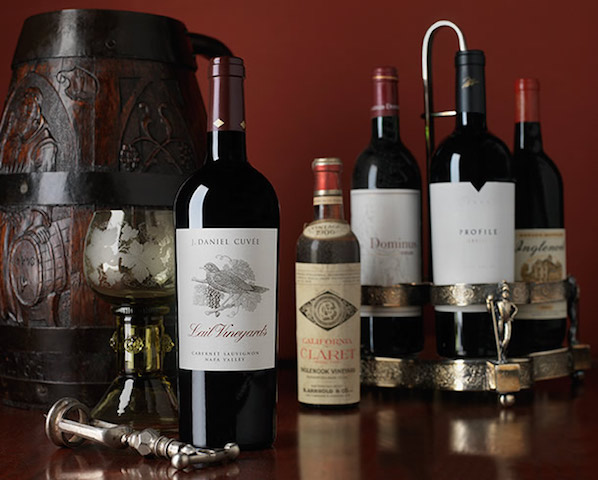 ---
By Andrew Chalk

The picture below is the label of a 100 point wine, as judged by Robert Parker, the world's most influential wine critic. It is a classic Napa Cabernet Sauvignon from Lail Vineyards. 'Classic' here refers to method as well as assessment. The grapes are 100% Cabernet Sauvignon. They originate from three vineyards: Mole Hill Vineyard, from the estate on Howell Mountain AVA, Vine Hill Ranch Vineyard, in the Oakville AVA, and Heimark Vineyard, in the Calistoga AVA. Wine making is overseen by Philippe Melka, one of the the most famous winemaking consultants in Napa Valley. The process involves ageing for 20 months in French oak barrels, 80% of them new.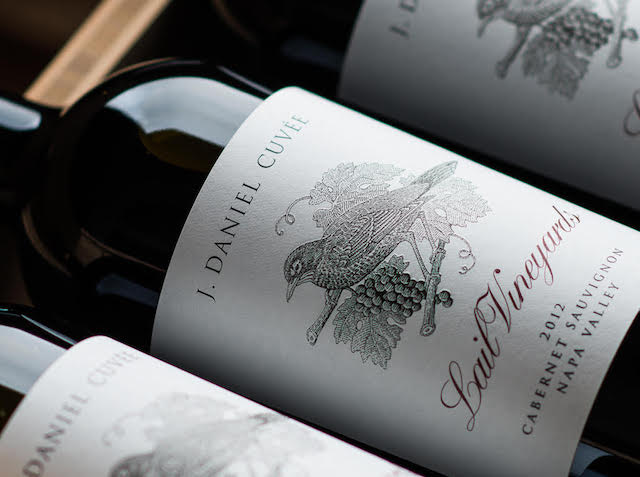 Proprietress Robin Daniel Lail (pictured below) has engaged Melka for 22 years and describes him as "her" winemaker (in a carousel on his $10 web site Melka actually has 28 current clients, but don't let on). She says that he and she have always been 'on the same page', although a little deeper probing unearths some stories. For example, when the concept of a flagship Sauvignon Blanc arose, Lail was firm that she did not want oak.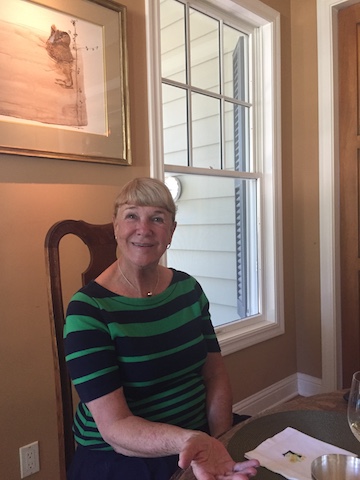 After a to and fro she announced that she writes the checks, to which he responded that he was the winemaker. The wine got made with 100% new French oak barrels. Lail remembers that as one of two contretemps that they have had in 22 years of working together (she can't remember the other).

It was afterwards that Lail found out that Melka's stint at Haut-Brion had included time in the white wine cellar, where Château Haut-Brion Blanc, one of the most expensive white wines in the world, was made. It also did not hurt that the critics loved the results at Lail. The wine is the 2015 Georgia, Cabernet Sauvignon, Napa Valley, made from the winery's Totem Vineyard in the Yountville AVA. The aforementioned critic exalted in Parkerian hyperbolae that it "...may turn out to be one of the finest Sauvignon Blancs ever made in Napa Valley". From Totem vineyard comes totenic wine. Interestingly, given his heritage, Melka did not blend any Semillon into the wine.

Robin Lail comes from a distinguished Napa viticultural lineage. Her great grand uncle was Gustave Niebaum, the Finnish sailor who founded Inglenook Winery in 1897. That winery was a pioneer in fine wine making and was eventually passed down to her father, John Daniel. In 1939 he became managing director of Inglenook and pursued quality with a visionary fervour. One of his students was Robert Mondavi. However, winemaking success did not translate into economic success and in December 1964 Daniels sold the brand name, the Château, and 94 acres of land to Allied Grape Growers (later United Vintners) a bulk wine producer. In 1969 United Vintners was, in turn, sold to Heublein. In 1970 Daniels passed away and his widow decided to sell the estate. It was at this point that Inglenook entered Lail's life in a serious way. She and her sister inherited some of the vineyards, notably the Napanook vineyard, and she became more involved in macro-managing them. At the same time, she took a position as Robert Mondavi's assistant and created the first Auction Napa Valley. In 1982 she co-founded Dominus with French winemaker Christian Moueix and in 1983 co-founded Merryvale Vineyards with Bill Harlan.

In the mid 1990s Lail decided to change direction and sold her shares in Dominus and Merryvale. She was going to make her own wine. Thus was born the modern Lail Vineyards. In terms of family involvement, her husband Jon was a prominent architect whose Lail Design Group is behind some of the most famous wineries in California. He focuses on that. A daughter, Erin, takes an active role in the winery. Her other daughter, Shannon, has a career in film production.

The goal is to produce the best wine possible. The flagship J. Daniel Cuvée has the fruit concentration on the palate that is a hallmark of the best Napa Cabernet Sauvignon, but tannins that are as smooth as a jet ski ride on a millpond. It consistently scores 'classic' in critics' rankings.

The aforementioned 'Georgia' is a defining style for Napa Sauvignon Blanc. Not a steely as the examples of the versatile grape from the Loire, not as herbaceous or acidic as the examples from New Zealand. Closest perhaps to the examples from Bordeaux, reflecting Melka's heritage.

Production in each instance is just a few hundred cases so it is perhaps no surprise that Lail has created a second label. Blueprint shadows the grape categories of the Lail brand but at a more mainstream price. The wines are solid values, and come from the same winemaking pedigree.

Lail wines are best purchased from the web site.

By Andrew Chalk
July 29, 2018
Source: Go-Wine.com
---
---
Go-Wine Sharing and Promotion
Go-Wine's mission is to organize food and beverage information and make it universally accessible and beneficial. These are the benefits of sharing your article in Go-Wine.com
It Generates Free Traffic to your site.
Your Article Will Get Indexed Faster.
Your Google Rankings Will Rise. Google Rise Articles with Positive Participation & Contribution.
Your Article Will Reach New Customers and Audience. Go-Wine has a selected audience and visitors from over 120 countries.
You always receive credit - you will be cited accurately (Author, Website & Hyperlink).
The integrity of the Information is not compromised - you always will be linked to the most up to date version of your article.
Contact Us for more information.