Newsom Grape Day -- Centerpiece Of High Plains Wine Weekend
Posted: May 09, 2018
---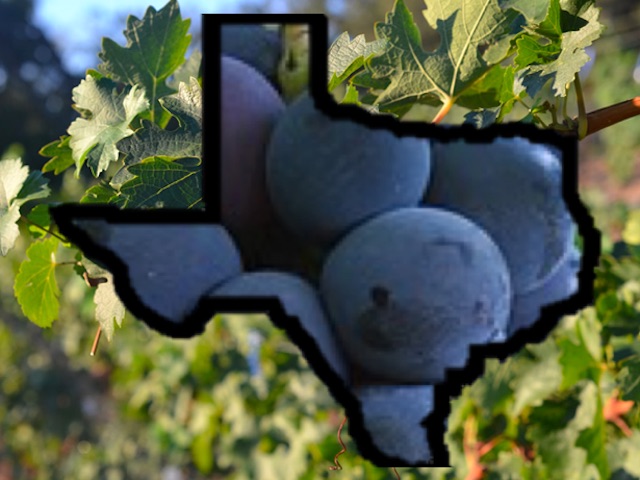 ---
Neal Newsom's Barnery in the Texas High Plains--now with 5000 planted acres--was the site of the 30th annual Newsom Grape Day attracting 250 attendees from the state's viticultural sector. Capping the day filled with technical presentations, vendor demonstrations, and 2B Ranch BBQ were the announcements of TWGGA's new executive director April Mitchell and Neal himself receiving the Lubbock CoC's Doc McPherson Award.

High Plains-based state viticulturist Pierre Helwi and Hill Country's Dr. Ed Hellman filled much of the day with back-to-back Vineyard Canopy Management sessions.

"What are balanced vines?," Helwi posed asserting the definition as enough leaves for vegetative growth to support fruit growth. "Too many leaves or shoots provide a high density canopy then a high susceptibility to disease." Proper irrigation and fertilization, sanitation, and general canopy management including indirect methods of vineyard design and floor management are also critical factors. "Shaded leaves are fueled by carbohydrates that would otherwise go to the fruit, so this is best avoided." Additionally creating better air flow in which spray applications are able to reach the intended parts of the vine are essential in reducing disease pressures during the vegetative cycle. Helwi said that "it's very important to mature shoots so sunlight penetrates better in the canopy and there won't be so much shading." He added that positioning is important as is selective leaf removal but "we cannot do this severely in Texas; if we did we'd sunburn our grapes...and in West Texas we've a lot of late summer rain, and having loose clusters creates less opportunity for bunch rot to develop." Fruit thinning will also help ripen the remaining clusters especially if the grower tends to overcrop early in avoiding earlier pruning. "If you overcrop and then fruit thin every year, you ought to revisit how you structure the timing and frequency of your vineyard work."

Hellman continued "if you're trying to grow quality wine grapes it's all about canopy management. How we arrange the shoots and clusters on the vine for optimal canopy fill will enable good quality production. It begins in planning the vineyard, not fixing what's already 'out of whack', by setting them to avoid problems." He attributed problems with the tendency in the High Plains of planting 4ft. spacings without regard for what might be an appropriate trellis system and row orientation. "We're better off looking for the 'Goldilocks' spacing of shoot growth without vine to vine spacing that crowd the vine," with row orientation dependent upon topography and determining the hottest time of the day which can be bad for fruit quality. "In our hot & sunny climate it's sensible for fruit quality for the orientation to be NE/SW," echoing Helwi in that leaf removal needn't be done if everything else is done well earlier. He pointed out that excess spurs lead to crowded canopies, that a target shoot density be established and then manage the canopy to support that target, remove shoots from non-count buds because they're easy to see and brush off, when given twin shoots to remove one, and to remove shoots from the underside of the cordon. Hellman emphasized thinning to reduce crop load is best done earlier to increase fruit quality by making ripening more uniform, and that leaf removal be done on the morning side of the vine to get the sunlight on the fruit on the clusters when it's typically a cooler part of the day.

Citing the threats of hail and winter kill, Kirk Williams of Texas Tech's Viticulture Certificate Program warned those from out of state seeking to find a consistent source of grapes from the rapidly expansion of plantings here. Focusing upon widely used broad spectrum Phenoxy Herbicides he detailed applications of Dicamba and 2,4-D, their reported physical and vapor drifts patterns in the High Plains.


VESTA's Tom Smith of Michigan spoke of building apprenticeships. Starting in 2017, with federal approval of a registered Apprenticeship Program, Vesta began developing support services helping businesses and students committing to their partnerships. In this the employer decides upon work practices, the job description, and the amount of time required up to three years. Participants take classes while working in blocks or segments with neither party locked in to contracts, rather a loose agreement between owner and apprentice. "You're providing stepped knowledge and stepped rate of pay which can be important for this industry." Smith posited that turnover is reduced while tax credits are enjoyed if the employer is supplying the technical instruction, with wages increasing as applied skills increase.

The day concluded with the mellifluous Barry Gump, Prof. of Beverage Mgmt. at FIU, giving an expert primer on Acidity, pH, Nitrogen.

This year's NGD was the centerpiece of the annual High Plains Winegrowers Wine Weekend. Over dinner the previous night a partnership between Steve Newsom of Hockley County's Newsom Family Farms and noted businessman Tommy English in acquiring Cap*Rock Winery was celebrated. One of Texas's largest capacity wineries since its 1980s inception, veteran Texas consultant Anthony Mosley has been appointed winemaker at this as yet to be branded new venture.

That evening saw the third annual Lubbock Uncorked, a public event highlighting the state's wines, beers, foods, and music held at the historic American Wind Power Museum.

The following day VESTA hosted a Wine Chemistry Workshop at Meadow's Texas Wine Co. featuring Prof. Gump. The day-long program included Gump lecturing on malolactic fermentation, soluble solids, hydrogen ion concentration, titratable acidity, and sugars followed by hands-on chromatography, refractometry, pH, ta, and N2 titrations exercises; later sulfur dioxide, acetic acid, and cash still were covered with hands-on ebulliometry, ao distillation, SO2 titration, ripper, and cash still exercises applied.

By David Furer
April 30, 2018
Source: David Furer
Abbreviated Version is at WineBusiness.com
---
---
Go-Wine Sharing and Promotion
Go-Wine's mission is to organize food and beverage information and make it universally accessible and beneficial. These are the benefits of sharing your article in Go-Wine.com
It Generates Free Traffic to your site.
Your Article Will Get Indexed Faster.
Your Google Rankings Will Rise. Google Rise Articles with Positive Participation & Contribution.
Your Article Will Reach New Customers and Audience. Go-Wine has a selected audience and visitors from over 120 countries.
You always receive credit - you will be cited accurately (Author, Website & Hyperlink).
The integrity of the Information is not compromised - you always will be linked to the most up to date version of your article.
Contact Us for more information.