The State Of The Industry Wine Report
Posted: Jan 22, 2018
---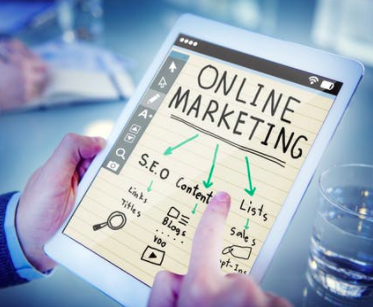 ---
On January 18, 2018 Rob McMillan, EVP & founder of Silicon Valley Bank's Wine Division; Gretchen Boock, Chief Executive Officer, Dobbes Family Estate / Wine By Joe; Mary Jo Dale, Marketing Director, Americas, Vinventions / Nomacorc; and Paul Mabray, Wine Industry Digital Futurist and Director, Getemetry.com delivered a comprehensive look at the state of the US wine industry.
The SVB Webcast provided eye opening facts about the state of our industry, and suggested action steps to address how wineries can effectively compete in our new marketplace.
According to Mr. McMillan the state of the wine industry is actually good. He stated that, "US employment is good, wage inflation is starting to show up, interest rates are rising and the employee participation rate is starting to pick up."
He also added that, "the tax reform and fiscal stimulus should impact the US wine industry positively. Tax relief has the potential to impact discretionary spending which should impact the premium segment positively."
However, there are areas we should be concerned about:
The following SVB slides from Nielsen indicates that the United States Wine consumption between 2013 and 2017 seems to be demonstrating a trend towards a flat line.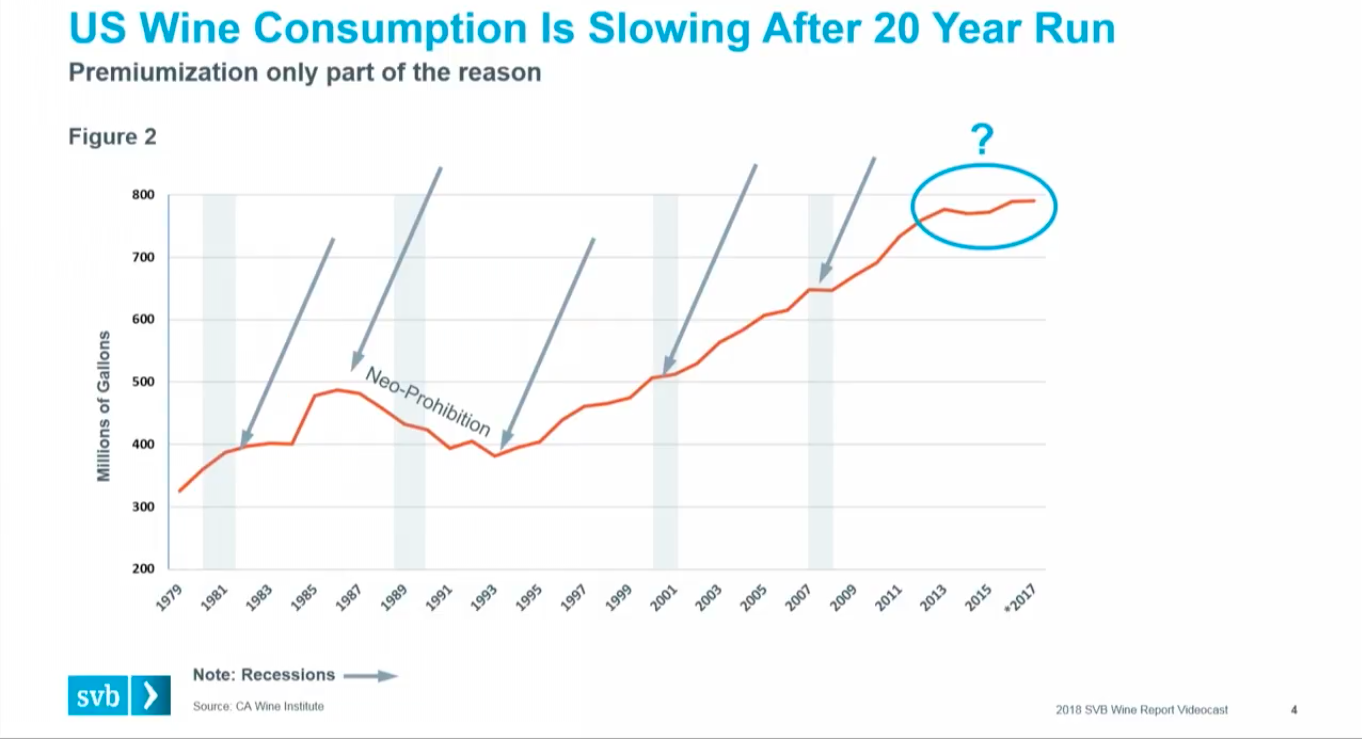 In the 9.00 segment and below, the rate of growth is declining. In the 8 to 15 segment the rate of growth is trailing down for the last year as well.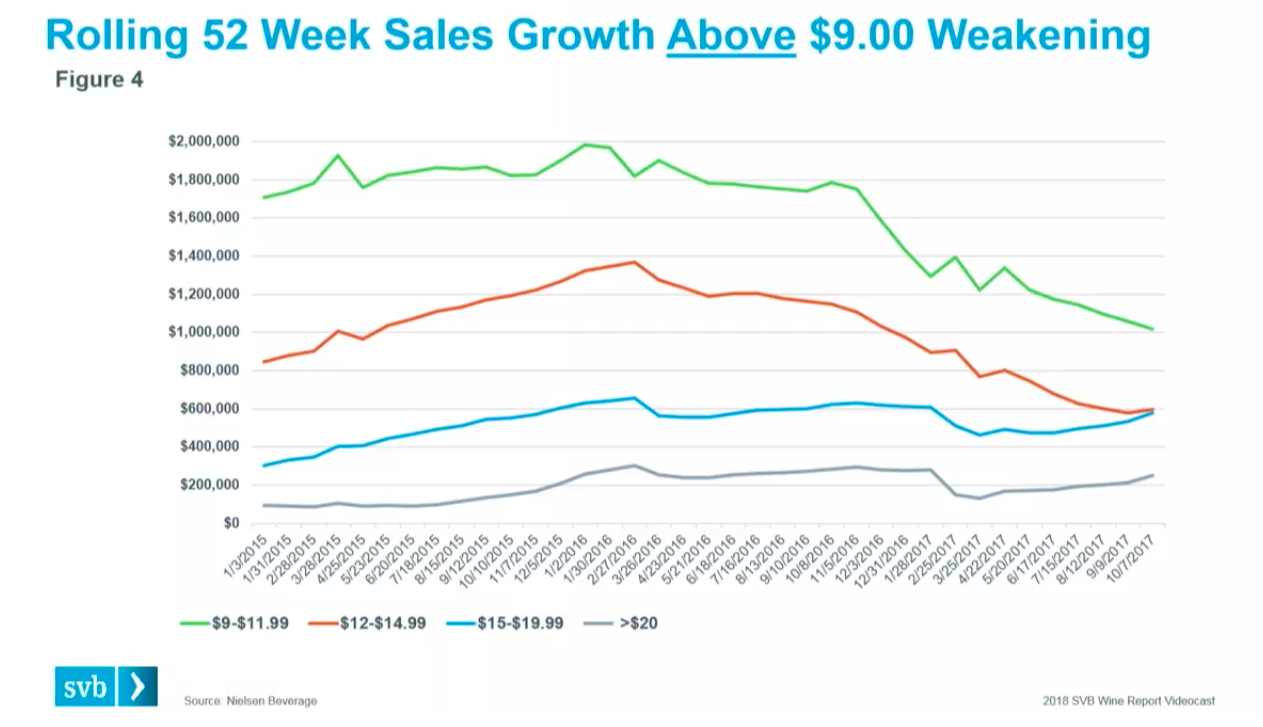 Why is this happening? (According to some industry members this data may be off since Nielsen doesn't include, Aldi, Costco, Total Beverage and Direct to Consumer in their data.)
However, the data below from BW166 & Gomberg Fredikson shows that from late 2015 there has been a decline in warehouse shipments. Interestingly, the decline data point matches the volume data from Nielsen. The trending average is falling and or flattening.


Further analysis of SVB client Income Statement Trends and Benchmarks revealed that the growth rate through September of 2017 was a mere 0.3 %. According to McMillan, "this is cause for concern. The last time we had 0.3% sales growth was during the great recession."


When consumption, volume, shipments, Nielsen data and financials are dropping, this points to something going on. Although there are skeptics regarding the data, there is a need to take a closer look
What is the outlook for 2018 according to Macmillan?
"There should be somewhere between 4 to 8% sales growth. Something however is changing."
Will powerful brands benefit from the decline in the growth rate over 9 dollars? Will emerging brands face challenges where growth is declining?
Mary Jo Dale stated that, "large wine brands will benefit with SKU's in the hot price point. Since large wine brands over index in the lower price point, the large producers should see some benefits.
Small wineries will continue benefit due to the buy local, and regional phenomenon. DTC should continue to provide growth for the small producers. However, they will continue to experience challenges getting on the shelf."
According to Mr. McMillan, as the "larger manufacturers align themselves with the larger restaurant and retail channels, they leave a great deal of opportunity for the small producers to sell to the small independent operator channel.

The local independent white tablecloth operations are doing well, the large wine companies' premium and luxury segment will benefit in this arena. The greatest threat for the larger producers will be their legacy brands under 9 US dollars."
What are some key solutions for small wineries (Under 10,000 cases)?
According to Gretchen Boock: "Wholesale is tough on small wineries. There is definitely a shift to DTC as whole."

What is the performance of the wines in the the 9 Dollar and below segment? Which regions and varietals are doing well?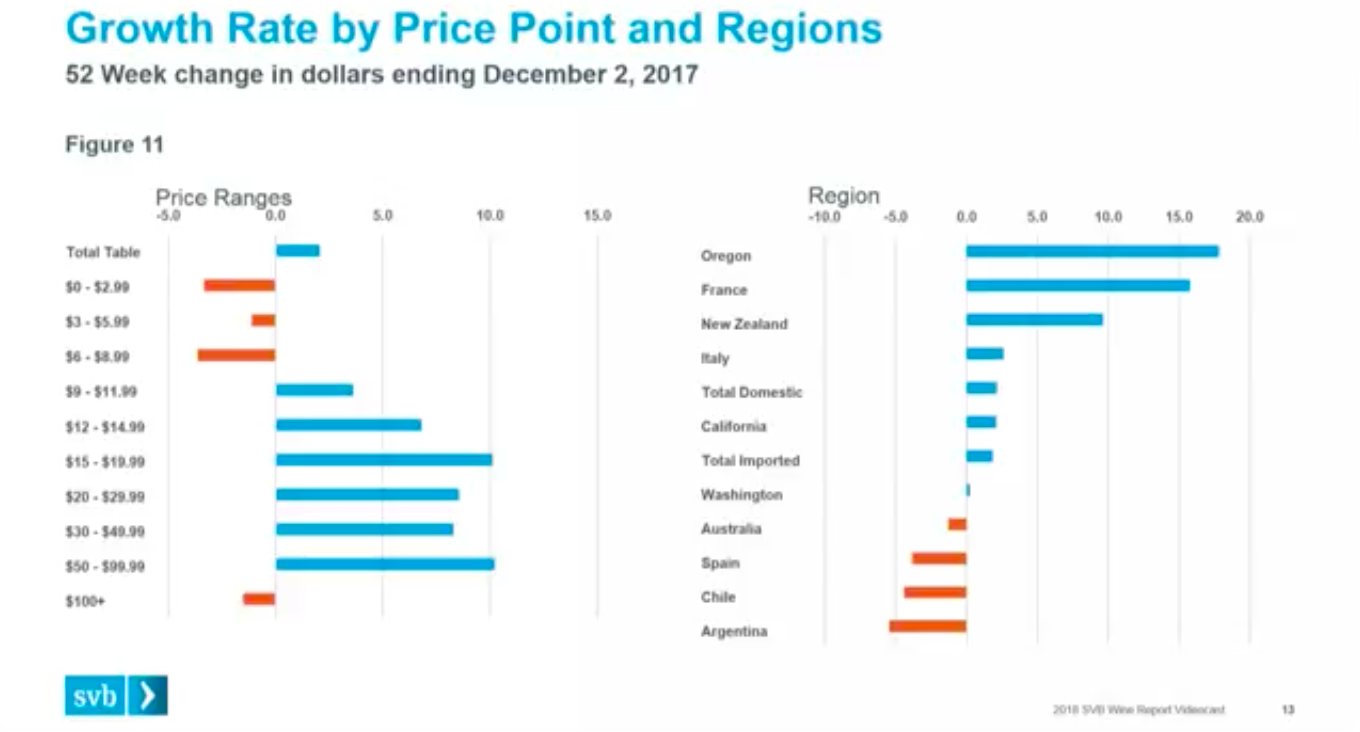 According to the SVB report, the 9.00 US dollar and below segment "is not doing great. In the higher price points however, there is improvement."
The regions/varietals which are performing well are: Oregon (Pinot Noir), France (Rosé), New Zealand (Sauvignon Blanc) and Italy (Pinot Grigio).
During the webcast Rob revealed that, "the greatest varietal growth according to IRI is occurring in PN, SB, PG, and rosé. If you look at Costco, etc. the growth is in the premium but value segment. The consumer driving this category is the frugal hedonist. Last year, according to IRI, the red blend category was number 2. This year Chardonnay is number 2."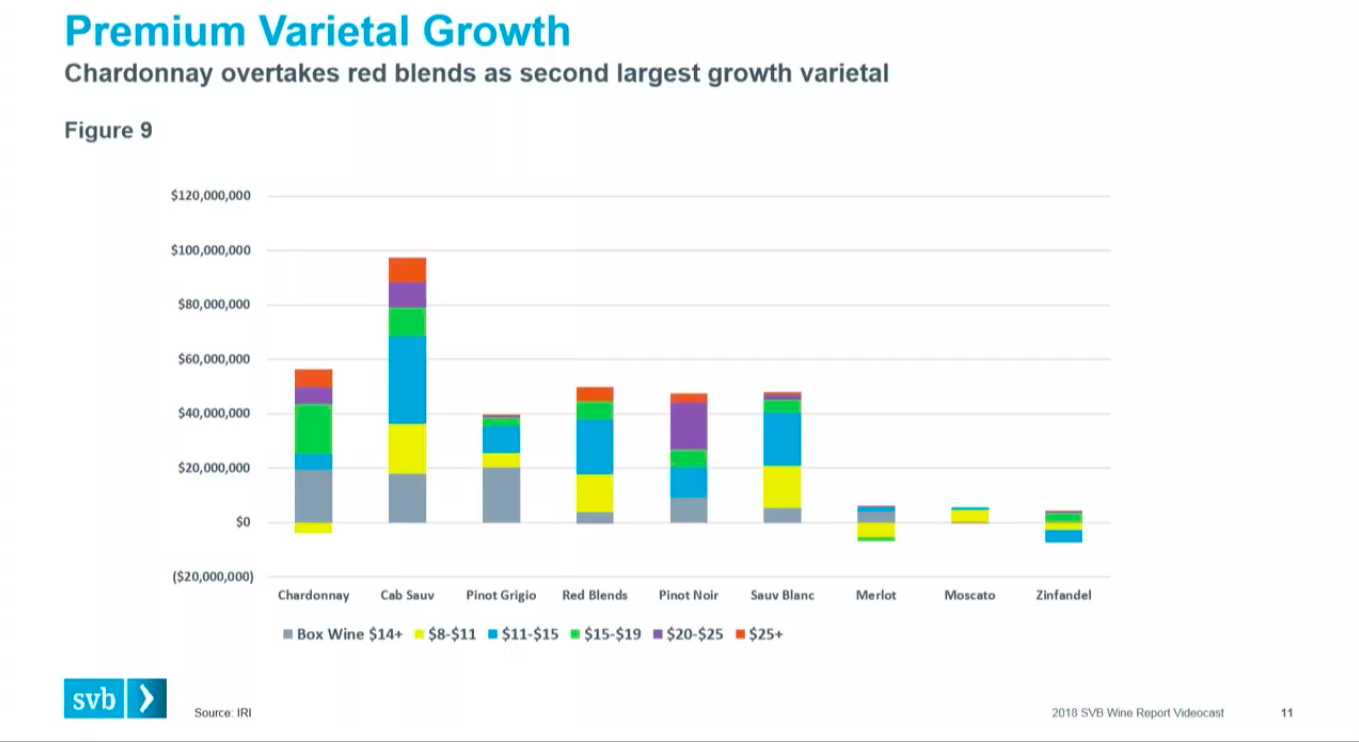 Who is the new wine consumer?
The webcast revealed that while the boomers have the highest percentage of the discretionary income, buying power is being transferred to the millennial who is financially disadvantaged. The upcoming new generation is more frugal. They have more debt.
Mr. McMillan stated, "The echo of the great recession has impacted the buying power of the Millennial. They are buying what they need more so than what they want."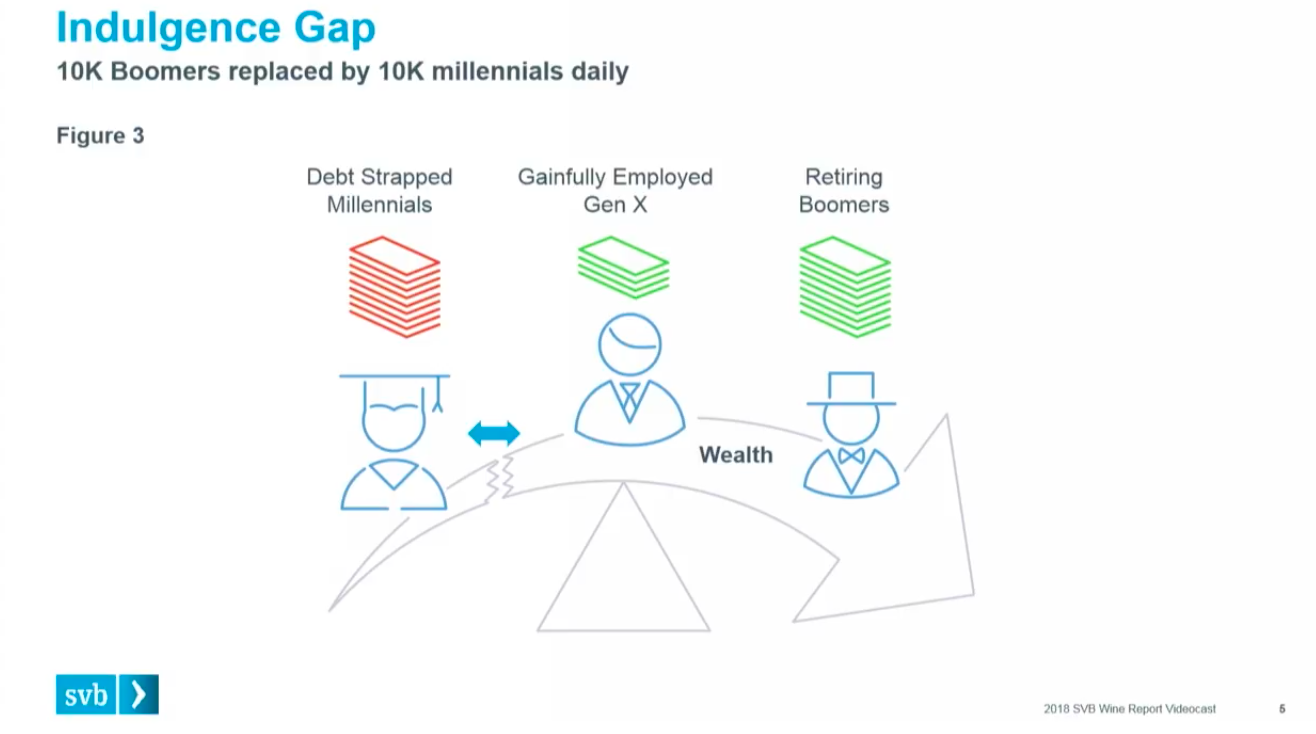 What do wineries need to offer?

According to Rob McMillan, "Wineries are selling experience. Experience however, goes beyond the winery walls."

Winery visits in Oregon, Virginia, and New York are showing growth. Despite the fact that tourism, room nights etc. are up in Washington, Napa and Sonoma, winery visits are flat or down in these regions.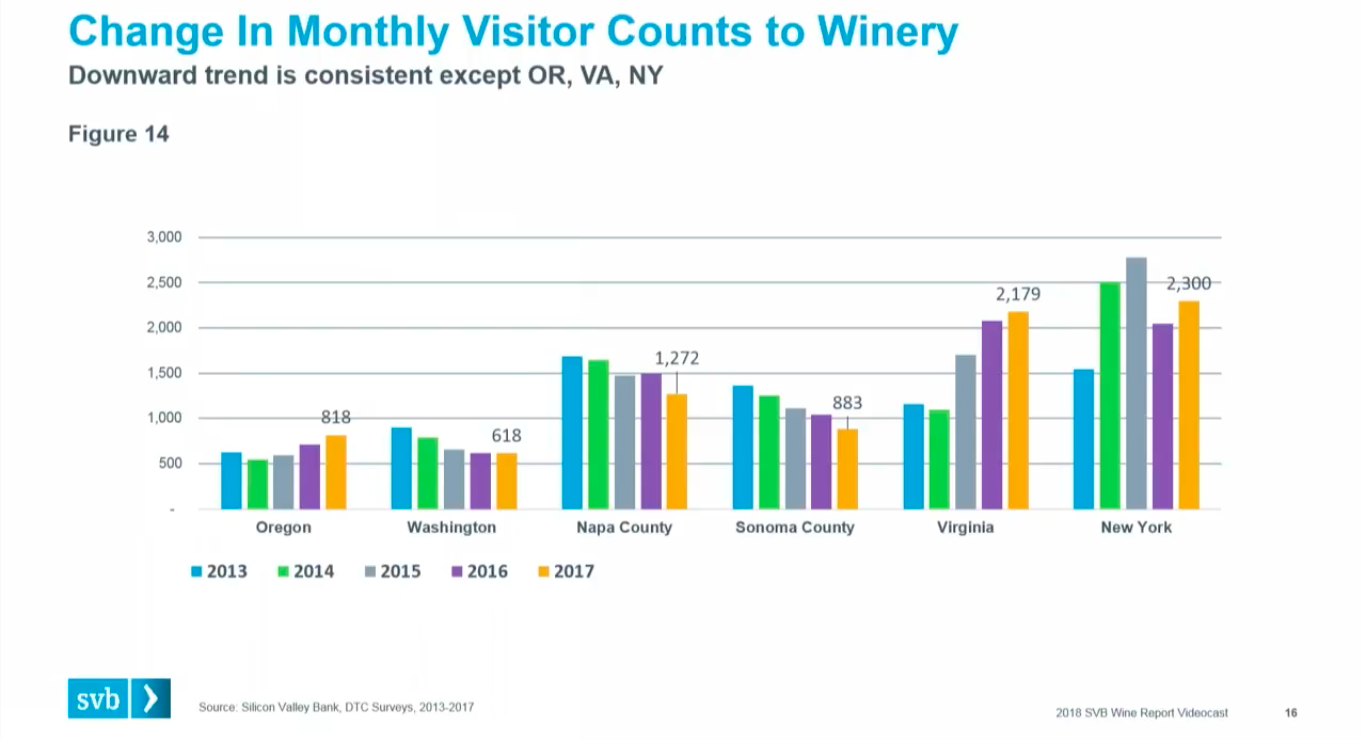 Why? There is more competition, secondary tasting rooms etc.
Where are wineries obtaining a large part of their revenue?
"The average winery is selling 60% direct to consumer.
The model is: you come to the tasting room, you become a club member for an average of 30 months, and then repeat. The secret is keeping your clients and obtaining new subscriptions," said McMillan.
How can a winery keep clients?
In his report Mr. McMillan stated that, "DTC represents 60% but only 3% (a very small amount) occurs through internet sales. However according to recent studies, by 2021, 25% of luxury goods will be sold online. The Amazon effect is real. We have to broaden our business model. The consumer is not just your wine club. It is time to pay attention to the other 49 states in the selling universe."
So what are the action steps we need to take on digital marketing?
Paul Mabray provided a staggering statistic and more excellent insight:
"Out of the 9,000 wineries, only 10% employ e-commerce experts. We need to invest our budgets in e-commerce and digital acquisition of the consumer. At the present time most wineries invest zero dollars in the digital acquisition of new consumers.
"If you don't feed the race horse, it can't run." P. Mabray
With the increase in wineries in the US, international competition, digital retail and more, the wineries must evolve and look at the benefits of digital marketing.
Wineries must think smart, fast and mobile."
Mr. McMillan's Conclusion: The Need for Evolution

Since online sales account for only 3%, there is huge growth potential in this arena.
DTC is not the wine club anymore, we need an integrated digital marketing strategy. The solution is targeted marketing using social media.

What is an Integrated Marketing Strategy?
As the webcast concluded Mr. Mabray, McMillman, Ms. Dale and Ms. Boock offered that; The winery mindset needs to change. The tasting room, DTC, wholesale, retail, and on-premise channels are not separate. We need to have an Omni channel digital strategy.
We need to map the journey of the consumer. What happens after they leave the winery. What happens in the wholesale, retail and restaurant experience?
Hospitality needs to exist digitally.
One of the key suggested solutions, which will impact us for the next decades, is a powerful digital marketing strategy. "If we are going to see change, this is where we have to go to get growth. DTC 4.0 is where we have to go", concluded Rob.

By Luis Torres CMO/CSO Go-Wine.com
WineBusinessAcademy.com
January 22, 2017
Source and Images: SVB | You Tube:
---
---
Go-Wine Sharing and Promotion
Go-Wine's mission is to organize food and beverage information and make it universally accessible and beneficial. These are the benefits of sharing your article in Go-Wine.com
It Generates Free Traffic to your site.
Your Article Will Get Indexed Faster.
Your Google Rankings Will Rise. Google Rise Articles with Positive Participation & Contribution.
Your Article Will Reach New Customers and Audience. Go-Wine has a selected audience and visitors from over 120 countries.
You always receive credit - you will be cited accurately (Author, Website & Hyperlink).
The integrity of the Information is not compromised - you always will be linked to the most up to date version of your article.
Contact Us for more information.