Is A Grand Cru Rose Possible? A Great Winemaker From Atlas Peak May Have An Academy Award Winner
Posted: Feb 13, 2018
---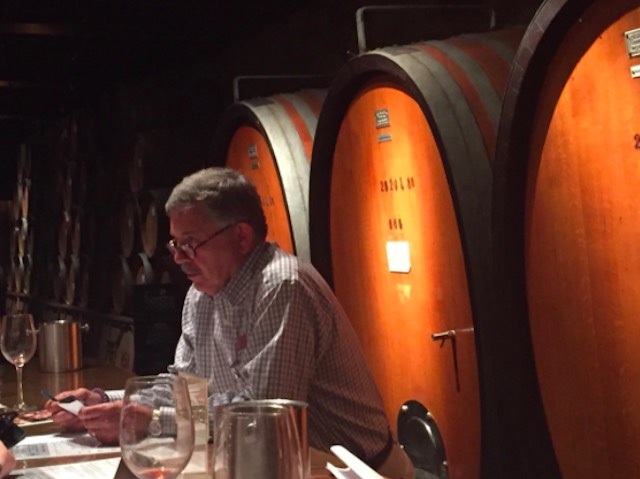 ---
Recently Go-Wine.com had the distinct pleasure and honor to interview Igor Sill, founder, owner, and winemaker at Sill Family Vineyards. In this comprehensive interview a secret to making a great rose was revealed as was the passion of a great winemaker.
SILL FAMILY VINEYARDS EARNS DOUBLE GOLD MEDAL AND USA WINE OF THE YEAR AWARD FOR 2018.
Update: February 12, 2018 HONG KONG, China
Go-Wine: Please tell us about yourself.

IS: I came out of the investment world. I became passionate about Bordeaux wines after being introduced to Château Margaux, Château Latour and Château Lafite Rothschild in the late 1970s by my father-in-law Mr. H. Lyman Emerson. He was a renaissance gentleman and a noted fine wine collector. In 1997 through 2010 I worked with Francois Pinault's Group Artemis, owner of Château Latour. I went on to become a member of the Court of Master Sommeliers, judging wine competitions including the annual International Wine Challenge. I worked at Italian wine producer, V. Sattui Winery and Opus One Winery in Napa. I am also a board member of the Atlas Peak Appellation.

I acquired the St. Helena appellation property some twenty eight years prior and fell in love with Napa Valley's unique terroir. Thereafter, I started a thorough search for an extraordinary mountain vineyard.


That search lead to the purchase of the twenty four acre Atlas Peak Mountain Winery property (formerly Ardente Estate Winery) in 2016, turning my passion for collecting fine Bordeaux and Burgundian wines into a love for producing them with an artisan Old-World approach.
Sills Family Vineyard

GW: What made you interested in making Rose?

IS: For 12 or 14 years I have attended my friend Dick Eddy's Annual Rosé Wine Tasting in St. Tropez, France. Mr. Eddy is Mr. Rosé in Bandol. I have always been amazed how the so-called lesser grapes such as Cinsault, Mourvedre and so on can achieve exceptional results when blended into some of the base wines in rose.

I was also impressed in how great a sipping wine rosé was. Unfortunately, I was disappointed to discover that the wines didn't travel very well. They never seemed to taste quite the same once they arrived stateside after a long trip.

My visits to St. Tropez and my passion for great rosé cemented the idea in my mind that I should create the best rosé possible.

In 2017 I achieved just that. Our 2016 trés Rosé de Chardonnay won the Gold Medal at the CWSA Hong Kong International Wine Competition. The Academy Awards of wine.

GW: Aside from the rosé you produce what are some of your favorite rosés world wide?

IS: I enjoy Grenache based rosé although it has a tough time in California's terroir. I also like Pinot Noir although it can at times offer too much forward fruit.

GW: Which technique generates better rose? Blending of red and white vs. saignee?

IS: Everyone has a different approach. The best producer is always in pursuit of perfection. The question for each producer is how to achieve that goal. Our goal was to apply classic burgundian and bordelais techniques to the separate wines and then to blend them. Each wine is aged a minimum of 22 months before the final blend No single approach is the best.

GW: Are there new technological advances in the making of Rosé?

IS: While there are many great techniques, we believe that having a great eonologist and great fruit are the most important contributors to a great rosé. Our (Eonologist) Derek Erwin is The Michel Roland of the Napa Valley. He is always in pursuit of perfection, and innovation. Branding is a whole other game. We are trying to brand and position the rosé effectively.

GW: Your 2014 Rosé from Chardonnay is really intriguing. Why did you choose Chardonnay as the primary grape and then blend it with Cabernet?

IS: These two grapes do well through the aging in French Oak. Chardonnay is an unmatched silky white wine which contributes meyer lemon, pears, apples and a seductive lift which isn't found in other blending grapes. Our Chardonnay offers a delicacy and a subtle burgundy style to our wine.

Our Cabernet Sauvignon originates in the prestigious Georges De La Tour vineyard in the Napa Valley. The 2% we blend into the Chardonnay contributes perfect coloration (blush, salmon, pink) as well as blueberry and blackberry elements.


2016 trés Rosé de Chardonnay

Note From Go-Wine: Our team at Go-Wine was able to taste Bottle #184 of the 300 bottles which were made of the 2016 trés Rosé de Chardonnay. We found its quality to be world class. We were surprised to discover that the wine was medium to full bodied (not the usual light rosé), medium dry, with flavors of red plum, rainer cherry, white peach, flower petals and vanilla. It had beautiful pale pink and subtle orange colors. It had an almost unending finish.

According to Mr. Sills this Rosé has an aging potential of two to three years. This very unusual as most commercial rosé is most likely consumed when it arrives at the consumers home.

Thank you Mr. Sills for fearlessly stepping into the unknown and creating this Grand Cru level rosé.

Interview conducted and written by the team at
Go-Wine.com
February 13, 2018



---
---
Go-Wine Sharing and Promotion
Go-Wine's mission is to organize food and beverage information and make it universally accessible and beneficial. These are the benefits of sharing your article in Go-Wine.com
It Generates Free Traffic to your site.
Your Article Will Get Indexed Faster.
Your Google Rankings Will Rise. Google Rise Articles with Positive Participation & Contribution.
Your Article Will Reach New Customers and Audience. Go-Wine has a selected audience and visitors from over 120 countries.
You always receive credit - you will be cited accurately (Author, Website & Hyperlink).
The integrity of the Information is not compromised - you always will be linked to the most up to date version of your article.
Contact Us for more information.