The Surprising Beauty Of Hungary And Its Wines
Posted: Dec 31, 2017
---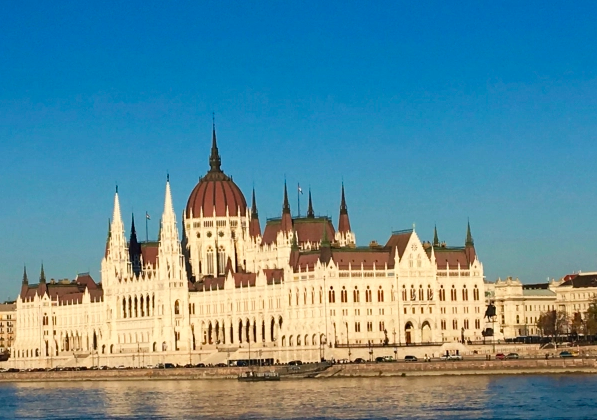 ---
Hungary, the size of the U.S. state of Indiana, has a population of 10 million and has been a European Union member since 2004. Historically it hass been a doormat for invaders: Tartars, Turks and Soviets.
Let me tell you about wines, first in general, then more specifically. I won't even mention the famed Tokaji sweet wines here.
There are 22 wine regions in Hungary and about 155,000 planted acres (63,000 hectares).
To learn about these I wandered the massive food market, walked downstairs and bumped into a corner room display about wines—including a model of the country.
The Celts were growing grapes in the region of Europe now known as the Carpathian Basin three hundred years before the Christian era. Romans then arrived and under Emperor Marcus Aurelius Probus were instructed to plant grapevines all over this region, and cultivated about 80 different species—most of them reds. They stored fermented juice in gourds and amphorae. In the 16th century the current country known as Hungary was split into three. The Turks paid little attention to grape cultivation on their land, but decided not to destroy vines as they could provide tax income.
Today, most Hungarian wines are white, and most reds come from the southwest region of Villány—best known for Cabernet Franc. To taste them, we'll wander a bit through the capital city of Budapest.
The city of Budapest has a similar social energy to that of Berlin, but with a more mature and relaxed attitude toward time. Youth love going out to social events, but have less of the focused zeal of Berliners. This is a city where strangers meet your gaze and smile warmly in return, which is a refreshing surprise. The streets are clean, the architecture is both bold and magnificent and the people are generally happy now that the subduing and inefficient yoke of communism has been gone since the last Soviet soldier shipped out in 1991.
When you begin walking in this city, it's difficult to stop because there is some surprise around each corner. You'll run into visual and sensory overload on streets steeped in history.
After a half day of wandering you may realize you are embedded in a sizable continental region steeped in spellbinding history—whether from the ruling eras of Romans, Muslims or Hapsburgs—and that you will only see a distant smidgen of this tapestry even after a few days.
The 'castle district' is magnificent and wonderful for walking. From the road square of Szvent Mihaly Kápokna with its stone turrets, beneath which visitors cackle on cell phones, you can view the city below and shake your head at the bizarre truth that people still use selfie sticks to take photos.
During the fall season, the castle district is sunny and burnished with glorious heaps of unswept leaves and multi colored residences. Sirens wail from the lower city and mingle with the loud chatter of bird songs from feet away.
On a friend's recommendation I ate dinner at Zeller Bistro. This is where tattooed locals swig glasses of bubbles. It's an eclectic mix of upscale and edgy characters. A chap named Attila seated me before a small stage, then served local ham, sausage, celery soup and veal and a bottle from the Gróf Buttler winery called Egri Bekavér. This red wine, known as 'Bull's Blood,' comes from the Eger wine region in northeast Hungary and is a blend of three grapes—Kekfrankos, Merlot and Cabernet Franc. This 13,000 acre wine region is surrounded by the Mátra and Bükk mountains. This was a powerhouse of a wine to enjoy with dinner.
It tasted of smoke and oak, blackberries, cranberries, chocolate pudding and ash. It's a gorgeously layered, bright wine with a serious forward heft of black fruit. It's a dark, powerful and balanced with a rivulet of raspberry taste.
The next night I went to Borssó Bistro, where as part of traditional celebrations for Saint Martin's Day, the menu focused on goose products—four courses with four wines. I sat upstairs and the atmosphere was warm and energetically boisterous—soft candlelight and homemade butter with the fresh bread. The intimacy and authenticity there are both welcoming and warm.
Together with a local sparkling wine (Hungaria Grande Cuvée Brut) came the amuse-bouche opening dish—parsley cream, French blue cheese and quince. This pairing was a rip-roaring mouthful of contrasting and uplifting flavors.
From all around the wood-paneled room I heard American, Chinese and Irish accents—as well as plenty of local banter.
For the first course: goose soup with stuffed pasta and a 2017 Esterhazy Pinot Noir rosé from the Etyeki-Kûria winery. The Etyek-Buda wine region, just west of Budapest, produces mostly sparkling and white wines. This wine was simple, crisp, slightly fizzy and a clean way to enter the meal.
This restaurant is magnificent. The atmosphere inside, with green lanterns and framed bottle labels hanging on walls, is quiet though lively, with a meld of laughs and silverware clatter and the sound of friends toasting.
Here, some ladies wear furs, some rough woolen cloaks and others designer silk ties. Some wear loafers and some wear boots. There are dignitaries and dodgy looking characters, which adds a zip of intrigue to dinner.
The second course—smoked goose breast with cassoulet and green beans had such a full-on, delicious, gamy and wild taste that it was no doubt be too brazen for a more conservative restaurant. I drank a wine from the renowned sunny Villany wine region in the south of the country, near Croatia. Vines here were almost destroyed by the Turks, but in the 18th century German settlers focused on producing quality wines. This 6,000 acre (2,500 hectare) region produces reds and rosés. This was a 2017 Gunzer Zoltán Pincejebol made from the Portugieser grape.
"Like a Beaujolais," said the server.
This tasted like a citric Syrah: dense berries and tar with a streak of lemon. This is a deep and hearty red—with fresh Mediterranean citrus superimposed on dark berries, charcoal and chocolate.
The third course was goose with quinoa with cheese and butter as well as a light red 2016 Szent Gaál wine from the Szent Gaál winery. Made with the Kadarka grape, this comes from the Szekszárd wine region, the 'Hungarian Burgundy.' This southern region, west of the Danube River, has a warm and balanced climate with Mediterranean and continental inputs. There are hot and sunny summers and the soil base is calcareous. Typical grapes produced in this region include Kadarka, Kékfrankos (remember our first wine, last night?) and Bikavér.
The taste of this Kadarka? Blueberries on the nose, sort of like a Barbera. In the mouth it was prunes, tangerines, and high in acidity.
What helps make this restaurant attractive is that it lacks the perfectly precise, sometimes fearful orchestration of a Michelin starred restaurant, which makes it more approachable. There is no residual stiffness from any of the wait staff, no fear that they might be serving some inspector.
During three nights, several meals and samples of 16 local Hungarian wines, I was never disappointed. Most dishes and wines were stellar and the prices were affordable to make me think, more than once, 'are you kidding me?'
The final wine came from Recas wine in Transylvania. Made from the Feteasc? Neagr? wine grape (a Moldavian grape, the name meaning 'old maiden').
Named La Pulere, it was like a casual Californian Pinot Noir with bright raspberries, strawberries, plum, peach and lime. This dark forest of smoky berries includes shortbread, strawberries, currants and prunes. This went with the dessert – Lúdláb cake.
The end of communism in 1990 brought many changes to Hungary. One was an attitude toward making wine. Production was no longer always considered as just a high volume, low quality endeavor but as a way for producers to distinguish themselves by creating higher quality products. Some of their current wines are stellar – rich and delicious.
&&&
Here are a few of my latest Forbes posts (and I will write another article for them, from a different angle, about Hungary in January).
&&&
For those interested in a remote sommelier, I am including a menu below that was provided, and paired with wines, by Julien Pouplet—the 'reluctant wine guru' living in the Pyrenees Mountains of southern France.
The suggested wines are available in the U.S. (and some outlets in New York city are identified).
IF you would like to subscribe (for a modest fee) to menus paired with French wines by Julien every two weeks, let me know and I will put you in touch.
OR, if you have your own menu but want Julien to act 'remote sommelier' and provide French wine pairings via email, this can also be arranged. The first pairing is free.
This week's sample menu (no photos, unfortunately) and complete article.
---
---
Go-Wine Sharing and Promotion
Go-Wine's mission is to organize food and beverage information and make it universally accessible and beneficial. These are the benefits of sharing your article in Go-Wine.com
It Generates Free Traffic to your site.
Your Article Will Get Indexed Faster.
Your Google Rankings Will Rise. Google Rise Articles with Positive Participation & Contribution.
Your Article Will Reach New Customers and Audience. Go-Wine has a selected audience and visitors from over 120 countries.
You always receive credit - you will be cited accurately (Author, Website & Hyperlink).
The integrity of the Information is not compromised - you always will be linked to the most up to date version of your article.
Contact Us for more information.