Food Delivery Wars: 3 Takeaways From The Ubereats, Postmates, Grubhub, Doordash Ecosystem
Posted: Feb 27, 2020
---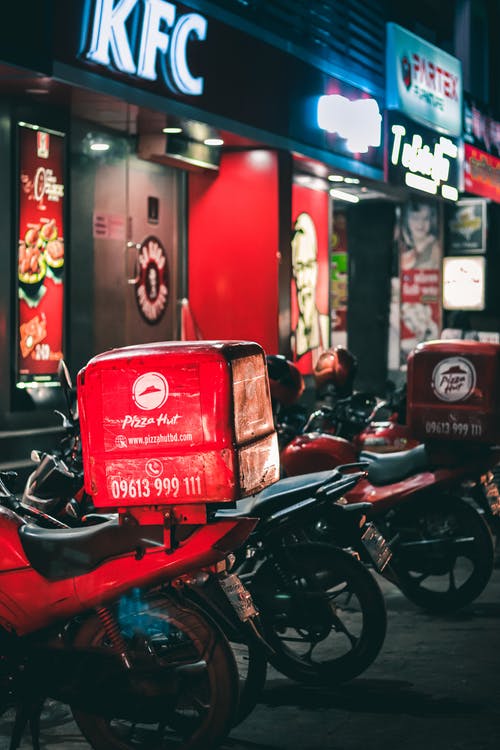 ---
The company had just successfully raised $20 million to expand its operations all across the United States, and a year later they would raise another $50 million. By 2014, the small food delivery startup would merge with SeamlessWeb and hit the NYSE with a valuation of $2 billion and go on to seemingly secure its dominance of a category of dining that hadn't existed before: technology-driven food delivery.
Five short years after Grubhub's iconic rise to becoming a public company, Vox reported at the start of 2020 rumors the company may soon be up for sale.
How did that happen?
Food delivery is a case study unlike any other, where an unprecedented amount of capital backing a handful of competitors aggressively entered the market (with varying success), and dethroned the market leader.
Here are 3 takeaways from the battle that occurred between Postmates (launched in 2012), DoorDash (2013), Uber Eats* (2014), and Grubhub for the large and growing food delivery market.
1. If you're looking for a vulnerability in an incumbent marketplace, see if there is a way to dramatically increase supply.
Grubhub is an incredible company. It's hard to blame them for underestimating just how aggressive the private markets would be in funding loses in search of market share. However they made a strategic error that left them vulnerable in the first place and cost them their dominance of the food delivery category.
Grubhub's original model was a marketplace for consumers to order food from independent restaurants that already had their own delivery fleets. Though this was a game-changer for consumers, it constrained supply to only listing restaurants that could perform their own deliveries. This was a mistake.
Postmates and DoorDash were the first to realize that if they could provide the broader group of restaurants that did not do delivery with the ability to do deliveries, they could dramatically increase the number of restaurants that could exist in the marketplace, thereby leapfrogging Grubhub's selection (and liquidity).
Once they realized this Achilles heel, Postmates and DoorDash raced to exploit the vulnerability with a growth-at-all-costs mentality. Grubhub was caught backfooted. Grubhub thought that they had saturated the market, but they had only saturated a subsection of the market — independent restaurants that made their own deliveries. Meanwhile, DoorDash, Postmates, Uber Eats, and all other food delivery startups were racing to capitalize on the newer, bigger definition of the category.
This vulnerability is not unique to food delivery. The same pattern of leapfrogging an incumbent by dramatically expanding the potential supply-base happened in home-sharing and travel.
Not that long ago, HomeAway and VRBO dominated the home sharing space, if you defined home sharing as vacation home rental. Then Airbnb came into the market and redefined the atomic unit of supply — suddenly it wasn't just about a full house rental, but full house, room, or bed, in cities or vacation spots, and anything in between. Creating a more flexible unit of supply enabled greater liquidity, leapfrogging HomeAway and VRBO.
Something similar happened in travel. Expedia and Priceline were the incumbents when Booking.com entered the market with an agency model and lower fee structure. Booking.com's lower fee structure let them dramatically increase the types of hotels that could afford to join their marketplace, thereby leapfrogging the depth and breadth of supply vs the incumbents.
It's a reminder that even seemingly dominant incumbents can be vulnerable.

By Sarah Tavel
February 26, 2020
Source and complete article: medium.com
---
Go-Wine Sharing and Promotion
Go-Wine's mission is to organize food and beverage information and make it universally accessible and beneficial. These are the benefits of sharing your article in Go-Wine.com
It Generates Free Traffic to your site.
Your Article Will Get Indexed Faster.
Your Google Rankings Will Rise. Google Rise Articles with Positive Participation & Contribution.
Your Article Will Reach New Customers and Audience. Go-Wine has a selected audience and visitors from over 120 countries.
You always receive credit - you will be cited accurately (Author, Website & Hyperlink).
The integrity of the Information is not compromised - you always will be linked to the most up to date version of your article.
Contact Us for more information.