Plastic Monster Trolls Publix Around Florida To Highlight The Retailer Plastics Problem
Posted: Feb 13, 2020
---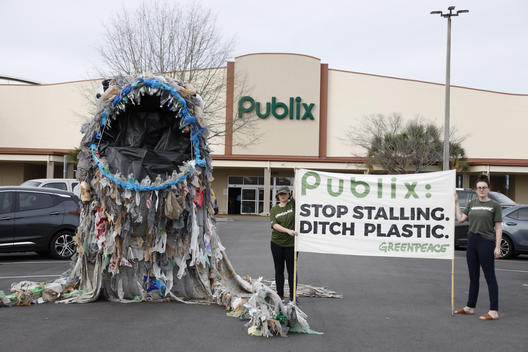 ---
Tallahassee, FL – Greenpeace activists joined local groups and concerned citizens at the State Capitol in Tallahassee today to urge legislators to abandon preemption laws that prevent action on single-use plastics. The activists brought a 15-foot tall plastic monster with them to call attention to the issue of plastic pollution and corporations' unwillingness to address it. Greenpeace is traveling throughout Florida to highlight Publix's role in blocking action on single-use plastics. Publix has not only failed to eliminate single-use plastics from its stores, it has worked through its front group the Florida Retail Federation to support laws that prevent Florida communities from enacting plastic bans.
"Publix continues to demonstrate that it cares more about maintaining its ability to use cheap plastics than answering its customers' calls for action on the pollution crisis," said Greenpeace Plastics Campaigner David Pinsky. "It is not acceptable for any retailer to push undemocratic laws that prevent local communities from acting on plastics. Publix needs to get out of the way and get on the right side of history by ending its reliance on single-use plastics."
Greenpeace joined groups at the State Capitol to urge Florida legislators to allow communities across the state to ban single-use plastics if they choose to. Several groups criticized undemocratic preemption laws, which prevent cities from enacting plastic bans that have passed. Publix has bankrolled much of the effort to pass preemption laws in Florida, funneling hundreds of thousands of dollars to the Florida Retail Federation to lobby in favor of preemption.
Greenpeace also took its plastic monster to a Publix store in Tallahassee, communicating to Publix customers and employees about the company's inaction on single-use plastics. Greenpeace activists plan to tour the Sunshine State with stops in Orlando, St. Petersburg, and Gainesville planned for the plastic monster.
Publix and the Florida Retail Federation are following the model being used by industry front groups across the country. Nationally, the Plastics Industry Association's front group, the American Recyclable Plastic Bag Alliance has worked hand in hand with the American Legislative Exchange Council (ALEC) and the American Chemistry Council to pass over a dozen preemption bills meant to "ban plastic bans," including in Florida. Activists are urging support for a bill that would undo existing preemption efforts in Florida and prevent it in the future.
A recent Greenpeace USA supermarket survey ranked retailers nationwide on their efforts to eliminate single-use plastics. It found that supermarkets across the country are failing to tackle this crisis that they contribute to, and Publix was among the worst. Publix ranked 15th out of 20 retailers, scoring just 7.1 out of a possible 100 points.
Photos of the plastic monster can be found here: https://www.media.greenpeace.org/shoot/27MZIFJ8SI70M
Greenpeace's ranking of grocery retailers' efforts to address single-use plastics can be found here: https://www.greenpeace.org/usa/research/packaging-away-the-planet/


---
Go-Wine Sharing and Promotion
Go-Wine's mission is to organize food and beverage information and make it universally accessible and beneficial. These are the benefits of sharing your article in Go-Wine.com
It Generates Free Traffic to your site.
Your Article Will Get Indexed Faster.
Your Google Rankings Will Rise. Google Rise Articles with Positive Participation & Contribution.
Your Article Will Reach New Customers and Audience. Go-Wine has a selected audience and visitors from over 120 countries.
You always receive credit - you will be cited accurately (Author, Website & Hyperlink).
The integrity of the Information is not compromised - you always will be linked to the most up to date version of your article.
Contact Us for more information.