Bordeaux's Blissful Blaye
Posted: Feb 03, 2017
---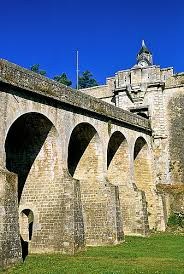 Source: Robert Scott
---
Why do we love Blaye? The answer to that question is multi-faceted. To know Blaye, one needs to know its history and its location.

In ancient times Blaye (Blavia) was a port of the Santones. Tradition states that the Frankish hero Roland was buried in its basilica. It was a stronghold which played an important part in the wars against the English (who burnt it in 1352) and the French Wars of Religion (when it was the site of a Spanish naval victory in 1593). The duchess of Berry was imprisoned in its fortress in 1832-1833. The town was formerly named Blaye-et-Sainte-Luce and was renamed Blaye in June 1961.


AOC-Blaye-Village
Source: Robert Scott Wine Line Radio

Blaye is located on the right bank of the Gironde estuary (which is some 3 km (1.9 mi) wide at this point), 56 km (35 mi) north of Bordeaux. A small ferry crosses the Gironde to Lamarque, in Médoc.

The town has a citadel built by Vauban on a rock beside the river. Blaye is also defended by the Fort Paté on an island in the river and the Fort Médoc on its left bank, both of the 17th century. The citadel of Blaye, its city walls, the Fort Paté and the Fort Médoc were listed in 2008 as UNESCO World Heritage Sites.

So, you see, Blaye has a notable history, an important location, and a centuries old citadel but, what draws us there is wine. Not just any old wine but excellent right bank Bordeaux wines made by passionate vintners using traditional and modern techniques. Being on the "right bank" of the Gironde river means the primary grape used in blending the wine is Merlot. In typical Bordeaux fashion, the other classic grapes of Cabernet Sauvignon, Cabernet Franc, Petite Verdot and Malbec are added to enhance these spectacular wines.

Mary and I discovered Blaye in 2008 while planning a trip to France for Spring 2009. Being a wine journalist and radio host, I wanted to visit some Bordeaux Chateaux and began researching the area for a place to stay. Using search engines on the internet, I kept having one distinct "B & B" show up in the results. That was Villa Saint Simon in Blaye. All the "comments" online seemed positive. The big plus was that Les Kellen, the owner, was also a real wine pro who conducted visits to nearby chateaux… just what we were looking for.

Arrangements were made to stay a few days at Villa Saint Simon in Blaye. Needless to say, we were not disappointed. Les proved to be an outstanding host. The accommodations were excellent and the price was right. We made friends with Les and some outstanding vintners and promised to return someday.

We have kept our promise… several times. And, we will do it again this October when we lead the "Wineliner, Best of Bordeaux River Cruise" through Bordeaux's scenic rivers, October 16 –24, 2017. This intimate, luxury, all-inclusive river cruise includes airfare from the USA. And, we will be spending two nights in Blaye.


by Robert Scott Host of Wine Line Radio.Com

For more information, please visit: www.wineliner.us.
---
---
Go-Wine Sharing and Promotion
Go-Wine's mission is to organize food and beverage information and make it universally accessible and beneficial. These are the benefits of sharing your article in Go-Wine.com
It Generates Free Traffic to your site.
Your Article Will Get Indexed Faster.
Your Google Rankings Will Rise. Google Rise Articles with Positive Participation & Contribution.
Your Article Will Reach New Customers and Audience. Go-Wine has a selected audience and visitors from over 120 countries.
You always receive credit - you will be cited accurately (Author, Website & Hyperlink).
The integrity of the Information is not compromised - you always will be linked to the most up to date version of your article.
Contact Us for more information.