Is Blue Wine Really Wine? Spain Does Not Think So
Posted: Jan 29, 2017
---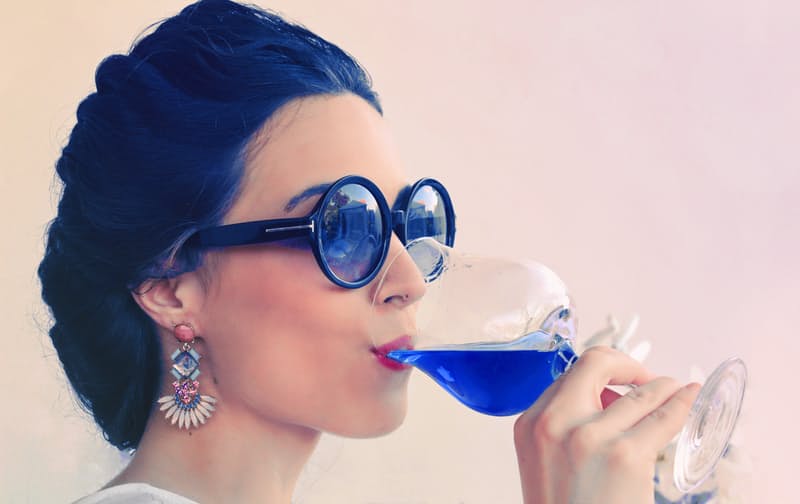 ---
Wine drinkers in Spain have a decision to make regarding the identity of wine: Does the color of the drink have anything to do with what makes a fermented grape beverage a "wine"?

Spanish startup Gïk offered consumers with a novel alternative to the traditional red and white wines in 2015 with the debut of blue wine. Now, lawmakers in Spain are not allowing the alcoholic beverage — which contains 11.5 percent alcohol — to be called a wine because of an existing law that dictates what colors wine can and cannot be.

Gïk founder, Aritz López, told Food52 that authorities received an anonymous tip that blue wine is breaking a 2013 law stating wine can only be one of three colors: red, white, or pink. Authorities fined the company and Gïk was ordered to label their product as "99 percent wine and 1 percent grape juice."

The issue is that the blue wine, like regular wine, is made entirely of grapes — a blend of red and white grapes from Spanish and French vineyards, to be precise. And, by definition, wine is an alcoholic beverage made from fermented grapes. So, by most standards, Gïk's product fits within the definition.




While the sweet wine might look artificial in its color, its makers claim it is 100 percent organic and made only from natural ingredients. The wine — which apparently pairs well with sushi, guacamole, nachos, tzatziki, pasta carbonara, and smoked salmon, according to Gïk — gets its unique hue from a pigmentation process. The method uses anthocyanin, a pigment found in the skin of red grapes, and indigotine, an organic compound and plant-based dye, to create the deep electric blue color.

Gïk is far from the only victim of the strange law. Viñedos Amaya, a wine-maker in the El Bierzo region, was prohibited from marketing their rainbow-colored "technowine" as wine, according to regional daily El Diario de León. Instead, it's marketed as a "rainbow drink" made of wine.
In light of the crackdown, the Gïk team has launched a petition to fight back with hopes the public can help change the minds of lawmakers in Spain. Fortunately for the rest of the world, no such law is known (yet) to take away the blue wine's right to be called a wine.

Images credit: Gïk Blue Wine US

By Susmita Cabral
January 24, 2017
Source:Kitchn
---
---
Go-Wine Sharing and Promotion
Go-Wine's mission is to organize food and beverage information and make it universally accessible and beneficial. These are the benefits of sharing your article in Go-Wine.com
It Generates Free Traffic to your site.
Your Article Will Get Indexed Faster.
Your Google Rankings Will Rise. Google Rise Articles with Positive Participation & Contribution.
Your Article Will Reach New Customers and Audience. Go-Wine has a selected audience and visitors from over 120 countries.
You always receive credit - you will be cited accurately (Author, Website & Hyperlink).
The integrity of the Information is not compromised - you always will be linked to the most up to date version of your article.
Contact Us for more information.