California Foie Gras Ban Upheld
Posted: Sep 20, 2017
---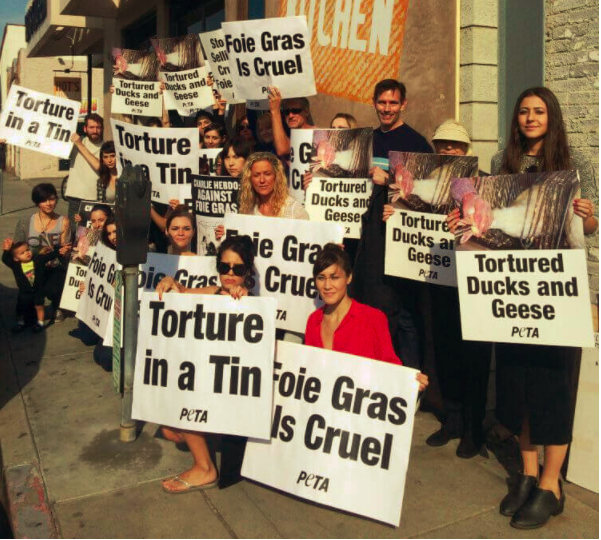 ---
But the controversial delicacy will stay on the menu as appeals process continues.

The ban on foie gras in California was given new life by a federal appeals court ruling last week — though chefs don't have to take it off the menu just yet.

In a victory for animal-rights activists, the 9th Circuit Court of Appeals on Friday overturned an earlier ruling that struck down a state law banning the sale of foie gras, according to Reuters.

Circuit Court Judge Jacqueline Nguyen agreed with defenders of the ban that California had the right to prohibit a practice deemed cruel and inhumane, and that the state could regulate the type of poultry sold for human consumption.

The decision was celebrated by animal-rights groups, which have protested the sale of foie gras for years, frequently picketing outside restaurants across Los Angeles.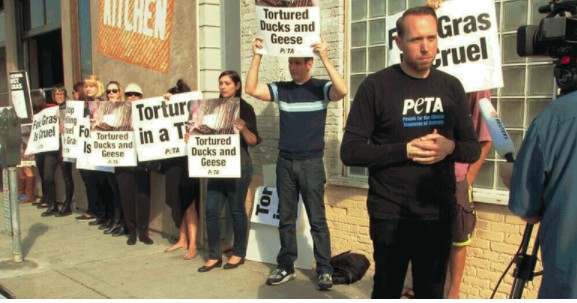 PETA members protest outside restaurants that serve foie gras.

"The champagne corks are popping at PETA," said Ingrid Newkirk, president of People for the Ethical Treatment of Animals, in a statement. "PETA has protested against this practice for years, showing videos of geese being force-fed that no one but the most callous chefs could stomach and revealing that foie gras is torture on toast and unimaginably cruel."

Supplier Hudson Valley Foie Gras in Ferndale, N.Y., however, said an appeal of the Circuit Court decision is in the works, and restaurants can continue to serve foie gras until that appeal is settled, which could take another two to three months.

"The 9th Circuit ignored several precedents and is incorrect and we feel very confident that, at some level of the appeal process, the ban will be overturned," said Marcus Henley, manager of Hudson Valley Foie Gras.


Foie gras has been under attack in California since 2004, when the state first passed a law prohibiting the sale of birds that are force fed to enlarge their livers.

The ban originally took effect in 2012, and, for a while, foie gras disappeared from most restaurant menus — though some defied the ban and served it anyway.

That ban, however, was challenged by a group that included Hudson Valley Foie Gras, the Los Angeles-area restaurant Hot's Kitchen, and foie gras producer the Association des Eleveurs de Canards et d'Oies du Quebec.

The foie gras defenders argued that California's attempted ban was unconstitutional because federal law governs the definition and labeling of poultry products. California is the first and only state to successfully adopt a ban, Henley noted.

Sean Chaney of Hot's Kitchen in a statement vowed to keep fighting for the right to serve foie gras.

"If California gets away with this, what's next? Bacon?" he said.

By Lisa Jennings
September 18, 2017
Source: NRN.com


---
---
Go-Wine Sharing and Promotion
Go-Wine's mission is to organize food and beverage information and make it universally accessible and beneficial. These are the benefits of sharing your article in Go-Wine.com
It Generates Free Traffic to your site.
Your Article Will Get Indexed Faster.
Your Google Rankings Will Rise. Google Rise Articles with Positive Participation & Contribution.
Your Article Will Reach New Customers and Audience. Go-Wine has a selected audience and visitors from over 120 countries.
You always receive credit - you will be cited accurately (Author, Website & Hyperlink).
The integrity of the Information is not compromised - you always will be linked to the most up to date version of your article.
Contact Us for more information.