California Finds 'pot Of Gold' In Wine And Weed
Posted: Aug 16, 2017
---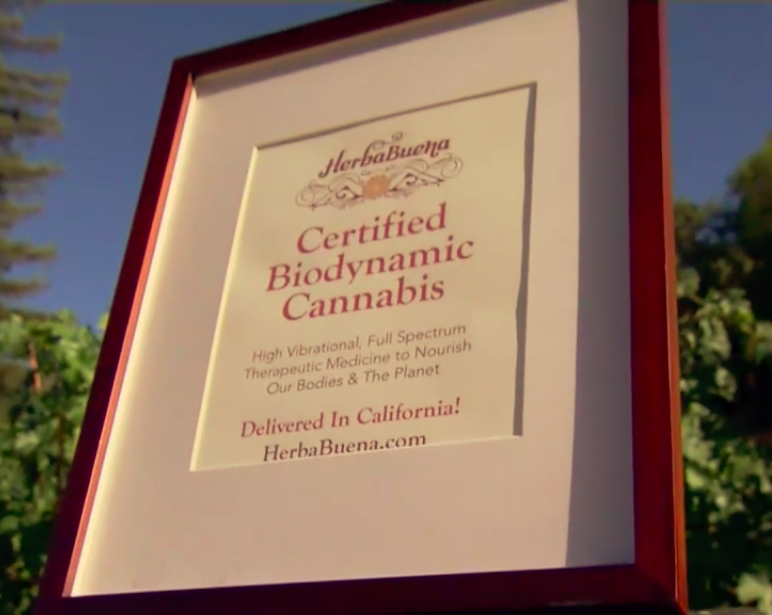 ---
California is preparing to hand out licenses to marijuana businesses on Jan. 1.
As a result, many are eyeing Northern California's winemaking regions as a pot of gold.
One acre of cannabis grown in Northern California can be worth more than $1 million.
On a warm summer evening at a vineyard in Sonoma, California, a group of well-heeled guests gathered at a local Sonoma vineyard sipping rose, feasting on food... and smoking cannabis.
The event was hosted by marijuana entrepreneurs looking to build bridges with longtime winemakers.
"I think that as we see it become more socially acceptable, you will see more and more people open to giving it a try," said Sam Edwards, president of the Sonoma Cannabis Company.
Nearby, vintner Dennis De La Montanya is mingling with guests. The sixth-generation winemaker says he doesn't "indulge" in marijuana, but is curious about the financial opportunities that go along with the crop.
"I think I would be foolish I didn't look at those opportunities," he said, noting that "this event looks very similar to one of my tasting events. And I see the same types of people here, same type of vibe."
As California prepares to hand out licenses to marijuana businesses on Jan. 1, many are eyeing Northern California's winemaking regions as a pot of gold.
One acre of cannabis grown in Northern California can be worth more than $1 million, but real estate broker John Bergman said an acre of planted wine grapes in Sonoma County is valued no more than $200,000.
The opportunists include Michael Steinmetz, a marijuana entrepreneur who bought an 80-acre property in Mendocino County, California, that once belonged to Fetzer, one of the state's biggest wine producers.
Steinmetz is the CEO of Flow Kana, which he envisions as a "marijuana destination." The business will process the marijuana that local farmers grow, helping them scale up. Ultimately, Steinmetz hopes to expand the campus to include research facilities and a wellness retreat.
Steinmetz says the location of the sprawling campus was ideal to take advantage of the wine region's labor pool and customer base.
"I'm really kind of grateful for the wine industry that existed before and it allowed us to step into the shoes of these giants," said Steinmetz.
One of Steinmetz's clients, cannabis farmer Cyril Guthridge, noted the region's climate and soil condition make it ideal to grow high-quality bud.
"We live in a very rare Mediterranean market and Mediterranean climates lend really well to growing cannabis," said Guthridge.
Yet among winemakers, there is some nervousness about the influx of cannabis entrepreneurs. Many are worried that the marijuana industry will poach their labor and their customers.
Devika Maskey, a winemaker turned marijuana entrepreneur, mentioned some vintners are worried that "instead of the mom having a glass of wine before bed, maybe she'll have a hit of cannabis before bed, so they're worried that people are going to choose cannabis over wine."
As a sign of the heightened interest of winemakers in the cannabis industry, Sonoma County recently hosted its first-ever "Wine and Weed Symposium," to help winemakers better understand the cannabis industry. It was a sold-out event.
But some skeptics say winemakers need not worry about a stampede of marijuana growers taking over their land and their way of life. Lynda Hopkins, Fifth District County Supervisor in Sonoma County, says pot prices will likely drop with the increase in supply. She also says tight regulations may make the crop prohibitive for some prospective entrepreneurs.
"Cannabis will be the most highly regulated agricultural commodity in the state of California, period, said Hopkins.
With the looming threat of the cannabis industry disrupting life in California's wine country, some longtime winemakers like DeLaMontanya are still hopeful that wine and weed will pair well as business allies.
"I think there's an opportunity for both industries to flourish in this community," said De La Montanya.
Aditi Roy & Harriet Taylor
August 13, 2017
Source: CNBC
---
---
Go-Wine Sharing and Promotion
Go-Wine's mission is to organize food and beverage information and make it universally accessible and beneficial. These are the benefits of sharing your article in Go-Wine.com
It Generates Free Traffic to your site.
Your Article Will Get Indexed Faster.
Your Google Rankings Will Rise. Google Rise Articles with Positive Participation & Contribution.
Your Article Will Reach New Customers and Audience. Go-Wine has a selected audience and visitors from over 120 countries.
You always receive credit - you will be cited accurately (Author, Website & Hyperlink).
The integrity of the Information is not compromised - you always will be linked to the most up to date version of your article.
Contact Us for more information.