What Does Great Wine Service Look Like Today?
Posted: May 02, 2017
---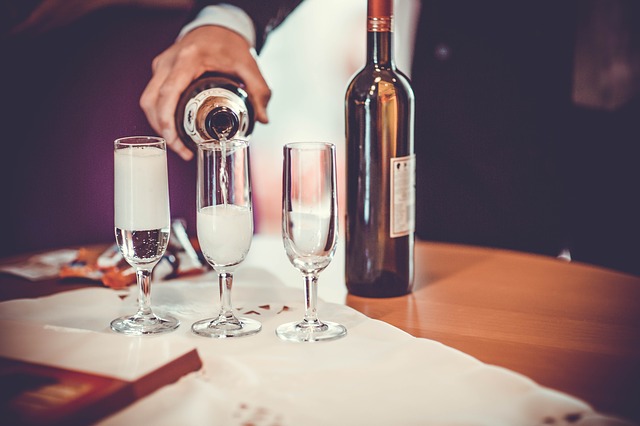 ---
What are our expectations for wine service amid huge shifts in restaurant and sommelier culture? Jon Bonné looks at three New York sommeliers who are confronting the question in all its complexity.

When I think about what wine service is like today, I think back to about a decade ago, when San Francisco was taken with its new darling restaurant, Nopa. Nopa's wine director, Chris Deegan, composed a list that ballooned to over 400 selections: modern California, the drinkable side of Burgundy, earthy Loire reds, more than a few good Beaujolais and a grab bag of rieslings. That sort of collection seems obvious today—a roster of the new mainstream—but at the time it was a bet on what wine lovers wanted to drink, rather than playing to the familiar.

The service, though, was as important as the wines. Nopa advanced a much more laid-back aesthetic at the table, one built on earlier efforts at pioneering San Francisco places like Stars and Square One. Deegan and his colleagues believed that casual didn't give you permission to be sloppy: You could wear jeans while serving grand cru Burgundy, stored at the right temperature and offered in good stemware and the right decanters. It detached the role of sommelier from any hint of snobbery, and while I'd previously encountered glimmers of it during my years living in Seattle, it felt like it had been tuned to perfection in San Francisco, a city that has always valued hedonism above social norms.

That approach today—let's call it the New Casual—now also feels like the new normal. If you sit down at The Ordinary in Charleston, or Dame in Portland, the wine will be served in that West Coast manner: casual, attentive and precise all at once. It has taken hold even in New York, a city that always resists giving up formality, perhaps because of the global flow of money through it.

But the seeds of the New Casual have been sowed in New York for a long time. Even before Nopa, the idea of eliminating pretense was taking hold at places like Gramercy Tavern, which led to Terroir, where Gramercy alumnus Paul Grieco created an East Coast beachhead for West Coast laissez-faire. (Contrapuntally, Gramercy has actually grown more formal in the past year.) It's certainly still possible to get buttoned-up service at Le Bernardin or Eleven Madison Park, but the stuffy days of wine service are largely in the past tense, as are one-time temples of conspicuous wine consumption like Cru and Veritas.

One could also argue that the New Casual has reached its peak today because the Brooklyn aesthetic has trumped Midtown formality. Some of the city's most impressive restaurants, like Chef's Table at Brooklyn Fare and Blanca, connect impeccable cooking with a certain sprezzatura and intimacy: kitchen counters, vinyl being spun. These are the places where we now go to drink some of the world's most impressive wines, along with spots like Pascaline Lepeltier's Rouge Tomate, which downshifted from that Midtown propriety to new, casual Chelsea digs. Vilmart Champagne and Leflaive Puligny are now also the domain of (very ambitious) pizzerias and wine bars. Even the definition of meaningful wine is now fully diversified, folding in skin-fermented whites or pale Jura reds and anything in between.

What, then, does it mean to provide great wine service—to be a great sommelier—in such weird, complex times?

These questions are ever more relevant given the recent shifts in sommelier culture. While there is always fretting about the imminent end of the sommelier, the very opposite has been true in most corners: Sommeliers have been more famous than ever in recent years, enjoying the penumbral glow of today's chef-worshipping food writing. But sommelier-as-celebrity was just the first step. The movie Somm and similar TV shows created a more distinct archetype of the bro-somm: alpha males sporting pocket squares as they traveled in roving cliques. (That depiction, accurate or not, unwittingly revealed the industry's very real gender issues.) It was followed, or maybe enhanced, by a sort of forced populism: somms swilling ****y beer as a populist totem, as if to let everyone know, They're just like us!

That era now seems to be reaching its logical end. For one thing, the world of wine professionals is diversifying, embracing talents who have come up through nontraditional channels: from the world of natural wine, or from Brooklyn-casual venues. And there's a healthy tension between those who believe in following an officially blessed path to wine expertise and those who want to follow their own sui generis route.

This is why Jason Wagner, one of the early pioneers to connect naturalist wines to modern Chinese-inspired cooking at Fung Tu, now finds himself at the re-launched Union Square Café. It's why Ellia Park, who runs ATOBOY with her husband, arrived at an eclectic set of selections to go with his Korean-derived cooking, thanks in part to her training at Maialino and Noreetuh, which itself married neo-Hawaiian cooking and great Burgundy.

This more diverse and quirky universe of wine programs keeps growing, with new entries like Ichimura, where Wildair's Jorge Riera applied his naturalist-wine approach to a heady, strong-flavored style of sushi. Also, in practical terms, a lot of restaurants are simply giving up on the prospect of sommeliers as stand-alone positions, opting instead for managers who can fill that role. That can succeed, as with Luca Pasquinelli and his deep Italian list at Franny's in Brooklyn, but it is a different way of being.

Even when sommeliers are still on the restaurant floor, they're often not sure exactly how to act, especially as their customers skew younger, from a generation that grew up without witnessing (or caring about) the old-fashioned rules of wine service. This tension surfaced recently when Erica O'Neal of New York's Italienne created a minor tempest after she decided to forego the practice of letting customers taste wine before it's served. It was an admirable decision but perhaps a misguided one—meant to ease the tensions (and pretensions) around wine, but instead likely making them worse.

So while the proliferation of the New Casual is thrilling, wine service remains a complicated thing. With that in mind, we wanted to look at three New York wine directors who are trying to answer these questions and meet the current wine culture in all its complexity.

Amanda Smeltz | Bar Boulud and Boulud Sud
It would be hard to find a better example of the intersection of old formality and the New Casual than Amanda Smeltz, who made one of the more dramatic leaps in recent years: from wine director of Roberta's and Blanca in Bushwick to Daniel Boulud's twin outposts near Lincoln Center. That is, from the epicenter of Brooklyn chic to the sensible-loafer Upper West Side.

"It wasn't a hard transition at all," she tells me. It certainly could have been. But what Smeltz, who helped to open The Breslin and The John Dory Oyster Bar with sommelier Carla Rzeszewski before heading out to Brooklyn, discovered is that those two worlds don't quite fit expectations. Yes, the crowd at Roberta's embodied what Smeltz calls "a more anarchic tinge" in wine today, but at the same time she found herself holding her ground on the basics of serving wine, like insisting that her customers taste the wine before she poured it for the table. "A lot of young people would say, I don't want to do that," she recalls. "And I'd say, there's a reason we do this—we do it so you don't get a flawed bottle of wine. Often they'd never had it explained to them before."

By contrast, while the Boulud restaurants have their share of pinot-grigio-at-the-bar patrons—I was surrounded by them one recent evening—Smeltz was unexpectedly impressed by the lived-in wine wisdom of many of her customers. Unlike some of her younger Brooklyn patrons, the Lincoln Center set has often visited the places that make the wines she serves, including Austria (she's currently pushing some UWS boundaries with the outré wines of Gut Oggau) and Mediterranean locales like Corsica. The service itself still feels pretty formal, but Smeltz's demeanor is laid-back, energetic—what the French would call très Brooklyn. She more leaps than glides between tables, checking glass levels and the like—it's an active presence in the room, but not of the power-play sort that tablecloth service in New York often comes with.

That isn't to say the vibe extends through the room. Plenty of the clientele at the two restaurants still seems to hold onto its own sort of 1990s pretense—the notion, for instance, that more money buys you better (versus fancier) wine. And as much as the pizza crowd on Moore Street rejected (or was scared of) sommelier rituals, Smeltz's current customers expect them. So, she has also found ways to push boundaries in a more subtle way—putting Oregon pét-nat next to classic Champagnes like Jacquesson. For the New Casual to reach deep into the Boulud empire is probably a sign that formality will struggle to come back. While Smeltz still wears a jacket during service and her hair up every night, "on the other hand," she says, "no one asks me about my nose ring."

BY JON BONNÉ
APRIL 26, 2017
SOURCE: PUNCHDRINK.COM



---
---
Go-Wine Sharing and Promotion
Go-Wine's mission is to organize food and beverage information and make it universally accessible and beneficial. These are the benefits of sharing your article in Go-Wine.com
It Generates Free Traffic to your site.
Your Article Will Get Indexed Faster.
Your Google Rankings Will Rise. Google Rise Articles with Positive Participation & Contribution.
Your Article Will Reach New Customers and Audience. Go-Wine has a selected audience and visitors from over 120 countries.
You always receive credit - you will be cited accurately (Author, Website & Hyperlink).
The integrity of the Information is not compromised - you always will be linked to the most up to date version of your article.
Contact Us for more information.