Restaurant Sales Are Slowing, And Grocers Are To Blame
Posted: Apr 03, 2017
---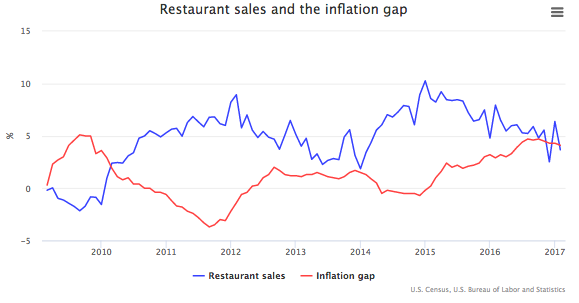 ---
Restaurant sales are slowing, and low grocery prices are to blame.

We've been saying this for some time, of course. But it appears that falling prices at the supermarket prove at least tempting enough for consumers to pull down restaurant sales — absent any other factor.

We analyzed federal data on restaurant sales and compared it with inflation data for restaurants and grocers, dating back to 2009. Over that time, commodity prices have fluctuated wildly, thanks to rising demand for certain items and horrific droughts and recession.

Commodity prices are a big deal for restaurants, of course, but they're a bigger deal for grocers because they're a much larger component of the industry's overall costs. As such, grocers' prices tend to fluctuate much more than restaurants — where labor and real estate costs play a bigger role.

The inflationary "gap" between the two largest purveyors of food to consumers has grown over the past two years into a gulf — it was 410 basis points in February, for instance, which was actually the lowest gap in eight months.



That gap has been widening since January 2015, when grocers' price increases actually outpaced restaurants' price hikes by 20 basis points.

That month was also peak restaurant. Industry that month increased by more than 10 percent, according to federal retail sales data. The rate of growth has been gradually slowing ever since. In December, restaurant sales grew just 2.5 percent, the worst in three years.


But that's not the first correlation between movements in the pricing gap and movements in restaurant sales. When restaurant prices are increasing at an appreciably higher rate than they are at grocery stores, overall restaurant sales slow.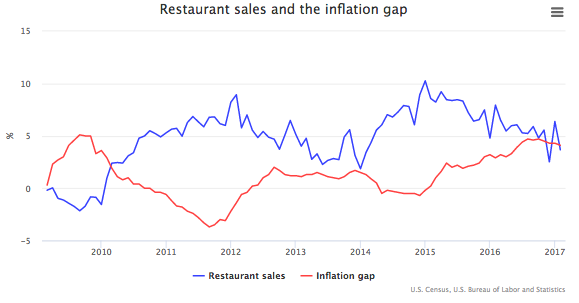 And restaurant sales rise when grocers raise their prices at higher rates.

In 2009, restaurant sales were in decline. At the time, the industry was also raising prices somewhat aggressively, making for gaps that exceeded 500 basis points some months — higher than the gap we've seen lately.

By 2011, the situation had reversed. Grocers were raising prices at rates that were much higher than restaurants, and restaurant sales surged. By 2013, once again the gap shifted into grocers' favor, and restaurant sales slowed.

Smart people will recognize those years and think, "Hey, wait a minute …"

In 2009, of course, the world was in a generational recession. People didn't eat out as much because too many of them were broke and out of work.

In 2011 and 2012, the government cut Social Security withholding taxes, providing an income boost to many Americans and generating restaurant sales, at least theoretically. By 2013, when restaurant sales slowed, that tax rate was returned to normal.

Oh, and gas prices plunged in 2015, providing a boost akin to that 2011 decrease in the FICA tax.

As such, during those years, observers pointed to those other factors as the primary reasons for shifts in restaurant sales.

The problem now is that we don't have a simple explanation for why consumers are opting to eat more at home, other than the fact that prices have fallen at grocers while restaurants keep increasing theirs.

Sure, consumers feel their discretionary income is not as strong as it should be. We've examined several other factors: The election, Netflix, growing use of social media, improving fortunes of small chains and independents, even delays in tax refunds.

But unemployment is low. Gas prices have remained low, fluctuating only modestly from one month to the next, and certainly not enough to move the needle on restaurant sales. Wages are up.

I'm certainly not ignoring potential factors behind the slowdown in restaurant sales. But it's difficult to look at that chart without coming away with the idea that lower grocery prices are giving some consumers an excuse to stay home — regardless of the temptation of Netflix or election returns.

So what should restaurants do? Wait it out, probably. Because history suggests this gap won't last long.

By Jonathan Maze
March 29, 2017
Source: Nations Restaurant News


---
---
Go-Wine Sharing and Promotion
Go-Wine's mission is to organize food and beverage information and make it universally accessible and beneficial. These are the benefits of sharing your article in Go-Wine.com
It Generates Free Traffic to your site.
Your Article Will Get Indexed Faster.
Your Google Rankings Will Rise. Google Rise Articles with Positive Participation & Contribution.
Your Article Will Reach New Customers and Audience. Go-Wine has a selected audience and visitors from over 120 countries.
You always receive credit - you will be cited accurately (Author, Website & Hyperlink).
The integrity of the Information is not compromised - you always will be linked to the most up to date version of your article.
Contact Us for more information.