A Trucker Shortage Is Forcing Restaurants To Buy Local
Posted: Aug 29, 2018
---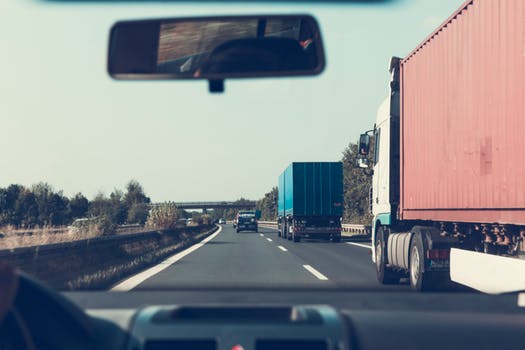 ---
Local ingredients are trendy among upscale restaurants. Now, with surging shipping costs, sandwich and salad shops are following along.
A labor crunch in the trucking industry is making it more expensive to deliver everything from apples to zucchini. U.S. shipping rates jumped 14 percent in the year ended June 30, sending truck use to nearly 100 percent capacity, according to Freight Transportation Research Associates. Restaurants are facing higher prices, and to avoid passing them along to customers, they're shopping closer to home.

"We've been trying to figure out how do you get more stuff locally," said Nick Marsh, chief executive officer of Chopt Creative Salad Co., a chain with more than 50 outlets, mostly on the East Coast. "It for sure becomes even more economically beneficial."

Electronic Monitoring
Marsh said Chopt's shipping costs jumped 20 percent versus last year. He blamed the spike on the driver shortage, along with new electronic monitoring that tracks truckers' hours put in place by the Department of Transportation in December. Chopt already gets more than 50 percent of its food from local vendors during summer. It's recently started buying more baby kale, spinach and arugula from Florida instead of California, and is looking into greens grown indoors in New York, Marsh said.

Restaurants have been touting the merits of local goods for years. Chefs that use food from nearby say it tastes and looks better due to shorter shipping times, and they like to tell diners they support local farmers. And fewer hours on the road means less gas -- a boon for the environment, too.

Driver Scarcity
The scarcity of truck drivers is part of the broader U.S. labor shortage, with the jobless rate in May matching the 48-year-low of 3.8 percent. Competition for drivers is increasing, with a stronger economy and more Americans turning to online delivery for groceries and consumables.

In June, members of the National Restaurant Association and other retail trade groups said they supported getting younger drivers on the road to help alleviate the crunch. While most U.S. states allow 18-year-olds to get a commercial driver's license, they're not allowed on the interstate until they're 21.

"Congress should support this effort to help fill desperately needed jobs," the groups said in the June 18 letter. "Companies are being forced to increase prices to account for higher transportation costs. This will ultimately result in higher prices for consumers."

Local Drivers
It's particularly hard to find drivers to drive thousands of miles across the U.S., said Jon Eisen, senior vice president of government relations at the International Foodservice Distributors Association, whose members include restaurant suppliers like Sysco Corp. Earlier this month, Sysco CEO Tom Bene said the company is struggling to attract truckers, and has started offering bonuses to lure them.

"It's harder to find drivers that are willing to spend three or four days on the road," Eisen said. "That sector has been harder hit than local drivers -- drivers that will deliver and then go home that night."

Primo Hoagies, a sandwich chain with more than 80 shops in Mid-Atlantic states, is looking for more lettuce, tomatoes, chicken cutlets and meatballs from nearby vendors instead of buying from California and the Midwest, according to CEO Rocco Fiorentino.

Higher shipping prices are "more noticeable now, and we'll probably start to outsource regionally and locally before it gets too bad," Fiorentino said. "Everything coming from across country is certainly going to go up."

Beef, Vodka
Boyd Hoback, CEO of Good Times Restaurants Inc., said the 67-restaurant company is considering more local goods to save on shipping, and to make sure it gets the quantities it needs. The corporate parent of Bad Daddy's Burger Bar and burger chain Good Times already buys some local beef, as well as vodka from Breckenridge, Colorado, near its headquarters. But over the past six months, the company has run short of produce and soft drinks.

"We have yet to be out of product on anything, but we've come close," Hoback said. "It's a significant issue for our distributors."

He said sourcing locally doesn't always make sense for Good Times because it wouldn't be able to get enough of certain vegetables. There are food safety risks, as well, Hoback said.

"They have to find a solution to be able to deliver product," he said. "Driver-less trucks are still a long way off. The only solution near-term is paying people more to get more supply."

By Leslie Patton August 28, 2018 Source:
---
---
Go-Wine Sharing and Promotion
Go-Wine's mission is to organize food and beverage information and make it universally accessible and beneficial. These are the benefits of sharing your article in Go-Wine.com
It Generates Free Traffic to your site.
Your Article Will Get Indexed Faster.
Your Google Rankings Will Rise. Google Rise Articles with Positive Participation & Contribution.
Your Article Will Reach New Customers and Audience. Go-Wine has a selected audience and visitors from over 120 countries.
You always receive credit - you will be cited accurately (Author, Website & Hyperlink).
The integrity of the Information is not compromised - you always will be linked to the most up to date version of your article.
Contact Us for more information.