Cracking The Food Code: Eden Green Technology Aims To Eliminate Food Deserts
Posted: Jul 09, 2018
---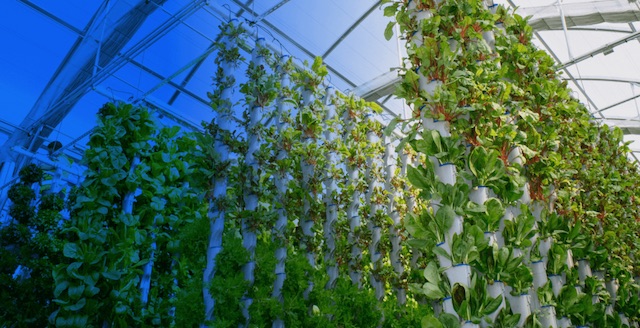 ---
Today, the world gets one step closer to solving the food crisis, thanks to the advances of Eden Green Technology, a next-generation vertical farming company that aims to democratize safe, nutritious produce and make a global impact worldwide.

According to the U.S. Department of Agriculture, about 2.3 million people (or 2.2% of all U.S. households) live in a food desert where access to affordable, healthy food options (especially fresh fruits and vegetables) is restricted or nonexistent. Eden Green aims to change that, using technology to scale regional solutions.

Eden Green grows produce in greenhouses using proprietary vine-like systems. Each plant is enclosed in a soil-free microclimate bubble that is free of pesticides, herbicides, and chemicals. Using natural sunlight rather than LED lights, Eden Green Technology's produce is environmentally friendly and sustainable, with roughly one-eighth the cost of traditional greenhouse cooling costs. Even more impressive, Eden Green Technology expects to grow 10 to 15 harvests a year, as compared to an average of two harvests for conventional, soil-based farms and anticipates a crop loss of under 1% (the industry standard is 30%).

Through a unique partnership with Wal-Mart, Eden Green Technology is believed to be the first vertical farm with the scalability to meet the produce needs of existing regional food distribution systems. Eden Green Technology's produce is planted, picked and packed at the same facility, and kept in an unbroken cold chain to the retailer, decreasing the chances of contamination. Whereas the typical head of lettuce is nine days old before it hits store shelves, Eden Green Technology's produce is significantly shorter. Jaco Booyens, co-chair of Eden Green Technology, explains, "We pick our produce, package the same-day, and stamp the date when they are harvested on the package, so consumers know exactly how fresh their salads are. We also make it possible for our retail partners to put our produce on their shelves immediately after they've been harvested, in some cases that same day. No other company does that."

Eden Green Technology's first product line, Crisply, will debut in Texas Walmart stores in mid-July. Among its first offerings will be a Sweet Greens salad blend that is designed to be so tasty that it will not even need dressing. Other offerings include a Spicy Green blend and a Spring Green blend.

"Eden Green technology not only cracks the food code, it cracks the scale code," said Jack Dweck, co-chairman and founder of Earthbound, which researches agricultural and fresh food technologies. "Its ability to scale tremendously well makes them viable economically, and that is key against any competition."

By Amy Blankson
June 28, 2018
Source: Forbes.com
Image Source: Edengreen.com
---
---
Go-Wine Sharing and Promotion
Go-Wine's mission is to organize food and beverage information and make it universally accessible and beneficial. These are the benefits of sharing your article in Go-Wine.com
It Generates Free Traffic to your site.
Your Article Will Get Indexed Faster.
Your Google Rankings Will Rise. Google Rise Articles with Positive Participation & Contribution.
Your Article Will Reach New Customers and Audience. Go-Wine has a selected audience and visitors from over 120 countries.
You always receive credit - you will be cited accurately (Author, Website & Hyperlink).
The integrity of the Information is not compromised - you always will be linked to the most up to date version of your article.
Contact Us for more information.