This Amazing Robot Can Make 120 Cups Of Coffee An Hour
Posted: May 16, 2018
---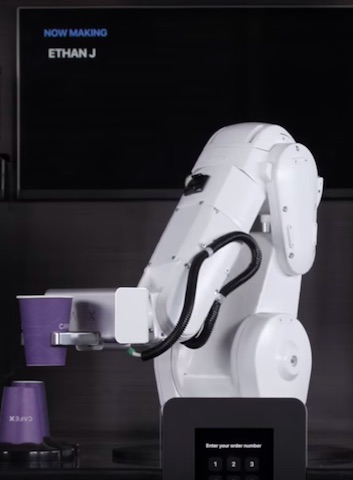 ---
Dreams really do come true... for a price!

You may look forward to chatting with your favorite barista when you swing by the coffee shop in the morning. So how would you feel if your coffee was served by a robot? That may soon become reality, as a $25,000 automated barista known as Cafe X can serve up 120 cups of coffee in an hour. I'm not sure how that compares to the rate of workers at your local Starbucks, but I'm guessing this robot may put them to shame.

Designed by the Ammunition Group, the same company behind Dr. Dre's Beats headphones and speakers, the robot barista allows customers to place their order on a kiosk touchscreen or through an app. Customers receive a text when the beverage is ready, and it's served by the robot's six-axis animatronic arm.

Check it out in action in the video below:


For those who worry that Cafe X is set to take the jobs of coffeehouse employees across the nation, Ammunition Group said their goal is not to replace baristas as we know them.

"We're not trying to replace baristas or that relationship customers have with them," Victoria Slaker, Ammunition's vice president of product design, told CNBC. "But we saw an opportunity to make something more beautiful and more interesting than a standard vending machine that could also pour a mean cup of coffee."

As of now, you can snag a cup of joe from Cafe X at three locations throughout San Francisco. The robot fills about 300 and 400 orders a day and is capable of making a variety of coffee beverages, such as lattes, cortados and cold brew. A standard Americano will set you back about $3.

Cafe X is not the only robotic barista out there. A company called Briggo developed the Coffee Haus, a fully autonomous coffee maker that works similarly to Cafe X. The Coffee Haus makes about 100 drinks an hour and self-cleans and sanitizes.

Briggo also sources and roasts its own beans for the Coffee Haus. The machines are installed in campuses and cafeterias throughout Austin, Texas. The company plans to expand to Dallas and Houston next.

Like the Ammunition Group, the makers of the Coffee Haus claim their machine is not meant to replace baristas, but can, in fact, enhance the coffee house experience and help reduce waste.

What do you think? Would you be okay getting your caffeine fix from a robot?

By Kate Streit
May 16, 2018
Source: Simplemost.com
---
---
Go-Wine Sharing and Promotion
Go-Wine's mission is to organize food and beverage information and make it universally accessible and beneficial. These are the benefits of sharing your article in Go-Wine.com
It Generates Free Traffic to your site.
Your Article Will Get Indexed Faster.
Your Google Rankings Will Rise. Google Rise Articles with Positive Participation & Contribution.
Your Article Will Reach New Customers and Audience. Go-Wine has a selected audience and visitors from over 120 countries.
You always receive credit - you will be cited accurately (Author, Website & Hyperlink).
The integrity of the Information is not compromised - you always will be linked to the most up to date version of your article.
Contact Us for more information.