Tannat, The Dark Prince Of Paso Robles Wine
Posted: Apr 27, 2018
---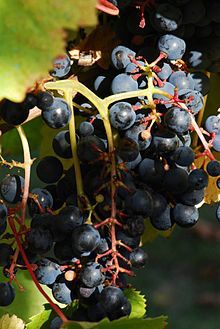 ---
Already big in Uruguay, Tannat is settling into California's Central Coast where the French transplant's big tannic reds are drawing comparisons to Napa Cabernet Sauvignon.

Big and tannic, yet smoky and smooth, Tannat is a grape that attracts both the hedonistic and intellectual wine lover. This is especially true on California's Central Coast, where it's just starting to gain a foothold among more established varieties from Burgundy, Bordeaux and the Rhône.

Tannat originates in the Madiran region of Southwest France, where the style can be exceedingly rigid. While the grape has been grown there for hundreds of years, it's more famously associated with Uruguay, where it was planted around 1870 and is considered the national grape.

Not long after that, Tannat arrived in California, though very few plantings were dedicated to the grape. Many of the modern plantings came through Tablas Creek Vineyard in Paso Robles.

"We got it without asking for it," says Jason Haas, son of Tablas founder Robert Haas and general manager of the Rhône-focused vineyard and winery.

As his family worked with the Perrins of Château de Beaucastel to import Syrah, Grenache and other Rhône varieties in the mid-1990s, a nurseryman in Montpelier tossed in cuttings of Tannat as well as the white grape Vermentino. He'd learned of the grapes' success in Uruguay, and thought Paso Robles could make a nice home.

The Haas family learned of the grape from a processing bill issued by the U.S. Department of Agriculture. It took another month to figure out that the nurseryman was to credit.

"We planted a little under an acre of each of them, and it turns out that he was right," says Haas. "They both do beautifully here."

Tannat holds its yields down, ripens right in the middle of harvest, ferments reliably and serves a regional purpose.

"Just because we can't grow good Cabernet in Monterey doesn't mean we can't make a big, signature red wine."

"This is a big red wine, and people in [Paso Robles] like big red wines," says Haas. Tablas Creek's single bottling of Tannat sells out from the tasting room each year.

The family has since expanded Tannat plantings to 3½ acres, and their nursery was the source for most other plantings in the vicinity.

"It's a pleasure to work with," says Haas. "It's kind of bulletproof."

Damian Grindley, whose Brecon Estate is a seven-minute drive from Tablas Creek, first turned to Tannat to boost his Zinfandel. But he's finds it quite compelling on its own, too.

"Over the years, I have, of course, tasted the wines of Madiran and Uruguay—both very different expressions," says Grindley, who's hosted focused tastings of Paso Robles Tannats. "I have really been seeing something world class in Paso Robles."

He believes that, although there's no set style, Paso Robles Tannat show similar fruit characteristics compared to those from other areas of the world.

"The Paso Robles wines seemed to have lost any green edge and had a viscosity that filled out the midpalate, thus complementing the huge length traditionally associated with Tannat," says Gridley.

Southern California's Ambitious New Wine Region

But Paso Robles is not the only place on the Central Coast where Tannat has found a happy home. In Monterey County, Eric Laumann of Cambiata Winery also produces a head-turning Tannat. An early adopter, his first vintage was 2004.

"I think Monterey Tannat is important, because it's cool-climate Tannat and it's one of the few tannic reds that does well in Monterey," he says. "Just because we can't grow good Cabernet in Monterey doesn't mean we can't make a big, signature red wine."

He's hoping his neighbors give it a try soon. "For Monterey, it's a wine with an elevated purpose," says Laumann.

By Matt Kettman
April 26, 2018
Source: Winemag.coom
---
---
Go-Wine Sharing and Promotion
Go-Wine's mission is to organize food and beverage information and make it universally accessible and beneficial. These are the benefits of sharing your article in Go-Wine.com
It Generates Free Traffic to your site.
Your Article Will Get Indexed Faster.
Your Google Rankings Will Rise. Google Rise Articles with Positive Participation & Contribution.
Your Article Will Reach New Customers and Audience. Go-Wine has a selected audience and visitors from over 120 countries.
You always receive credit - you will be cited accurately (Author, Website & Hyperlink).
The integrity of the Information is not compromised - you always will be linked to the most up to date version of your article.
Contact Us for more information.