Cheap Wine Is About To Get A Lot More Expensive
Posted: Apr 25, 2018
---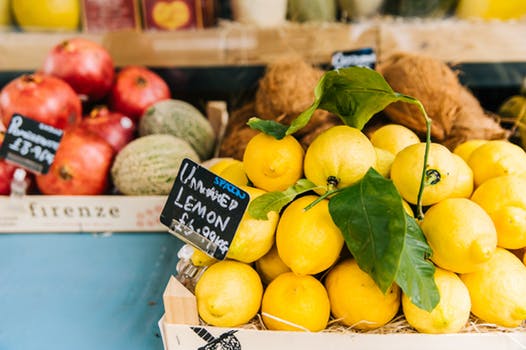 ---
The price of wine is going up.

Global wine production slumped to its lowest level in 60 years in 2017, according to data from the International Organisation of Vine and Wine.
The most recent harvest produced 25 billion liters of wine, a decrease from 26.7 billion in 2016 and 27.6 billion in 2015. The decline was driven by weak harvests in key markets including Europe and South Africa.
The shortage has caused the wholesale price of basic wine in Italy to skyrocket 74% over the previous year, according to the European Commission. Prices are up 45% in Spain and over 10% in France.
Analysts said that producers, dealers and retailers will absorb some of the price hikes, but consumers will end up paying more -- especially for cheaper bottles.
"The wine companies that are targeting very low prices ... will be hit the worst, because their margins are very low," said Stephen Rannekleiv, a global beverages strategist at Rabobank. "When prices go up, it puts a lot of strain on them."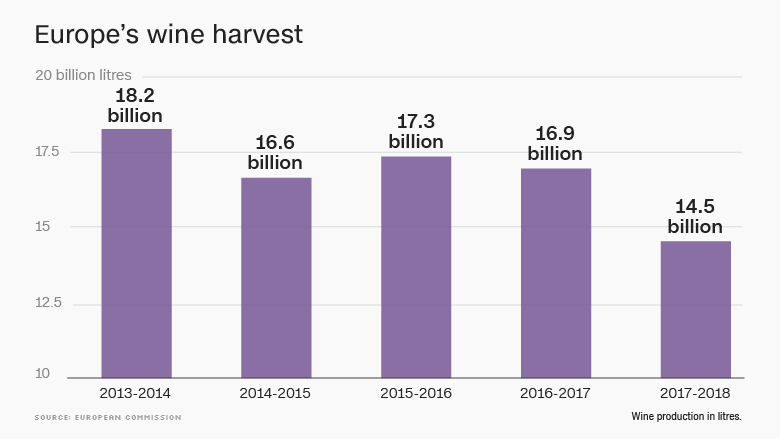 Reduced supply will also hurt quality.
"There will be, in some cases, lower quality wines getting blended into slightly higher value products, so everyone kind of goes down a tier in quality," said Rannekleiv.
Related: Forget craft beer. The next craze is non-alcoholic brew
Producers were hardest hit in Europe, where heavy hailstorms and harsh frosts damaged vineyards in early 2017 before a summer drought took its toll. The continent accounts for 65% of global wine production, and 57% of consumption.
European production dropped 15% in 2017. Production fell 21% in Italy, 18% in France and 15% in Spain, according to the Commission.
Other regions had problems, too.
Wildfires destroyed or tainted some of the harvest in California, and drought harmed vineyards in South Africa. Warm weather can cause grapes to ripen early and be smaller in size.
Rannekleiv said the result was a global harvest that was even worse than analysts had feared.
Related: Coke is launching an alcoholic drink in Japan
The pain could spread to other industries.
Rannekleiv said the slump in production means there will be less wine to divert for use in other products. Brandy and vinegar makers could be hurt, for example

By Ivana Kottasová
April 24, 2018
Source: Money.cnn.com
---
---
Go-Wine Sharing and Promotion
Go-Wine's mission is to organize food and beverage information and make it universally accessible and beneficial. These are the benefits of sharing your article in Go-Wine.com
It Generates Free Traffic to your site.
Your Article Will Get Indexed Faster.
Your Google Rankings Will Rise. Google Rise Articles with Positive Participation & Contribution.
Your Article Will Reach New Customers and Audience. Go-Wine has a selected audience and visitors from over 120 countries.
You always receive credit - you will be cited accurately (Author, Website & Hyperlink).
The integrity of the Information is not compromised - you always will be linked to the most up to date version of your article.
Contact Us for more information.