Virginia: Chef Suing Over Virginia's Happy Hour Law: 'it's One Of Those Things That Just Continued T
Posted: Apr 08, 2018
---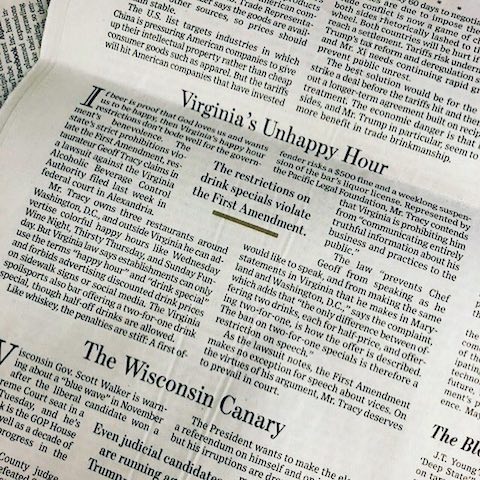 ---
WASHINGTON — For years, chef Geoff Tracy has railed against a Virginia law that bans bars and restaurants from touting happy hour specials outside an establishment's walls.

The owner of three Washington-area restaurants, he didn't understand why he could tell potential customers in Chevy Chase, Md., and the District of Columbia — but not Tysons Corner — how much they would pay for an afternoon drink.

Last year, his complaints caught the attention of a libertarian law firm. Now Tracy is suing the Virginia Alcoholic Beverage Control Authority in Alexandria federal court, saying the law violates his free speech.

"It's one of those things that just continued to irk me," Tracy said in an interview Thursday. "It's kind of a rule for the sake of a rule."

He and other restaurateurs successfully pushed for more liberal happy hour laws in the Virginia legislature four years ago. For the first time since the end of Prohibition, it became legal to put a sign promoting boozy discounts outside a restaurant or bar in the commonwealth. Print, social media and broadcast ads were also legalized.

But only two phrases can be used: "happy hour" or "drink specials." That leaves Chef Geoff's Tysons Corner unable to advertise, for example, his "Wednesday Wine Night" (half-priced bottles). Although the kinds of drinks on offer can be listed, the prices must remain a mystery until a customer enters the establishment.

"What I find to be most absurd is that I can't tell you what the price of a beer is," Tracy said.

He said the rules are also confusing: It's unclear whether he can put an ad in a newspaper listing all his restaurants and the happy hour specials without breaking Virginia law.

First-time violators can be hit with a $500 fine and a weeklong liquor license suspension.

An effort he backed in 2015 to further loosen the regulations stalled. Now, Tracy hopes to see them completely undone.

The lawsuit, brought by the Pacific Legal Foundation, argues that the limits on advertising legally discounted drinks are unconstitutional and, "in a town well-known for its love of happy hour," are hurting Tracy's business.

It also argues that a ban on "two-for-one" drink specials is unconstitutional, because bars are allowed to offer two drinks for half-price.

Anastasia Boden of the Pacific Legal Foundation said that she had been looking at "crazy" alcohol laws across the country and that Virginia's restrictions are ripe for challenge. She reached out to Tracy about six months ago and offered to represent him pro bono.

The group is known best for challenging environmental protection laws on behalf of property owners.

"There's a knee-jerk reaction to view alcohol as something dangerous, but the reality is these are businesses that are acting like any other businesses, and there's no reason to treat alcohol with such venom," Boden said in an interview.

Several other states ban happy hour specials altogether, she said, but she knows of no other that allows afternoon price cuts while barring open discussion of the details.

"If it's perfectly legal to do it, it has to be legal to say it," she said.

Genevieve Lakier, a professor at the University of Chicago Law School who studies First Amendment issues, said Tracy will probably prevail.

"Courts generally frown on laws that attempt to deprive consumers of information," she said. "I don't know what Virginia was thinking here, but I don't see how the law can be upheld."

She pointed out that it was a Virginia case involving pharmaceutical prices that led the Supreme Court in 1976 to rule that corporate speech is protected under the First Amendment.

The push to change Virginia's law in 2015 was met with resistance from anti-substance abuse organizations, who argued that any expansion of encouragement to drink is dangerous.

But Tracy said he has heard no opposition since filing the suit Wednesday and that he expects the state to settle. He's not asking for compensation, just for the law to be scrapped.

A spokeswoman for the Virginia Alcoholic Beverage Control Authority, formerly called the Department of Alcoholic Beverage Control, said she could not comment on pending litigation.

By Rachel Weiner
March 30, 2018
The Washington Post.com

Image Source: Chefgeoffs Twitter
---
---
Go-Wine Sharing and Promotion
Go-Wine's mission is to organize food and beverage information and make it universally accessible and beneficial. These are the benefits of sharing your article in Go-Wine.com
It Generates Free Traffic to your site.
Your Article Will Get Indexed Faster.
Your Google Rankings Will Rise. Google Rise Articles with Positive Participation & Contribution.
Your Article Will Reach New Customers and Audience. Go-Wine has a selected audience and visitors from over 120 countries.
You always receive credit - you will be cited accurately (Author, Website & Hyperlink).
The integrity of the Information is not compromised - you always will be linked to the most up to date version of your article.
Contact Us for more information.