How To Become A Bartender: 13 Tips, Steps, And Skills You Need
Posted: Mar 24, 2018
---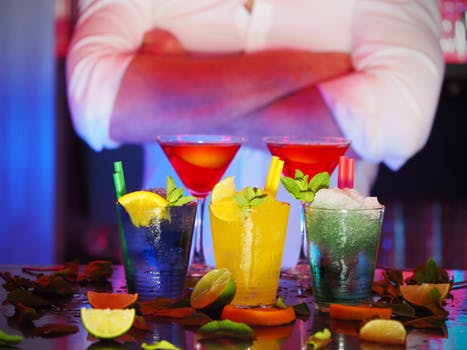 ---
So, you want to be a bartender?
Easier said than done. Becoming a bartender requires a combination of ability, knowledge, and soft skills that not everyone can serve up.
Recently, we sat down with Backbar co-owner and award-winning bartender Sam Treadway, who shared his story about becoming a bartender on Toast's podcast The Garnish. Listen to the full, exclusive interview to hear Sam's honest advice about where and where not to invest your time and energy on your journey behind the bar.
If you've always wanted to become a bartender, here are 13 tips, steps, and skills you'll need to be successful, including Sam's expert advice.
Exclusive Interview – How to Become a Bartender. Listen Below.
Section I: Ability & Experience
As an aspiring bartender, you'll be presented with ample opportunities to grow and hone your craft but it's important to remember: Not all of these opportunities are worth your time.
1) Don't Go to Bartending School
Bartending school is not detrimental to your career — it just tends to set people up for disappointment. If you think you'll go to class for two weeks and emerge on par with the world's best bartending competition winners, you're sorely mistaken.
Bartending is a profession where success is highly contingent upon experience. While bartending school will teach you proper techniques — like muddling and the standard pour — and specific cocktails, you likely won't graduate with the ability to handle a rowdy Friday night crowd at your city's most-visited club.
In our interview, Sam says that bartending school didn't immediately help him find a job in the industry. He does, however, recommend a bartending seminar like BarSmarts.
2) Become a Barback
"Almost any bar will take you as a barback if you're willing to lift heavy objects and run around," says Sam.
A barback is basically a busser for a bar. They're the ones working behind the scenes so that bartenders have everything they need to delight their guests – with responsibilities ranging from stocking bottles, to replacing kegs, to cleaning glasses and surfaces.
This role gives aspiring bartenders a hands on opportunity to learn the lay of the land – and usually results in their name popping up first on a hiring manager's list when a position opens up. Barbacks can work anywhere from a few months to over a year before being considered qualified to take the next step.
Though you'll be doing a lot of the grunt work, working as a barback presents the opportunity to show management your perseverance, humility, eagerness to learn, and the rest of the soft skills we'll talk about in a bit.
3) Make Sure You're Old Enough
Depending on the state you work in, you must be between 16 and 21 years old to serve alcohol legally; you must be anywhere between 18 and 21 years old to bartend. In Massachusetts, for example, you can tend bar at the age of 18, while Ohio requires aspiring bartenders to wait until age 21.
Check out this site to see what your state or area's age requirements are to tend bar.
It's important to note that though you may legally be of age to serve alcohol, your employer may not allow it. Check with your restaurant or bar's management to see if they have an age requirements for their bartenders.
4) Get the Proper Certifications
Not every state mandates bartenders be certified, nor does every bar. But before you start filling out applications, make sure you brush up — at the very least — on your local laws pertaining to bartending, specifically around serving alcohol.
ServSafe and TIPS are two of the more popular courses bartenders and servers take to become certified to serve alcohol. In some states, bartenders and servers are legally required to take an alcohol certification course before they are allowed on the floor.
5) Be Ready to Keep Moving
Bartending is a very manual job. Even when you're not moving your feet, you're still on them and rarely get to sit. All that movement can take a toll on your back, wrists, elbow, and feet, leading to some common bartending bartending injuries.
Make sure you're stretching, exercising, and taking care of your body so you don't set yourself up for a rude awakening when you start a shift. It's also a smart idea to invest in proper non-slip footwear; bars are sticky, slippery places and you're likely to slip or fall at some point in your career as a result.
6) Learn From the Experts
Great bartenders have great mentors and role models; learning from the best can help you become the best.
If you're still hunting for the Mr. Miagi to your Daniel-san, listen to Sam Treadway's advice about what it takes to become a bartender, including his journey and the skills he looks for when hiring new bar staff in his exclusive interview on The Garnish Podcast by Toast.
Section II: Knowledge
The physical dexterity and proper licensing may make you qualified on paper, but being a bartender requires one more key ingredient: Knowledge. Understanding drink taste and proficiency in bartending terminology are two areas you should focus on expanding your insights; they'll be the most beneficial to you in your quest to become a bartender.
1) Beverage Taste Knowledge
To be a successful bartender, you'll need to know more than the basics.
Simple well drinks, like a Long Island Ice Tea, and classic cocktails, like an Old Fashioned, are common knowledge for bartenders, but you're limiting your dependability, versatility, and earning potential if they're all you know how to make. If someone asks for your recommendation off the menu, you need to be able to provide them with the perfect beverage based on your understanding of taste profiles.
Bars like Drink in Boston make the customer experience of ordering from a bartender based entirely on an intimate conversation about taste preferences. At bars like this, employees need to work for several years before becoming an official bartender since building this knowledge base and comfortable command takes time.
Watch Drink's bartending staff put this into skill into action below.
2) Bartending Lingo
No one's made their name as a bartender without building their vocabulary. Neat, dirty, jigger, shooter – do you know what all of these mean? If not, time to brush up on these popular bartending terms.
Section III: Soft Skills
When asked if he identifies as a bartender or a mixologist, Sam had this to say: "I define myself as a bartender because I like to be at a bar and I tend to my guests. That's what's most important, is tending to the people in front of you – making sure they're comfortable and happy, and putting a smile on their faces."
Take it from someone who knows: The soft skills that reinforce hospitality are what seal the deal for a great bartender. Work on and perfect these soft skills to become a great bartender.
1) Sociable
When you first start on the path to becoming a bartender, you'll probably work some slower shifts at a restaurant or hotel to prove your worth and build your skills. Don't be discouraged.
To make the most of your guest's experience, make sure you can hold a conversation with absolute strangers. This ability will make you more likable to patrons and will help you build a group of regulars.
2) Flexible
Physical flexibility aside, mental flexibility is key to being a great bartender. Bartenders mostly work nights and are in high demand on weekends and busy shifts; you'll likely be juggling many drink orders and the many different ingredients they need in your head so it's important to learn how to become an effective multi-tasker.
Early on in your bartending career, your focus on the bar may be diverted if your help is needed elsewhere in the restaurant. For example, you may be asked to help serve or bus tables, barback, or run the service station longer than anticipated.
3) Realistic
Understand that becoming a great bartender – or a bartender period – does not happen overnight: It takes years of hard work to become recognized for what you do. With that in mind, be prepared to put in the effort for a long time before the opportunity to manage or open your own bar is presented.
4) Humillity
Sit, down, be humble.
"As a server, you are in the service of someone else," Treadway says. Being a great bartender is not about you, it's about the exceeding your patron's expectations giving them an incredible guest experience – that's what builds your reputation as a legendary bartender.
5) Precise
As the saying goes, we saved the best for last: One of the most important soft skills you can possess as a bartender is precision.
For the business to stay profitable and your bar's liquor costs to stay in check, bartenders need to be precise; it's not all about being flashy. If you're over-pouring for the sake of aesthetic (or worse – for better tips), you'll soon find yourself on the way out.
How to Become a Bartender
These are just some of the steps and skills those aspiring to be a bartender should keep in mind. Remember: One of the best things you can do to achieve a goal is to look to someone who has already done it.
Below is an interview with award-winning bartender Sam Treadway, whose talents have improved bars in four states and in such names as Eastern Standard, Cheers, and most recently, Backbar.
If you want to become a bartender, we encourage you to listen to his story and learn more about what steps he took to get his career to the successful state it's in now.
---
---
Go-Wine Sharing and Promotion
Go-Wine's mission is to organize food and beverage information and make it universally accessible and beneficial. These are the benefits of sharing your article in Go-Wine.com
It Generates Free Traffic to your site.
Your Article Will Get Indexed Faster.
Your Google Rankings Will Rise. Google Rise Articles with Positive Participation & Contribution.
Your Article Will Reach New Customers and Audience. Go-Wine has a selected audience and visitors from over 120 countries.
You always receive credit - you will be cited accurately (Author, Website & Hyperlink).
The integrity of the Information is not compromised - you always will be linked to the most up to date version of your article.
Contact Us for more information.