How Chef Jose Andres Ended Up On The Oscars Stage With Common, Andra Day And A Group Of Activists
Posted: Mar 06, 2018
---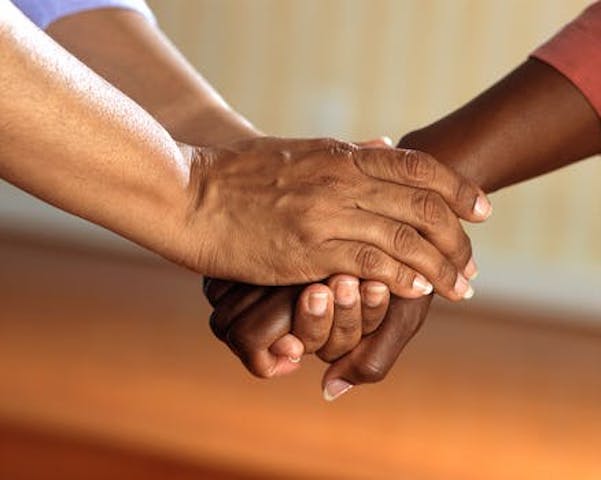 ---
There he was, house left, sharing the stage with Andra Day and Common as the artists performed "Stand Up for Something" from the film "Marshall." Washington chef, restaurateur and disaster relief worker José Andrés apparently was the only one among the honored activists to carry an item on stage, which made him stand out from the pack, as if he were the Left Shark of the Academy Awards.


For the transfixing Oscar night performance, Common and Day had reached out to each activist, according to Variety magazine. Andrés said today that Common had tried to call him personally, but they could never connect because the chef was traveling so much. Yet once the Oscars opportunity was presented to him, Andrés said he was initially reluctant.

"I was thinking about not doing it," he said. "I'm getting more recognition than I need or deserve."

Andrés changed his mind because he figured his appearance might remind viewers that many Puerto Ricans, months after Hurricane Maria hit the island, continue to struggle. "We obviously need more and more reminders to everybody that this is never over," he said.

Not that Andrés would be handed a megaphone during the broadcast. He and the other activists and justice warriors served as the song's silent chorus, which explains why Andrés brought an object with him on stage. More on that in a moment.

Aside from Andrés, the activists were scheduled to include: Bana Alabed (the 8-year-old Syrian refugee who wrote about the war tearing her country apart); Alice Brown Otter (the teenager who protested the Dakota Access pipeline); Tarana Burke (founder of the Me Too movement); Patrisse Cullors (artist, author and co-founder of Black Lives Matter); Nicole Hockley (mother of a son who died in the Sandy Hook Elementary School shooting, she founded Sandy Hook Promise to prevent gun-related deaths); Dolores Huerta (co-founder of the United Farm Workers of America with Cesar Chavez and president of the Dolores Huerta Foundation); Janet Mock (author and transgender rights activist); Cecile Richards (author and president of the Planned Parenthood Federation of America and the Planned Parenthood Action Fund); and Bryan Stevenson (director of the Equal Justice Initiative).

As comedian Dave Chappelle noted in his introduction of the Oscar-nominated song, "They are the unsung heroes."

Then again, these were "unsung heroes" perhaps only in the artistic sense. They all have received untold amounts of media coverage, particularly Andrés, who was recently named Humanitarian of the Year by the James Beard Foundation for his disaster relief efforts in Houston, Haiti, Southern California and Puerto Rico. As the public face for both ThinkFoodGroup (the Washington-based restaurant group that he owns) and the nonprofit World Central Kitchen (the group he founded after the massive Haiti earthquake), Andrés has become increasingly outspoken on political issues, whether immigration or feeding the poor.

Andrés, of course, famously stood up to Donald Trump in the summer of 2015, when the president was still campaigning for the job. Andrés decided to back out of his lease at the Trump International Hotel after Trump referred to Mexicans as drug dealers and rapists on the campaign trail. The chef and the businessman would eventually file lawsuits over the whole messy affair, which they settled nearly two years later.

During his moment on the Oscars telecast, Andrés had to remain mum, which is not his natural state. The 10 activists were cloaked in darkness as Common and Day launched into their song. As Day moved into the chorus, spotlights started to shine on each activist, although ABC producers did not deign to ID any of them. Twitter was annoyed.

Wait, they just brought out Jose Andres and Delores Huerta and other activists, and used them as literal human backdrops? No introductions? No name cards? That is shameful. #Oscars#OscarsSoWhite

Even without identification, many spotted Andrés's mug on stage. He was the one in a black chef's coat, with his sleeves rolled up, as if he were going to work the line at the Bazaar, his restaurant in Beverly Hills, Calif., after the show. He was clutching something red and rolled up in his right hand. He later held the item to his chest, as if it were a sacred object.

Andrés's decision to bring the item was spontaneous. It was a gift from a woman who attended a recent talk he gave at the University of Maryland. The chef had tucked the item into his backpack, and it was still there when he and his wife, Patricia, checked into their hotel before the Oscars. Right before the couple left for the ceremony, Andrés decided he wanted to bring it. But he checked with Common first.

"We brought you here because of who you are," Common said, according to Andrés. "Do whatever you want."
Viewers at home may not have seen what the item was. As Day put a lovely coda on the song, the cameras pulled farther and farther back while Andrés tried to reveal his prized possession. It turned out to be a Puerto Rican flag, given to him by the Ortiz family from Bayamón, a municipality located on the northern part of the island. They had signed it. It is one of many flags that Puerto Ricans have handed the chef.

Andrés unfurled the flag on stage, if mostly for the famous actors inside the Dolby Theatre. He later received a photo of the moment. He does not even know who gave it to him, but he shared it on Twitter.

An homage to all chefs, volunteers, First responders, military, doctors, nurses that helped during last hurricane season everywhere...and especially my fellow Puerto Rican brothers and Sisters #StandUpForSomething @common @AndraDayMusic @Lin_Manuel #oscars live stream

"The message the flag sends is clear," Andrés said. "That these people have suffered a lot and that the American people still care about them."

Food & Wine magazine noted that the flag unfurling generated a standing ovation from the theater audience. Andrés said "the standing ovation was for everybody" and then rattled off a list of people who were the real recipients of that applause: It included everyone from Day and Common to first responders and the people at the Federal Emergency Management Agency.

Andrés said he and Patricia enjoyed the ceremonies, in part because he could leave his seat in the theater and mingle with the stars of Hollywood out in the bar. Andrés said he spoke with Steven Spielberg, Salma Hayek (she is a "longtime friend") and actor Gael García Bernal, among others. It seems the bar was Andrés's retreat.

"I'm not a super fan of long events," he said. "But there's always the bar."

By Tim Carman
March 5, 2018
Source: Washingtonpost.com
---
---
Go-Wine Sharing and Promotion
Go-Wine's mission is to organize food and beverage information and make it universally accessible and beneficial. These are the benefits of sharing your article in Go-Wine.com
It Generates Free Traffic to your site.
Your Article Will Get Indexed Faster.
Your Google Rankings Will Rise. Google Rise Articles with Positive Participation & Contribution.
Your Article Will Reach New Customers and Audience. Go-Wine has a selected audience and visitors from over 120 countries.
You always receive credit - you will be cited accurately (Author, Website & Hyperlink).
The integrity of the Information is not compromised - you always will be linked to the most up to date version of your article.
Contact Us for more information.