What It Is Like To Attend A 125 Dollar Marijuana Pairing Dinner...
Posted: Feb 15, 2017
---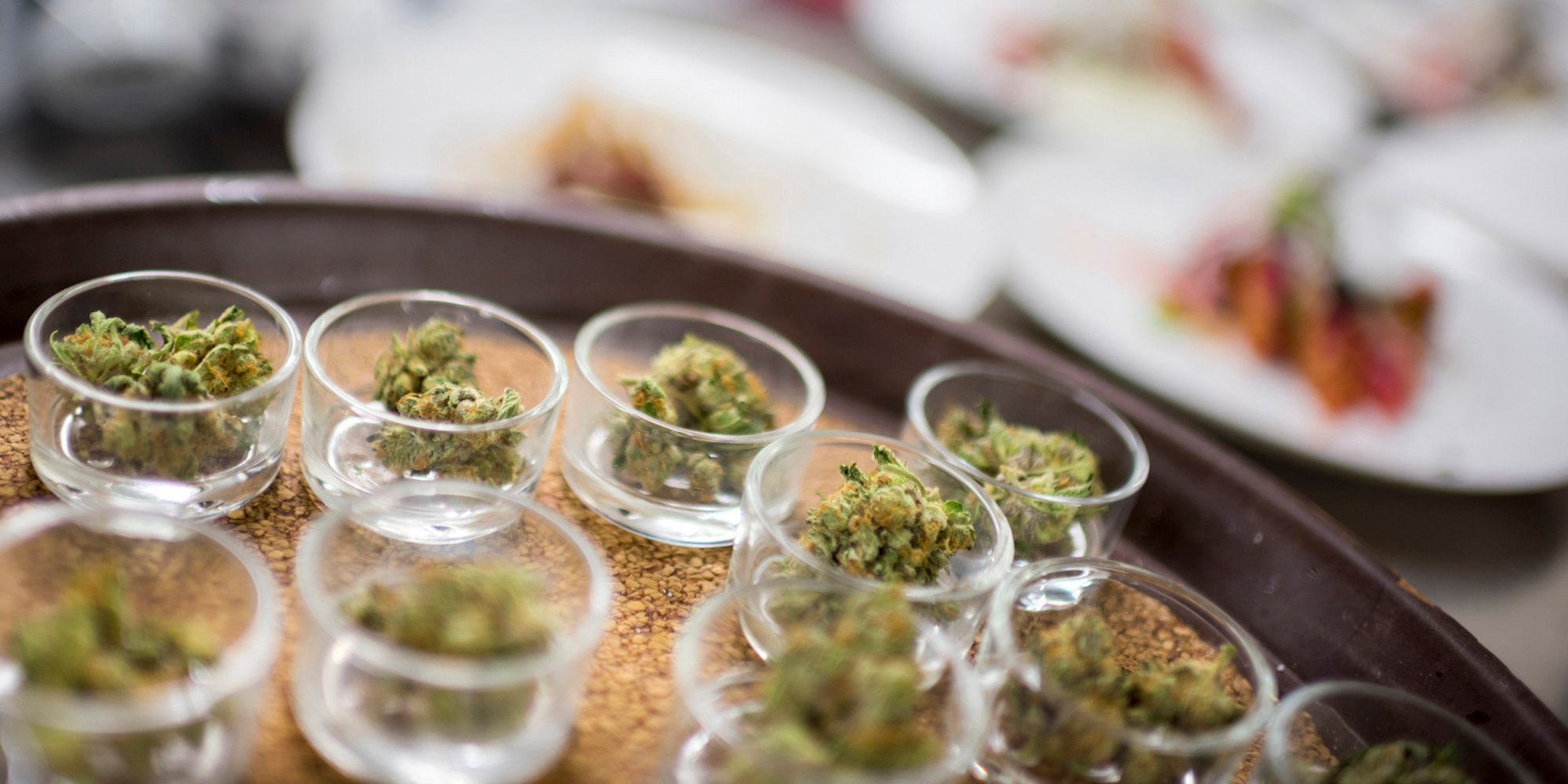 Source: Cultivating Spirits
---
Philip Wolf was sipping wine at a vineyard in Barcelona when the idea struck him: If people can drink and eat in good company, why can't they get high?

In February 2014, one month after Colorado fully legalized marijuana, Wolf launched his company Cultivating Spirits, which hosts marijuana pairing dinners across the state. Like a wine tasting, the events mix gourmet foods and ganja, and cater to a sophisticated audience.

"I knew that cannabis, from a connoisseur's standpoint, had the same qualities as wine," Wolf tells Business Insider. Plus, he says, "you can treat cannabis just like wine. Some people are going to buy boxed wine. But other people like the education and experience behind it."

Here's what it's like to attend one of Cultivating Spirits' events.


Source: Cultivating Spirits

During a Cultivating Spirits events, the ganja connoisseurs come to you.

Marijuana pairing dinners most often take place in people's homes. That's because Colorado law prohibits marijuana consumption in public, and Cultivating Spirits does not have a permit to sell like a dispensary would. Tourists sometimes hold events in Airbnb rentals.

Wolf talks to the host before the event to find out the location, how many people will attend (Cultivating Spirits places a cap at 12), and the desired vibe.

Wolf then visits a dispensary in the area and talks to a budtender, who has an intimate knowledge of the inventory, to find out what's good and in stock.


Source: Business Insider

Wolf, who considers himself the world's first pot sommelier, will buy samples of the marijuana strains he likes most based on their smell, taste, strength, and intended effect.

After he samples the strains, Wolf sends descriptions of his top three picks to the chef overseeing the event. The chef will create a menu based on the strain profiles.

An untrained nose might think all marijuana smells like roadkill. But weed, like wine, has a variety of smells. The fragrant oils come from organic compounds, called terpenes.


Source: Reuters Jason Redmond

Terpenes are found in the sticky resin glands that hang on the marijuana bud like crystals. The terpene content differs from one plant to another.

When smoked, these organic compounds bind to receptors in the brain and cause different effects, from euphoria to sleepiness.
Understanding those differences is the foundation of being a pot sommelier.

Wolf works with the chef to harmonize the terpenes of selected cannabis strains with the flavor profiles of the food and drink. For example, a whiff of the peppery Power Plant strain might pair well with lemon-pepper chicken, while the citrusy Agent Orange strain complements teriyaki chicken.

Before the event, guests are chauffeured by limo to a dispensary, where they buy the three strains to pair with the dinner. This way, the drug never changes hands between Wolf and his clients.



Source: John Locher/AP

When guests sit down to dinner, one of the first things they do is familiarize themselves with the plant. They break it up with their fingers, smell it, and examine its fuzzy hairs.


Source: Cultivating Spirits

The group takes their first, ceremonial hit off the pipe together.


Thought most guests will be experienced smokers, Wolf walks them through how to take the perfect hit. He encourages them to light the material around the sides of the pipe, rather than torching the whole bowl, in order to preserve green stuff for the next hit.

There's even a secret to the inhalation: "It's not about how big of a hit you take, it's about how big you expand your lungs," Wolf says...

More at.....By Melia Robinson February 14, 2017 Source: Business Insider
---
---
Go-Wine Sharing and Promotion
Go-Wine's mission is to organize food and beverage information and make it universally accessible and beneficial. These are the benefits of sharing your article in Go-Wine.com
It Generates Free Traffic to your site.
Your Article Will Get Indexed Faster.
Your Google Rankings Will Rise. Google Rise Articles with Positive Participation & Contribution.
Your Article Will Reach New Customers and Audience. Go-Wine has a selected audience and visitors from over 120 countries.
You always receive credit - you will be cited accurately (Author, Website & Hyperlink).
The integrity of the Information is not compromised - you always will be linked to the most up to date version of your article.
Contact Us for more information.