Are Delivery Apps Killing Restaurants?
Posted: Feb 05, 2018
---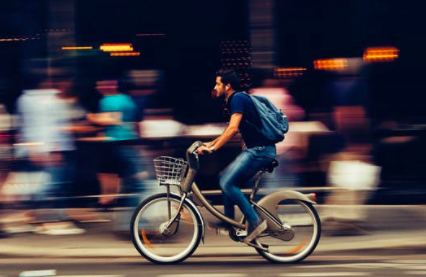 ---
When Michelle Gauthier opened Mulberry & Vine, in 2013, so-called fine-casual restaurant chains like Sweetgreen and Dig Inn had not yet blanketed New York City in grain bowls and kale-Caesar salads. Gauthier, who lives in Tribeca, wished that there were somewhere other than the salad bar at Whole Foods to rely on for a quick, healthy meal. She opened Mulberry & Vine's first location in her neighborhood, followed by two additional branches farther uptown. On a recent day in January, the Tribeca outpost was crowded with young women, and a few men, drinking coconut-infused waters and eating bowls of organic romaine lettuce topped with items like turmeric-lemon cauliflower, charred avocado, and roasted salmon. Brown-paper bags sat in rows next to the cash register, awaiting couriers for delivery. Mulberry & Vine meals are ubiquitous inside the corridors of Goldman Sachs, located a few blocks away; its entrées have appeared on lists of popular orders from Uber Eats, the food-delivery wing of the ride-hailing giant. When the restaurant first opened, it didn't offer delivery at all. Now delivery orders account for around thirty per cent of its sales.

To an outside observer, Mulberry & Vine looks like a twenty-first-century restaurant success story. In recent years, online platforms like Uber Eats, Seamless, and GrubHub (which merged with Seamless, in 2013) have turned delivery from a small segment of the restaurant industry, dominated by pizza, to a booming new source of sales for food establishments of all stripes. When the average consumer logs in to the Caviar app to order a Mulberry & Vine salad for the office or a grain bowl on the way home from work, she might reasonably assume that her order is benefitting the restaurant's bottom line. But Gauthier, like many other restaurant owners I've spoken to in recent months, paints a more complicated picture. "We know for a fact that as delivery increases, our profitability decreases," she said. For each order that Mulberry & Vine sends out, between twenty and forty per cent of the revenue goes to third-party platforms and couriers. (Gauthier initially had her own couriers on staff, but, as delivery volumes grew, coördinating them became unmanageable.) Calculating an order's exact profitability is tricky, Gauthier said, but she estimated that in the past three years Mulberry & Vine's over-all profit margin has shrunk by a third, and that the only obvious contributing factor is the shift toward delivery. "I think it's a far bigger problem than a lot of operators realize," she told me. "I think we are losing money on delivery orders, or, best-case scenario, breaking even."

In 2016, delivery transactions made up about seven per cent of total U.S. restaurant sales. In a research report published last June, analysts at Morgan Stanley predicted that that number could eventually reach forty per cent of all restaurant sales, and an even higher percentage in urban areas and among casual restaurants, where delivery is concentrated. Companies like GrubHub maintain that the revenue they bring restaurants is "incremental"—the cherry on top, so to speak, of whatever sales the place would have done on its own. They also argue that delivery orders are a form of marketing, exposing potential new customers who might convert to lucrative in-restaurant patrons. The problem is that as consumers use services like Uber Eats and Seamless for a greater share of their meals, delivery orders are beginning to replace some restaurants' core business instead of complementing it. (In the Morgan Stanley survey, forty-three per cent of delivery patrons said that a meal they ordered in was replacing one they would have otherwise eaten at a restaurant.) And, as delivery orders replace profitable takeout or sit-down sales with less profitable ones—ostensibly giving restaurants business but effectively taking it away—the "incremental" argument no longer holds. "It's total bullshit, and you can quote me on that," Justin Rosenberg, the C.E.O. of the Philadelphia-based fast-casual chain Honeygrow, told me. "I've spoken to C.F.O.s of bigger fast-casuals, and they've said the same thing."

For a sense of why a thirty-per-cent delivery-service charge is so problematic, consider that in the restaurant world, notorious for its slim profit margins, an industry-standard budget apportions thirty per cent of revenue for the cost of ingredients, thirty per cent for the cost of labor, and the remainder for "everything else"—rent, utilities, insurance, supplies, credit-card fees, and profit. One way of solving this equation might be to retool the basic restaurant business model to better suit the demands of delivery. That's what the chef David Chang, of Momofuku, and the venture investor Hooman Radfar attempted to do with Ando, a fast-casual restaurant that they founded, in 2016, as a delivery-only experience. The plan sounded simple: a production kitchen on Fourteenth Street would make sandwiches, salads, and such, and Ando would sell them exclusively as delivery orders through a proprietary app; all the costs of running a dine-in restaurant—front-of-house staff, décor, pricey real estate in a desirable location—would be eliminated. After a little more than a year, though, Ando scaled back this initial vision, giving the kitchen a conventional retail façade so that patrons could also order takeout. Around that time, I spoke to the restaurant's C.E.O., Andy Taylor. He said that no matter how much he was able to save by forgoing a traditional dining room, the cost of delivering food was too high, in part because he anticipates courier costs increasing as a result of rising minimum wages and a historically tight labor market. "I don't think a pure delivery model can be profitable," Taylor said. Last month, Ando ceased operation, and a note on its Web site announced that its team and technology had been acquired by Uber Eats.

Large chains or venture-backed endeavors like Ando can afford to undertake such experiments. At Sweetgreen, for instance, forty per cent of orders are now placed for pickup through a proprietary app, and the company is about to pilot a delivery service. It is small businesses, which lack the leverage to negotiate third-party fees, or the resources to adapt their facilities, that are made most vulnerable by delivery's growth. A representative for Curry-Ya, a Japanese restaurant in Harlem that has become one of my favorite spots for delivery, told me that "sometimes it seems like we're making food to make Seamless profitable." At the same time, she said, "it's really becoming a bulk part of our business, so it's not something we can cut." Another New York restaurant owner told me that a colleague described delivery as "like crack cocaine," an income stream that his business had become dependent upon but that might ultimately be running them into the ground. Many of the restaurant owners I spoke to knew that their percentage of deliveries was rising along with their costs, but they were unsure of how that was affecting their profitability. "We kind of think that it all balances out, but, honestly, we don't know," Tom Birchard, the owner of the popular Ukrainian restaurant Veselka, which has been serving late-night borscht and pierogi to East Villagers for more than sixty years, told me. "We don't have the capacity to really analyze the economics of it carefully. We're in the dark."

It's worth noting that, even while charging restaurants steep rates, most delivery platforms are not yet profitable, either. Their hope is that order volumes will one day become high enough—and couriers will deliver enough orders per hour—to push them into the black. To that end, some of them are moving to reshape the restaurant industry from within. Uber hasn't revealed its plans for Ando's team and technology, but another of the company's initiatives is nudging restaurants to embed "virtual restaurants" inside their kitchens—picture a burger joint housing, at Uber Eats's behest, a cookie company that exists only as a menu on the delivery provider's site. DoorDash, an Uber Eats competitor, has started to experiment with leasing remote kitchen space to restaurants so that they can expand their delivery radii. If such practices catch on, it's easy to imagine a segment of the restaurant economy that looks a lot like, well, Uber, with an army of individual restaurants designed to serve the needs of middle-man platforms but struggling to make a living themselves. Michelle Gauthier, of Mulberry & Vine, told me that such a system would, for one thing, preserve little of what drew her to the restaurant industry in the first place. "Having a delivery-only business that's soulless and lifeless and just about production?" she said. "Personally, I have no interest in that."

By Elizabeth Dunn
February 3, 2018
Source: Newyorker.com
---
---
Go-Wine Sharing and Promotion
Go-Wine's mission is to organize food and beverage information and make it universally accessible and beneficial. These are the benefits of sharing your article in Go-Wine.com
It Generates Free Traffic to your site.
Your Article Will Get Indexed Faster.
Your Google Rankings Will Rise. Google Rise Articles with Positive Participation & Contribution.
Your Article Will Reach New Customers and Audience. Go-Wine has a selected audience and visitors from over 120 countries.
You always receive credit - you will be cited accurately (Author, Website & Hyperlink).
The integrity of the Information is not compromised - you always will be linked to the most up to date version of your article.
Contact Us for more information.