Only Michelin-starred Street Food Vendor In Bangkok Wants To Give Back Star
Posted: Jan 19, 2018
---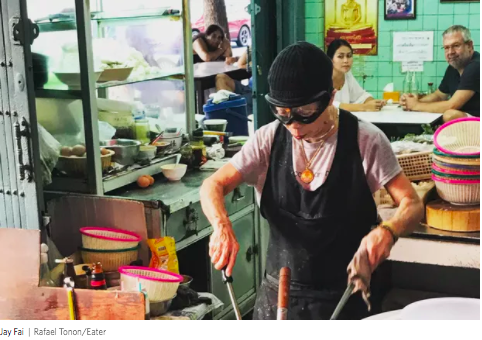 ---
Large crowds have descended on Raan Jay Fai

People passing by Maha Chai Road, almost on the corner of Soi Samran Rat in the Phra Nakhon area of Bangkok, might be startled by the crowd snaking down the footpath around an impromptu assembly of plastic tables. As they wait in line, crowd members take out their cell phones to snap pictures of the "crab omelet queen," newly famous after Bangkok's first-ever Michelin Guide awarded her eatery Raan Jay Fai one Michelin star.

Ever since Michelin — the a French tire company that also publishes international dining guides — announced that it would be publishing a guide to Bangkok, many wondered whether the guide, famous for favoring European fine dining, would include the city's thriving street food scene in its starred recommendations. ("Most people I spoke with in the local food scene believe Michelin will give a nod... to some of Bangkok's generations-old shop houses," wrote Eater contributor Micaela Marini Higgs last summer.)

When the guide came out in December, Raan Jay Fai, a popular eatery in Bangkok's Old Town, was the only street food venue in the city to be awarded a star, appearing alongside 13 other restaurants with one star (and three with two stars). Since the announcement, the distinction has drawn the attention of tourists, foodies, and even a couple of curious tax department officials to Raan Jay Fai's small space.

"I wish I could give the star back already," says Supinya Junsuta, Raan Jay Fai's chef and owner — but at this point, everyone, including the 72-year-old cook herself, calls Supinya "Jay Fai." Jay Fai made the spot famous with her signature khai jeaw poo (crab omelet), poo phad phong karee (stir-fried crab made with curry), and noodle dishes; her desire to give the Michelin star back wouldn't be the first time a chef expressed that wish.

On an afternoon two weeks after the Bangkok Michelin announcement, Jay Fai tries not to take her eyes — prudently covered with ski goggles, her trademark — from the hot oil pan above the charcoal flames where she cooks beaten eggs with crab meat. She seems annoyed by the sudden attention of her restaurant and concisely responds to questions from journalists, while not for a minute diminishing her movements to prepare the orders that never stop coming.

"Many people come just to see and take pictures and not necessarily to eat," she says. Even so, wait time for tables can be up to two hours during the busiest times of day, such as right after the restaurant opens at 3 p.m. A handwritten sign on the register warns: "Time not guaranteed."

After the Michelin boom, Raan Jay Fai created a reservation system to account for the demand for a seat, and Jay Fai's daughter Yuwadee Junsuta quit her job so she could start working full-time with her mother and her sister, Varisa Junsuta. "Now we advise people to make a reservation in advance by calling us," she says.

In the small room with less than a dozen tables, three waiters work to serve all the guests. Varisa Junsuta is exclusively in charge of the queue, managing the names and calling the clients in order to seat them. Jay Fai cooks alone behind wooden screens that separate her from the crowd. It's a safety measure to protect the patrons from the scalding oil where she deep fries many dishes. In addition to wearing goggles to protect herself, Jay Fai covers her head in a black beanie and uses long skimmers to stir the food.
Jay Fai has been cooking since she was a child. She took over the venue from her father when she was a young woman, becoming famous among chefs and gourmands mostly thanks to the quality of her ingredients. As a result, she charges more for her dishes: Her signature crab omelet costs around $25 USD, as do many of her other items, such as seafood rad na, a popular lunch dish made with rice noodles. An abalone dish can cost around $300 USD. "I only cook with the best ingredients," she explains.

Jay Fai is the latest street food spot to win a nod from Michelin. In 2016, two modest Singapore food stalls (Hill Street Tai Hwa Pork Noodle and Hong Kong Soya Sauce Chicken Rice and Noodle) made history by becoming the first street vendors to be awarded stars by the prestigious guide, and in 2015, Michelin announced a new street food category for the 2016 Hong Kong Macau Guide.

"Street food has evolved and improved so much that Michelin judges had to pay more attention to this," says chef Gaggan Anand, who runs two-Michelin-starred restaurant Gaggan in Thailand's capital. "We have more than a hundred Jay Fais in Bangkok. But she became so famous that she called their attention because of her great job."

However, the Michelin honor doesn't mean that street food proprietors like Jay Fai are getting rich. Jay Fai says that she hasn't raised her prices since being included in the guide, although she has increased her spending since then, purchasing more ingredients to meet demand. "I would have lost customers if I [raised prices]," she explains.

Jay Fai works from 2 p.m. to 1 a.m. every day except Sundays, her day off. Varisa Junsuta says her mother is getting tired more easily with all the Michelin-exacerbated hustle and bustle.

"Customers, nowadays, come with higher expectations and they basically look for the Michelin star sign as well as the Michelin-standard food," Yuwadee Junsuta says. "But hopefully on their second or third visit, they will come to look for Jay Fai herself, and ask for their favorite dishes like our other regular customers." This, she says, might be the most positive effect of Raan Jay Fai's sudden fame.

"Before or after Michelin, we see ourselves the same way, while others might see us as a Michelin-star restaurant. Anyway, Jay Fai is still Jay Fai," Yuwadee Junsuta adds. "Whenever the customers come to us and say that they love our food, we are rewarded a million stars that matter every day."

By Rafael Tonon
January 9, 2018
Source and Images: Eater.com/Rafael Tonon
---
---
Go-Wine Sharing and Promotion
Go-Wine's mission is to organize food and beverage information and make it universally accessible and beneficial. These are the benefits of sharing your article in Go-Wine.com
It Generates Free Traffic to your site.
Your Article Will Get Indexed Faster.
Your Google Rankings Will Rise. Google Rise Articles with Positive Participation & Contribution.
Your Article Will Reach New Customers and Audience. Go-Wine has a selected audience and visitors from over 120 countries.
You always receive credit - you will be cited accurately (Author, Website & Hyperlink).
The integrity of the Information is not compromised - you always will be linked to the most up to date version of your article.
Contact Us for more information.