Haute Cuisine Food And Wine Combinations With Out The Expense
Posted: Feb 08, 2017
---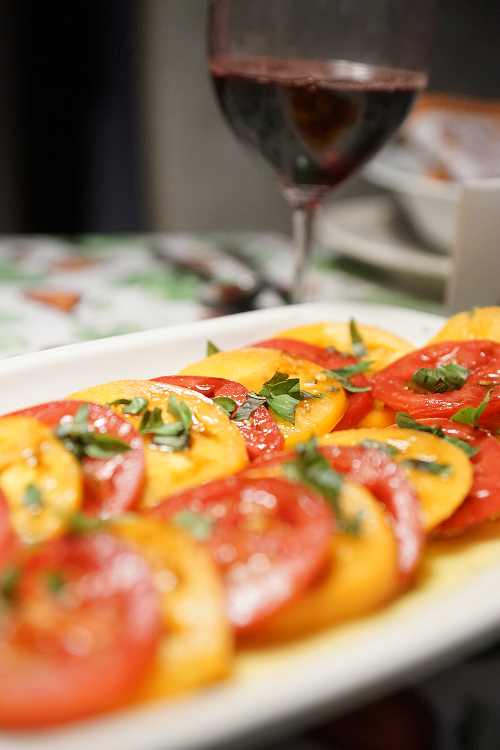 Source:Linda Barrett www.lindambarrettproductions.com.
---
We all think wine and food pairings only exist in high end restaurants using expensive wines and costly ingredients.

What if I told you that it is possible to make that same magic happen with your favorite home-cooked meals, ethnic dishes and carryout options? Here are some popular and delicious wine companions for your everyday food favorites.

Category: Savory Meats

Meatloaf, Burgers and Steaks:

When you are using tomato-based sauces like ketchup and barbecue sauce, the best bets include California Zinfandel or South Australian Shiraz. The ripe flavors in both types of wine meld with the acidity in tomato-based sauces, and match the sweet and spicy elements in barbecue sauces.

White wines:

Riesling may surprise you when you are drinking it with a great plate of sweet BBQ sauce.

Category: Poultry

Roasted Chicken:

White Wines:
The answer here lies in how you season or sauce your chicken. Most roasted chicken recipes are savory, which allows freedom for your wine choices. My top pairings include fuller-bodied whites from warmer climates, like California Chardonnay and Viognier.

Red Wines:
Myth debunked: Red wines work with poultry as well. I recommend Grenache or Pinot Noir (French or domestic), Tempranillo or a blend. I recommend (GSM) Grenache-Syrah-Mourvèdre blends from California's Central Coast.

If the driving forces in your dish are savory seasonings like rosemary, thyme, sage, garlic and onions, the above wines express earthy notes that echo, complement and enhance the dish's flavors, creating an unforgettable match.

Category: Heat Spice

Buffalo Wings:

The top factor to consider when combining wines with wings is the amount of spicy heat in the sauce. It's key to select wines that ensure your palate recovers from the fiery spices in these dishes.

White Wines for heat spice:

The bright fruit, low alcohol and acidity in Riesling, semi-sweet Champagnes, some Chenin Blancs and more accomplishes the goal.

Red Wines:
If you prefer a red wine, look for wines with ripe flavors and a bit of residual sugar. Good choices include California Syrah and Zinfandel as well as Australian Shiraz, but stay clear of wines with super high alcohol levels (+13 abv). A high alcohol wine always adds fuel to the fire.

Category: Classic Italian

I suggest you go with the classics.

Great White Wines for Italian Cuisine:

White wines from the region of Alto Adige and Friuli, such as Pinot Grigio, Traminer, Sauvignon Blanc and Friulano as well as Soave from the Veneto may work very well. The wines from these areas have a clarity of flavor due to the lack of or the restrained use of oak. Fresh acidity in these wines make them workhorses for Italian favorites such as olive oil or tomato-based dishes, cured meats, seafood, shellfish, poultry, veal and vegetables. (Note: Watch out for very spicey or very sweet dishes as they may overtake these wines.)

Pizza

Combines best with Sangiovese based wines because of their refreshing acidity. My preferred selections include Chianti, Vino Nobile di Montepulciano and Barbera.

Category: Mexican

Fruity whites with bright acidity like Riesling, Pinot Gris, Chenin Blanc and Torrontés, work best with Mexican foods. If you want to try a red selection, go for ripe California Syrah, Australian Shiraz, Primitivo or Zinfandel. Again some of these have residual sugar which helps when the spice level is high. By the way don't be afraid of serving a beer.


Cateogry: Sushi

White Wines:
Sparkling wines like Champagne, Prosecco, Cava and sparkling Vouvray pair perfectly with sushi for several reasons. The bubbles and high acidity in these wines freshen the palate better than any other wine, and the fruit and vivid minerality compliment the brininess of the soy sauce, the heat from wasabi and illuminate the exotic spiciness of the ginger.

Still wines:
Successful white choices include Chenin Blanc and Riesling.

Red Wines:

Medium-bodied reds also work well, including California Pinot Noir from Carneros or the Santa Lucia Highlands. For a splurge, try Amarone with Unagi (Eel). I champion these reds because they perform with the same components (soy, wasabi, hoisin and ginger), but provide an experience that complements the fish without overpowering it.

Category: Indian (My personal favorite!)

White Wines:
The most successful white wine with the exotic range of spices in Indian food is Gewürztraminer. It works with Indian seafood, meat and poultry dishes. Riesling is versatile, while Viognier works beautifully with mild curry and vegetable dishes. I recommend Spätlese level Gewürztraminer from the Pfalz region in Germany.

Red Wines:
Châteauneuf-du-Pape from France or South Australian Shiraz are exceptional.

Finally and not the least, Chinese Cuisine:

I recommend Rosés, Pinot Gris, Riesling, and Gewürztraminer as the most versatile options to serve with Chinese cuisine. These wines balance the sweet, heat spice and sour flavors associated with popular Chinese options. California and Washington state Rosés work beautifully as well.

I also recommend Zinfandel in some cases but watch out for the heat spice level or sweetness in the dish.

The moral of the story as you make decisions to combine a wine with food is to...

1. Drink what you like and eat what you like.
2. Know that wines that are lower in alcohol, higher in acidity with a bit of sugar will tend to adapt to the greatest number of dishes. (Slightly sweet Champagne anyone)
3. High alcohol wines increase the heat spice sensation in the food.
4. Make sure the wine is always sweeter than the dish you are serving it with.

Remember that these are some guidelines but our extensive data reveals that these concepts prove to be true about 90% of the time.*

*Past results are not indicators or proof or future results. Cheers.

By Brian Duncan
February 8, 2017
Down to Earth Wine Concepts

Please Reach Brian Duncan Here



---
---
Go-Wine Sharing and Promotion
Go-Wine's mission is to organize food and beverage information and make it universally accessible and beneficial. These are the benefits of sharing your article in Go-Wine.com
It Generates Free Traffic to your site.
Your Article Will Get Indexed Faster.
Your Google Rankings Will Rise. Google Rise Articles with Positive Participation & Contribution.
Your Article Will Reach New Customers and Audience. Go-Wine has a selected audience and visitors from over 120 countries.
You always receive credit - you will be cited accurately (Author, Website & Hyperlink).
The integrity of the Information is not compromised - you always will be linked to the most up to date version of your article.
Contact Us for more information.